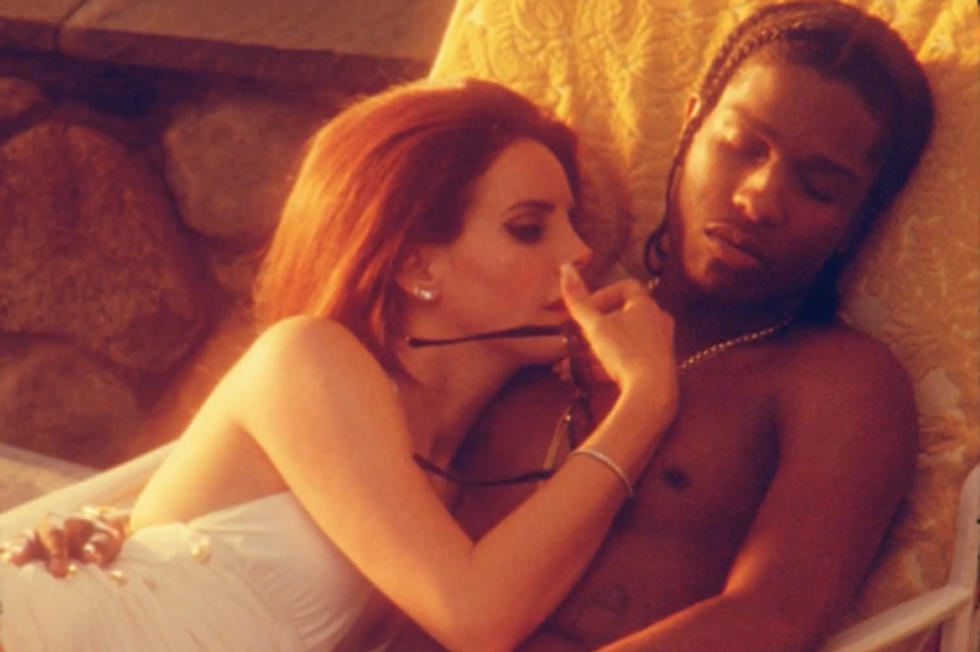 A$AP Rocky Wants to Bed 'Genius' Lana Del Rey
Hot damn! Following the sizzling chemistry A$AP Rocky and Lana Del Rey showed in her 'National Anthem' video, tongues began wagging if the two were dating. While the answer to that is unclear, Rocky made it very apparent that he'd love to hit the sheets with the chanteuse.
In a recent interview, Rocky got a little uninhibited and let loose a lot of insider info on the 'National Anthem' clip and how he came to play an African American JFK. "Lana wrote the treatment with me in mind. She wanted me to be the lead guy," Rocky said. "S--- is like, everybody knows we got a thing for each other and we wanted to show that on screen."
Then he got really, uh, eloquent. "She's a genius like ... n---a look at this b----, I wanna f--- the s--- outta her," Rocky blurted out. "Look at her, she's gotta be in her late 30s and s---." Uh, dude, LDR is 26!
Rocky revealed that the video was a pricy one for Del Rey's label, in part because they went all out in making sure the 1960s theme was perfect. "Anthony Mandler shot it with some old cameras and s--- to get the 1960s look and they had a set of extras," Rocky said. "They had so many extras there, Interscope paid so much f---ing money for this video that it's not even true," he added. "When I came on set with everybody dressed like they're in the 60s and s--- I really thought I was in the 60s. I'm serious!"
Rocky loved shooting the clip as JFK, in part because, well, LDR is pretty hot. "I got in character like, 'F--- that like, I'm gonna be the black, trill JFK.' But basically I was just me, I don't really think I did JFK no justice," he laughed. "I was just me and it was like, 'What if JFK met A$AP Rocky?' And that's what you got. She looked like Jackie O, and I was kissing the s--- out of her all day."
What part of shooting was Rocky's fave? Take a wild guess.
"I was like squeezing on her buns and all that s---, doing all that perverted s---," Rocky laughed. "That was the fun part."
Still, don't expect a romance to blossom between the two native New Yorkers. "Nah, we just cool," Rocky said when asked if they're an item. "I don't look at her like that no more. I used to wanna do her, I used to wanna b--- her but after this video I don't like her like that no more, I just think she's cool, know what I'm sayin?" We think so, Rocky.
Watch the Lana Del Rey 'National Anthem' Video