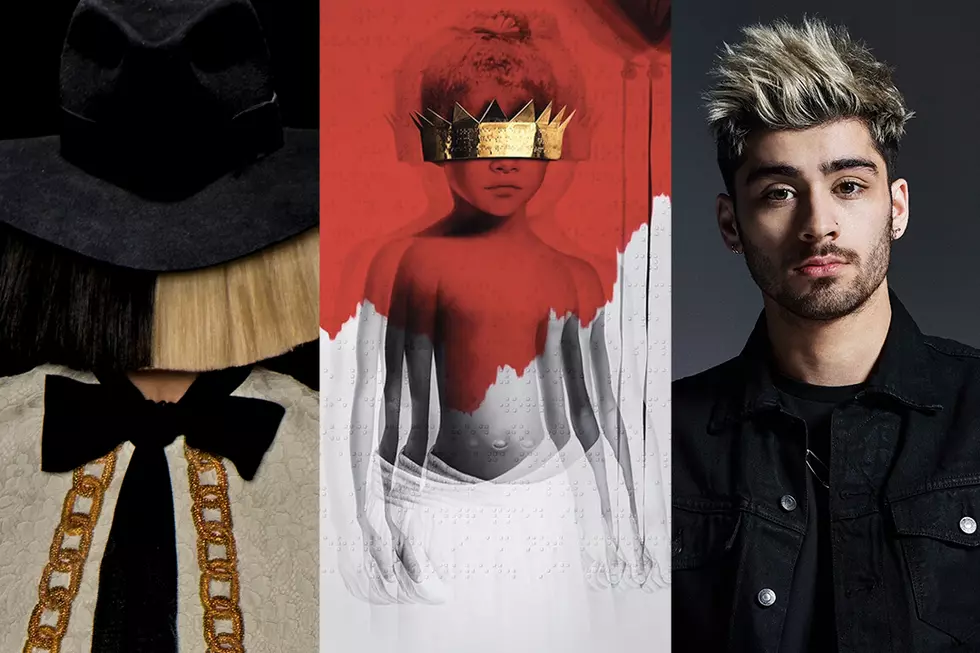 Best Songs We Heard This Week: Sia, Zayn, Rihanna + More
Mary Ellen Matthews, RCA / Roc Nation / Miller Mobley, RCA
It's been a MASSIVE New Music Friday today, what with the long-awaited release of Rihanna's ANTI, Sia's This Is Acting and the debut of Zayn's solo single, "PILLOWTALK." And while we've got them all covered, those aren't the only artists making noise today.
Check out some of the best songs we heard this week, and make sure to subscribe to us on Apple Music to hear our playlists.
Zayn Malik is simply ZAYN now, having dropped his last name as quickly as he ditched his four former bandmates. Rightfully criticized for the acrimonious handling of his 1D departure in the press, Zayn's first single was due to be held up to high scrutiny. There's pressure that comes along with any breakout debut, but it can be especially heavy when you spend your first few solo interviews spitting in the face of your former musical legacy. But the dust has settled, "PillowTalk" is finally out and it looks like the former boy bander made the right move after all.
Zayn does his best Ariana Grande impersonation here — his vocals are often a garbled, incoherent mess, heaviest on oozing vowels while often dropping consonants in full. But what Zayn lacks in a hard 'c' he more than makes up for in serious vibez. Long gone are his ties (musical and otherwise) to One Direction — a soft-rock dad jam "PillowTalk" is not. It's a slick R&B track, evenly tempered just so, with an explosive chorus that utilizes Zayn's rich vocals in a way 1D never could. Nothing about "PillowTalk" feels overwrought or forced — even when Zayn sings, in all his glossy sheen, about "f—ing and fighting" — so much as it sounds like the natural progression of an artist finally fully in love with what he's selling.
If we must live in a One Direction-less world — perish the thought — at least Zayn's provided us with a more than adequate alternative. — Ali Szubiak
Rihanna, "Work" (feat. Drake)
Rihanna's Anti has divided the PopCrush staff, and we've discussed her much-anticipated, ultimately-left-field release endlessly over the past 48 hours (with a minimum of tears and hair pulling). The same can be said of "Work," which I love unequivocally. RiRi turns her Barbadian patois up to 11 — hearing her sing "dry me ah desert him, nuh time to have you lurking, him ah go act like he nah like it" makes me blast an invisible airhorn as my soul starts to dutty wine – while the production drives me to dig up my old Reggae Gold compilations. I only wish she'd swapped Drake, the safe chart draw, for a more authentic guest feature: May the remix feature Popcaan, Busy Signal, Spragga Benz, Vybz Kartel, and/or Elephant Man. Yes, this video from comedian Joe Mande is hilarious for the Kari Wuhrer reference alone. But to dismiss "Work" is to dismiss and misunderstand many long-held conventions of the dancehall genre. To quote the bad gal herself, "Yeah, I Said It." – Samantha Vincenty
Idyll, "Another Day In Paradise" (Phil Collins cover)
Phil Collins announcement that he'd come out of retirement last fall sparked a mean-spirited petition to STOP him from coming out of retirement — but less than 5,000 people signed, because the rest of the world knows Phil Collins and Genesis made some fire songs back in the day ("Easy Lover" and "That's All" are Exhibits A and B). Chicago electro duo Idyll knows this, and they've transformed Collins' 1989 meditation on how we treat the homeless into a spare, dreamy electro jam that retains a reverence for the song's original message. – Samantha Vincenty
Sia's This Is Acting, the tracks of which the singer wrote with other contemporary artists in mind, centers on rousing, voltaic superstorms and tiptoes into afterhours dancehalls. By contrast, the LP's final track feels as delicate as a sandcastle, and strips the work of its competing veneers – suddenly, the Muppet wig falls to the wayside. "Space Between" features longing wails aplenty, but it's as close as Sia gets to restraint, and though the song's story may not be hers, there's no one more equipped to tell it. — Matthew Donnelly
All I Need is turning out to be a pretty fitting title for Foxes' sophomore LP, considering her unfailing ability to produce well-crafted pop. "Wicked Love" is the latest offering from the follow-up to 2014's Glorious due out in February, co-crafted alongside Rick Nowels (Lana Del Rey) and MoZella (Madonna). The chorus is an instant earworm ("Wicked love, wicked love, wicked love!") — and it's almost distracting enough to disguise the tortuous feelings beneath the sweeping melodies. — Bradley Stern
Anderson .Paak, "Come Down"
Anderson .Paak's off-beat flow has drawn an endless amount of comparisons to that of rap's golden boy Kendrick Lamar, and rightfully so. The two share a similarly raw, raspy intonation, but that's where the parallels end. Paak's "Come Down," an upbeat ode to chasing a blissful high, is an expert amalgamation of funk-inflected R&B and hip-hop, propelled by a percolating bass line — and it's catchy as hell. He declares his thesis early on when he asks, already knowing the answer, "Don't I make it look easy / Don't I make it look good?" — Ali Szubiak
Dawn Richard, the artist formerly known as one-fifth of Danity Kane, is keeping the RED*emp*tion coming. After getting down with "Dance," she returns this week with a second uptempo offering from her third solo studio album, which promises to keep the BPM count high. The Machinedrum-produced "Not Above That," much like many of her space-age electro-R&B productions, layers pounding beats, urgent coos and atmospheric sound into a nearly five-minute sensory overload. While there's certainly no hook in sight to get this one on Top 40 radio, the song's unique, shape-shifting construction is enough to hold your attention until the very end. — Bradley Stern
School of Seven Bells, "Ablaze"
If "Ablaze" signals the end of SVIIB, at least its lone remaining member, Alejandra Deheza, is going out on a high note. Released ahead of the indie-rock group's eponymous, final EP, the song fittingly functions as a plucky spark, and hums to genial guitar and foot-tap-exacting drums: It's The Cranberries on a cheerier upswing, and its message of getting back onto solid ground serves as perfectly refreshing accompaniment. — Matthew Donnelly
Most Anticipated Albums of 2016