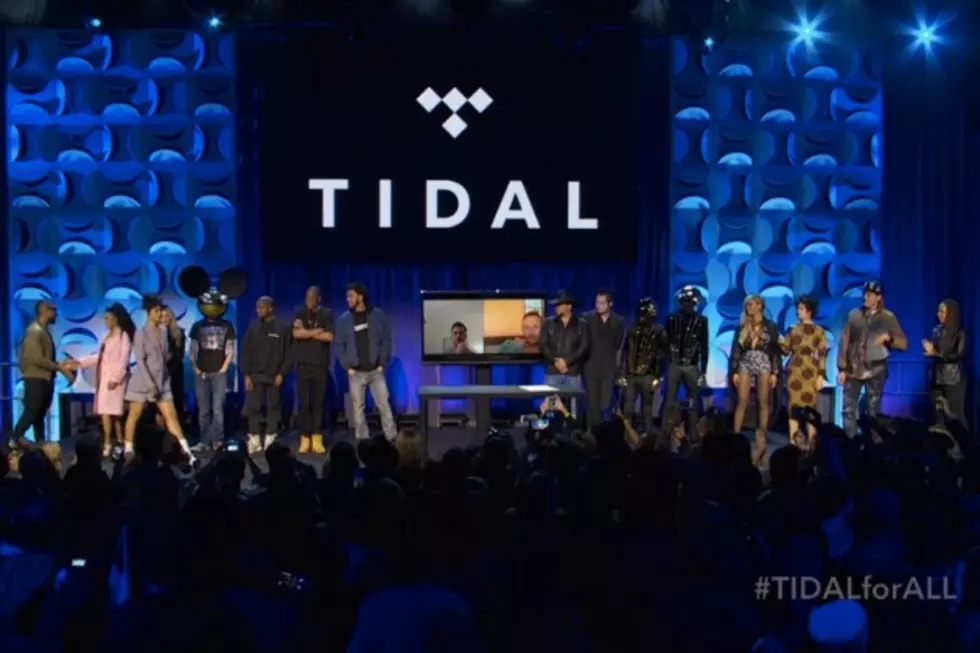 Beyonce, Rihanna, Alicia Keys + More Celebs Attend Launch of Music Streaming Site, Tidal
Tidal
The music streaming website, Tidal, saw its celebrity owners come together to celebrate its launch today (March 30) via a livestream broadcast from New York City.
A member of the Tidal team, Vania Schlogel, introduced the event, saying the service marked the "beginning of an exciting path ahead." She explained the site to be a "global and rapidly expanding streaming platform" that will "offer something different" for its users. Tidal, which launched in the US in October 2014, offers high-quality audio and music videos, as well as the ability to save music to listen to offline.
Schlogel went on to introduce the celebrity owners of the site, who joined her onstage. The full list of attendees includes Alicia Keys, Win Butler and Regine Chassagne of Arcade Fire, Beyonce, Daft Punk, Jack White, Jason Aldean, J Cole, Jay Z, Kanye West, Deadmau5, Madonna, Nicki Minaj, Rihanna and Usher. Chris Martin and Calvin Harris also joined the group via video conference.
Alicia then launched into a speech where she quoted both Jimi Hendrix and Nietzsche, that detailed the importance of preserving the value of music. She said, "Wow. This is incredible. This is so powerful and I think all of us collectively are feeling the same kind of energy and all of us up here are saying 'Wow, like, look at this. Look how we can do this. Look how we can all do this together.' This is really a powerful moment… it's come up a couple of times of this feeling like a graduation. But in actuality, it is a graduation and thats a really powerful thing that we're here, all celebrating."
Indeed, that much star power under one roof is seldom seen, barring the Grammys or the Oscars. Alicia went on to describe the power of music, saying, "Jimi Hendrix once said that music doesn't lie. If there is something to be changed in the world then it can only happen though music. An overstatement? Maybe, but maybe not. After all, there is truth in the old adage that music makes the world go round. Think about how many times music has truly changed the word and reshaped our culture. How many times music has personally picked you up and reminded you that you could do it again. How much do we love our music? How much do we love this thing called music?"
Alicia was sure to underscore the impact Tidal could potentially have on the music industry at large, saying, "So we come together before you on this day, March 30, 2015, with one voice in unity in the hopes that today will be another one of those in time, a moment that will change the course of music history."
She described the service as, "the first ever artist-owned global music and entertainment platform" and said, "Our mission goes beyond commerce. It goes beyond technology. Our intent is to preserve music's importance in our lives."
Alicia continued, saying Tidal "promotes the health and sustainability of our art and our industry around the world because we believe that it is in everyone's interest to preserve the value of music and to ensure a healthy and robust industry for years to come."
After going on to quote Nietzche ("Without music, life would be a mistake"), she invited her fellow co-owners to sign the Tidal declaration. And so they did, to the soundtrack of Radiohead's "National Anthem." Madonna got really into it:
The end of the broadcast showed an extended version of the ad that promoted the livestream, where Kanye says, "This is the beginning of the new world," while Jay Z sums up what seems to be the main point of the service as he says, "They're writing the story for us. We need to write the story for ourselves."
See Celebrities With Matching Tattoos