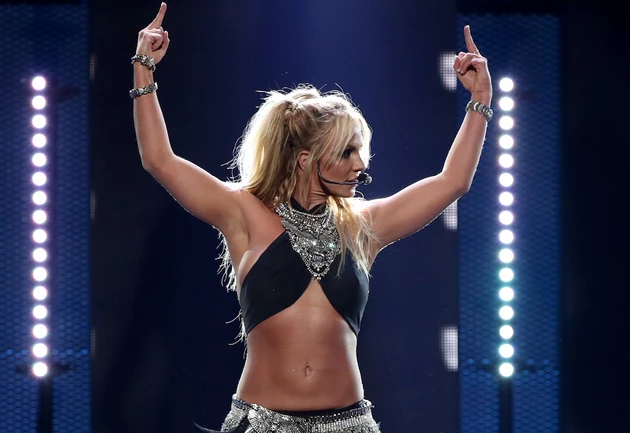 Britney Spears Reportedly Addresses Her Conservatorship for the First Time on Upcoming Episode of 'The Jonathan Ross Show'
Christopher Polk, Getty Images for iHeartMedia
We may not have seen or heard a truly in-depth, introspective interview out of Britney Spears since her 2008 documentary For The Record, but it seems as though she just opened up in a massively unexpected way while doing promo overseas.
Today (Sept. 27), the Glory pop icon filmed an interview and performance of "Make Me..." for The Jonathan Ross Show, which is set to air on October 1.
And, according to various reports from members in the audience including Noisey writer and PopCrush contributor Grace Medford, Britney publicly addressed what has become one of the most talked/thinkpieced-about subjects surrounding her since 2008 for the very first time: her conservatorship.
It happened while she was discussing the creative process behind her new album, Glory.
"Okay, so I have this conservatorship. I've been under this conservatorship for three years and I felt like a lot of decisions were made for me, so I wanted [Glory] to be my baby and I've been really strategic about it," she told the host, according to Medford.
"She said she's getting control on things little by little," another audience member reports. Ross then, apparently, switched topics.
"She really looked like she wanted to talk about it but Jonathan changed the subject cuz he couldnt talk about it," the audience member adds.
According to another member of the audience, Britney said during the show that she doesn't party in Vegas, and that the last time she smoked marijuana was when she was 17, referencing an incident when she stopped a concert because of weed.
"She said she got contact high from people smoking so much weed that she couldn't go on with the show," Grace tells us. (Brit's probably referring to The Circus Tour,during which she left the stage and delayed the show because of all the weed smoke.)
At one point, Britney shut down a joke involving her longtime idol, Madonna: "She wouldn't play along with his Madonna joke about her sucking people's life force out when she kisses them. She was literally just like 'Nah'," Grace says.
Also? "She said she got set up on a date with a guy who looked like a lizard so she just left."
Britney's episode of The Jonathan Ross Show is set to air this Saturday. There's no telling whether any of this will make the cut — but here now, at least, is evidence that it reportedly happened.
Britney Spears Kicks Off Remixed, Reimagined and Still Iconic Piece of Me Residency: