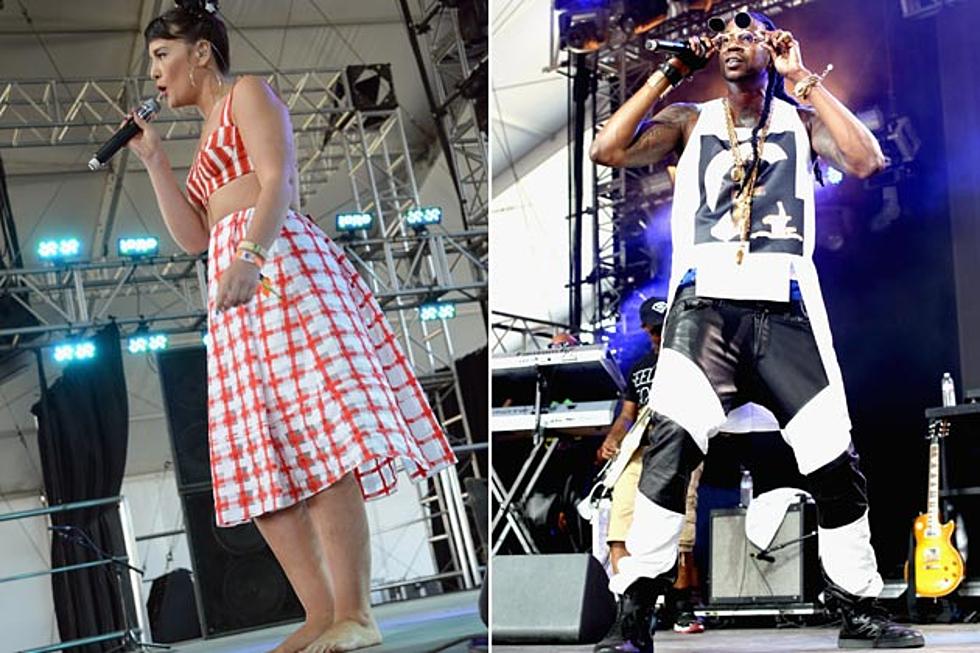 Coachella 2013 Performance Pics: See Jessie Ware, 2 Chainz + More
Jason Kempin / Christopher Polk, Getty Images
Some of our favorite pop acts (and yours!) graced the stages of the Coachella Festival this weekend in the desert of Indio, Calif. While it's largely alt and indie leaning, there was plenty of room for pop singers and rappers, like Jessie Ware and 2 Chainz, among others, at Coachella. Check out the PopCrush photo scrapbook featuring the aforementioned twosome performing, as well as Alex Clare, Janelle Monae and more.
Jessie Ware:
The British singer went barefoot. That whole barefoot thing is daring since it's not really hygienic. But some artists like to shun shoes on stage. It's their prerogative. Nevertheless, she looked so cute in her red and green outfits, respectively.
2 Chainz:
The rapper rocked black-and-white attire, and some interesting specs, as well.
Janelle Monae:
The pint-sized powerhouse brought it to Coachella, draped in all white. She wasn't afraid to mix it up with the crowd, too.
Alex Clare:
What was it with British artists going shoe-free? It's not exactly sanitary, but hey, maybe being barefoot makes them feel more one with the earth, the crowd, the music? Check out the furry-faced Alex Clare rocking out.
The Lumineers:
Ho, hey. The Colorado folk rock band were a "must see" attraction at Coachella. The band's Neyla Pekarek looked like she was super ready for summer. Her smile is brighter than the sun.
La Roux:
Atmospheric. That's how it looked when the synth poppers La Roux took the stage.
Of Monsters and Men:
A little group hug among the monsters and the men (we mean Of Monsters and Men) took place at Coachella. How's that for band bonding? Singer Nanna Bryndís Hilmarsdóttir of the Icelandic band was a vision, bathed in sunlight, too!
Benny Benassi:
There's Benny Benassi, the DJ and producer, and crooner John Legend. Nice pairing there! Notice Benassi throwing props to Deadmau5 with his shirt?
Pusha T:
Last but not least, rapper Pusha T, bringing it down! And by "it," we mean the house.