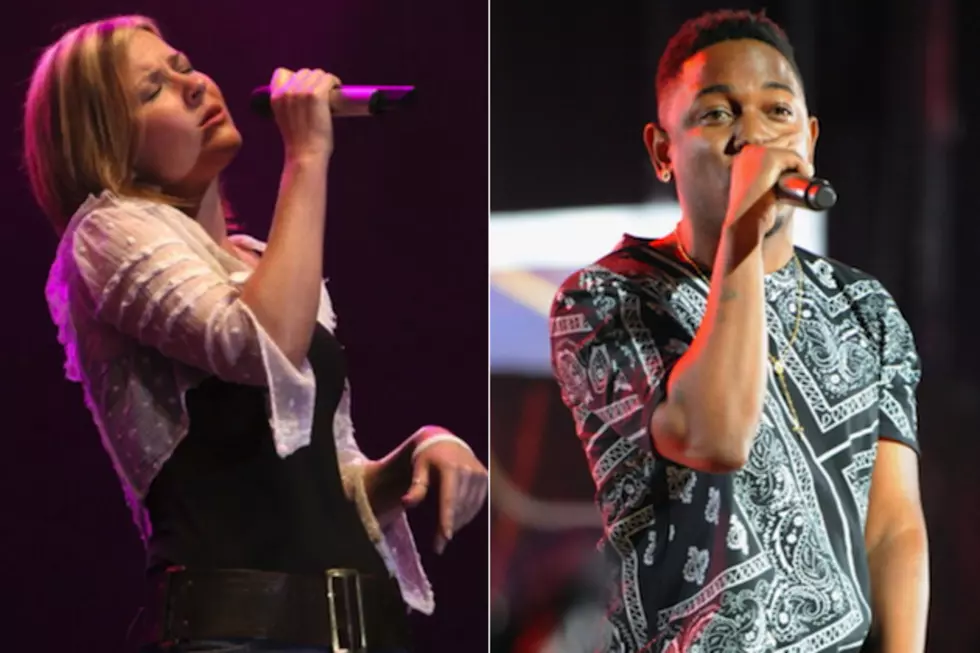 Dido Partners with Kendrick Lamar on 'Let Us Move On'
Eric Bouvet / Rick Diamond, Getty Images
Many of you are probably familiar with Dido as the singer who Eminem sampled on his classic 2000 song 'Stan.' The pop chanteuse is back and she enlisted in-demand rapper Kendrick Lamar for the haunting tune 'Let Us Move On.'
The song is the kick-off single from Dido's upcoming LP 'Girl Who Got Away.' Co-produced by her brother, Rollo Armstrong, and Jeff Bhasker, the atmospheric-sounding tune features Dido's hopeful lyrics and K-Dot's stormy rhymes ("Got these burdens under my wings, but I'm still free," he raps).
It's interesting to hear Dido and Lamar play the ying and yang, lyrically, on the subject matter of damaged relationships that can't be fixed. It's an intriguing contrast and the moody sounds adds intensity to the song.
Overall, it's a terrific single that should please Dido's fans who have been waiting patiently for some new material from the English singer-songwriter. Expect to hear 'Let Us Move On' play ad nauseam at a local Starbucks near you.
Dido's fourth album 'Girl Who Got Away' is due in stores in March.
Listen to Dido, 'Let Us Move On' Feat. Kendrick Lamar