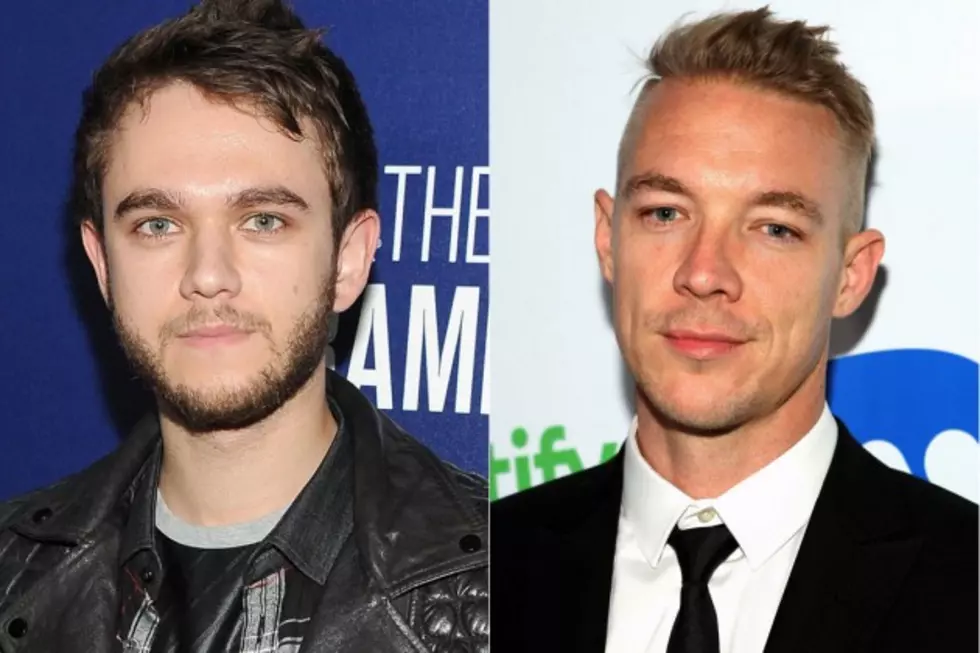 Diplo Says Zedd's 'True Colors' Is a Big Ol' Poo Emoji
Angela Weiss / Mike Windle, Getty Images
Diplo — DJ and producer for the likes of Beyonce and Jessie J, rumored boyfriend to Katy Perry and frenemy to Taylor Swift — may have a new Twitter feud on his hands. The Major Lazer mastermind collaborates with EDM stars such as Skrillex and DJ Snake, but don't expect him to work with Zedd anytime soon.
This week Zedd released his sophomore effort, True Colors, and yesterday (May 20) Diplo tweeted a very succinct album review: "True Colors is a pile of sh---t."Okay, he actually used the smiling poo emoji to illustrate the s-word, but this might be the one case in which that symbol didn't add levity to a situation.
Why so salty, Mr. Pentz? Idolator speculates that Diplo slammed Zedd out of fealty for his pal and Jack Ü guest collaborator Justin Bieber, since Zedd now dates Bieber's ex Selena Gomez. Given the fact that the two DJs regularly share top billing at the same music festivals and run in overlapping EDM-centric social circles, this sounds like a very silly motive. Then again, Diplo — who it should be noted is a grown-ass man in his mid-30s, with two children — once advocated for a Kickstarter to "get Taylor Swift a booty." He's also the same man who, according to a Rolling Stone interview with his ex-girlfriend M.I.A., actively tried to undermine her confidence when he was less successful. So on second thought, maybe he is petty enough to take a swipe at a friend's romantic rival.
Or maybe he just didn't like the album. Who knows! Diplo has since deleted the tweet, but Idolator preserved it in a screen cap:
You can judge Zedd's new release on its own merits, and listen to "Papercut" featuring Troye Sivan right here.