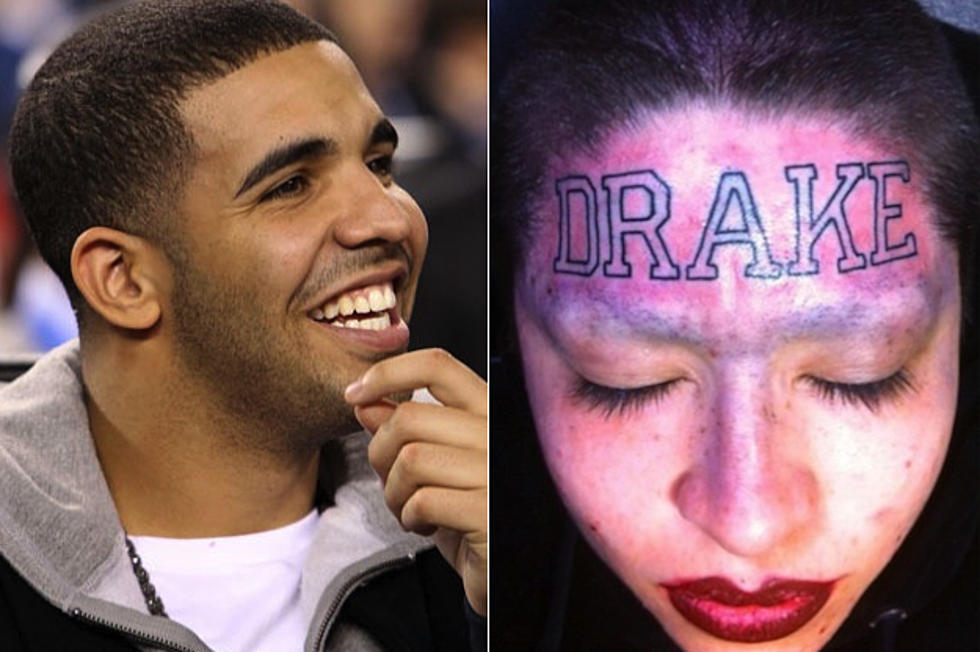 Woman Gets 'Drake' Tattooed on Her Forehead, Artist Speaks Out
Undoubtedly, Drake has millions of fans all over the world. Apparently, one California woman decided to take her fandom to the next level as she got the words "DRAKE" etched into her forehead. Yep, you read that correctly. The Internet went into a tizzy last week when photos surfaced of a young lady smiling with her newly fresh inked tattoo of the Canadian rap star's name.
The cringe-worthy pictures were posted by the manager of the Los Angeles tattoo shop Will Rise. We don't like to pass judgment around here at PopCrush, but clearly, this woman is insane.
The good folks at Vice magazine were able to track down tattoo artist Kevin Campbell who performed the gnarly artwork on the victim, err, we mean, woman. In the hilarious interview, Mr. Campbell reveals that he didn't even know that he was tattooing a name of a famous rapper on the girl's forehead. "The funny thing is, I didn't know who Drake was," he tells the website. "I figured it was her hood or some s--t, not some goofnugget R&B dude."
Goofnugget R&B dude? We are howling with laughter over here.
According to Campbell, the unidentified woman was a little high, but assured him that she wanted the tattoo on her forehead. By the way, she came into the tattoo parlor with her head and eyebrows already shaved. WTF?
When asked why he didn't turned the girl away, Campbell felt he was obligated to ink her and not prejudge the woman's, uh, artistic taste. "But as far as having a choice, yeah, sure, I could have turned her away," he says. "I think that getting a color portrait of the Joker from Batman is a dumb idea, but who the f--- am I to judge? If I tattoo a huge "BK" on a Crip [gang member] or tattoo "DRAKE" on some R&B-crazed girl's face, what's the difference? Who am I to say which one is wrong and which is right?"
He then adds, "I guess I feel bad that this dumba-- got the name of the softest m-----f---er in hip-hop tattooed on her forehead."
Campbell says the tattoo is not actually finished (she only had enough money for the outline) and she promised to comeback once the tat heals. "Sadly she didn't leave a number on her consent form, just her name," he says. "She was on a pretty good one when she came in, and I think by the time I finished, she was coming down, because her attitude changed pretty drastically once the tattoo was finished."
Oh boy, we can only imagine what she is thinking right now. What do you think of the tattoo? Tell us in the comments below.