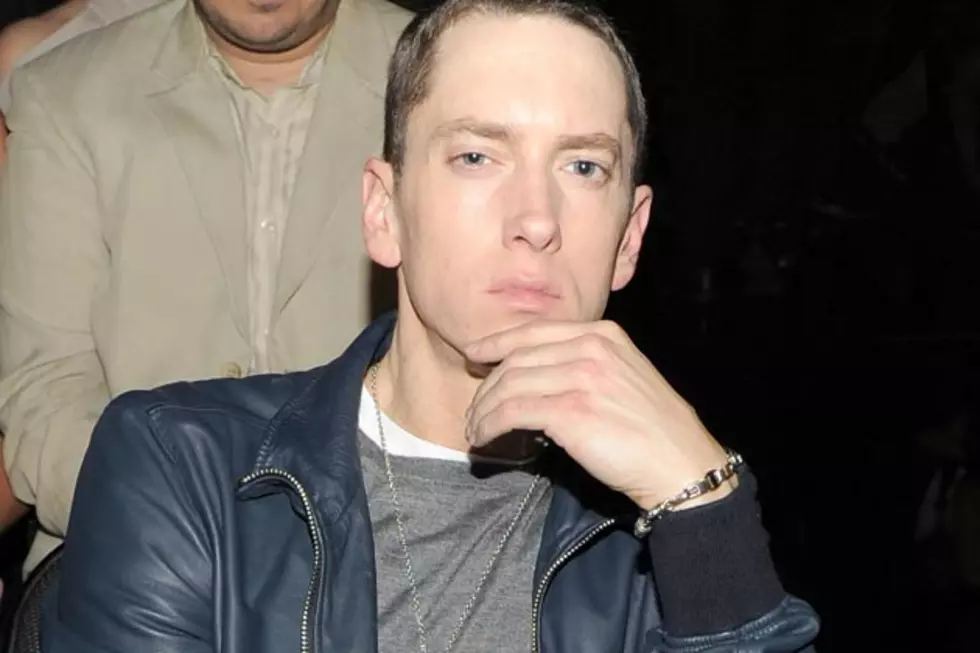 Larry Busacca, Getty Images
Eminem's videos are always as vivid and as visceral as the rhymes he spits. He is usually featured prominently in every clip and his intense, expressive eyes are usually one of the most arresting things about his videos. But Em's videos often feel like mini movies, as well, advancing a narrative in under six minutes and leaving a mark.
He's had some big name guest stars -- Megan Fox, Rihanna and Jenna Jameson, to name a select few-- and he never disappoints. When an Eminem video drops, it's an event.
We've rounded up the Top 10 Eminem videos, pulling the most vibrant and memorable clips of his long (and still going strong) career so far. It wasn't easy, since there was a wealth to choose from.
10

A liquor store robbery is planned and the video looks at life from the perspective of someone desperate to get by. If you get motion sickness, don't watch this video, thanks to the spinning scenes in both the parking lot of the liquor mart and in the trailer park, with escalating tension between Em and Dre as they protege and his mentor argue. It's graphic and unforgettable, with veteran actor Robert Culp serving as the objective narrator.

9

Once again, Em gives us "graphic" and "real" in a music video. We've already established Eminem doesn't care about making videos that go down easy. The weight of personal and professional responsibility, which he raps about, is conveyed in his eyes in this clip. The rap wars and feuds of the lyrics play out on screen, with news clips, headline images and altercations. A blood-soaked Em and a funeral are the most key images of this profound video. Rapper Proof, who died in 2006, is also featured in a foreshadowed way, dying screen, making this video tragic and prophetic. Cameos include Dre and 50 Cent, along with images of the late Tupac and Biggie, who were casualties of the crew vs. crew feuds.

8

'Lose Yourself,' directed by Eminem, is comprised largely of clips from the rapper's incredibly successful and autobiographical film '8 Mile.' Em's intense eyes capture the rapper at his pinnacle -- he hasn't peaked, by the way! -- as he revisits the scratching, clawing and climbing he had to engage in to get where he is. It's also full of scenes and landmarks from Em's beloved hometown of Detroit. The fact that it is his life we see unfolding on the screen is what makes this one of Eminem's best videos.

7

Boomboxes of old -- Radio Raheem-style -- Rick Rubin and his beard and Kid Rock are all featured in the video for the riff-driven 'Berzerk.' The video pays homage to the narrow shots and fuzzy footage of the Beastie Boys' classic 'So What'cha Want' clip. Em looks like he is having fun, something you don't see every day, since he is often serious and super focused. It's refreshing to see him let loose and have some fun in a video. The song calls for it, too.

6

'My Name Is' is one of Eminem's best videos since it finds the rapper parodying pop culture figures, like former President Clinton, Marilyn Manson and more. Also, crappy domestic scenarios often play out in Eminem videos. But here, given the loose nature of the song, it's not as creepy. The trashy and slovenly couple watching Em on TV is a mess. Em as the mad scientist and TV host is just brilliant. The hair! The hair! Overall, the video is his humorous indictment of our boob tube culture, which, by the way, would only get worse with the onslaught of reality TV that came a few years after this clip was released in 1999.

5

A stark song required a relatively simple clip and Em delivered. Standing on a ledge, with a skyline in the background, the message is that the nature of man is finite. Also clear is the notion of holding on and letting go. Em walking on a crowded city street reminds us that we're all human underneath. The semi-apocalyptic action scenes that come later are empowering, especially when Em's a speeding bullet. He's a musical superhero to many.

4

Porn stars Kiana and Jenna Jameson are in bed with Eminem. Need we say more? Actually, there is a lot more to say in this action-packed clip. Dre makes a cameo, too! Even Em as a warped version of Boy Wonder aka Robin isn't as exciting as Jenna and her rack in the beginning. The graphic novel storyboards are nerdy cool and the rapper is in drag (reportedly a dig at mom Debbie) and dressed as former Public Enemy No. 1 Osama bin Laden. All of those things combined make 'Without Me' one of Eminem's best videos by far.

3

Lots of scenes of Em -- in church and in the studio, and as a little boy dealing with the fear of an abusive mother -- lead to him digging a grave in the rain. Even when Eminem is spitting rhymes and making eye contact with the camera, he's still fully in the scene and the plot. He is excellent at remaining in character, even if the viewer is acutely aware that it's Eminem we're watching. He is a talented and believable actor, and the video for 'Cleanin' Out My Closet,' which graphic and shocking, proves that.

2

Megababe Megan Fox plays with fire, both literally and figuratively, as one-half on abusive relationship with Dominic Monaghan, while Rihanna rocks glossy lips as Eminem raps in a field. Domestic violence is explored to the fullest with the characters of Fox and Monaghan. Almost everyone is eventually engulfed in flames in this clip, suggesting that nothing good ever comes from these types of relationships, no matter what we tell ourselves. Plus, we get to see Ri and Em in a scene together, as the house is ablaze. Of all of Eminem's videos, 'Love the Way You Lie' will get you thinking the most.

1

'Stan' is one of Eminem's biggest and best songs, and the video is his best. It's a scathing look at celebrity and idol worship, and the difference between perception, reality and, perhaps most importantly, celebreality. Whether it's Dido perched on the throne (aka a toilet), playing the pregnant girlfriend of Eminem's obsessed fan Stan, who eventually ends up in a car wreck and whose name has gone on to become slang word for stalkers, it's a dark, brooding story being told. Shocking? Yes. Can't look away? Absolutely? Artistic? Without a doubt. Eminem is an iconoclastic artist and the video for 'Stan' is just that. It's overarching theme is simple. There are three sides to every story and situation: Mine, yours and the truth.