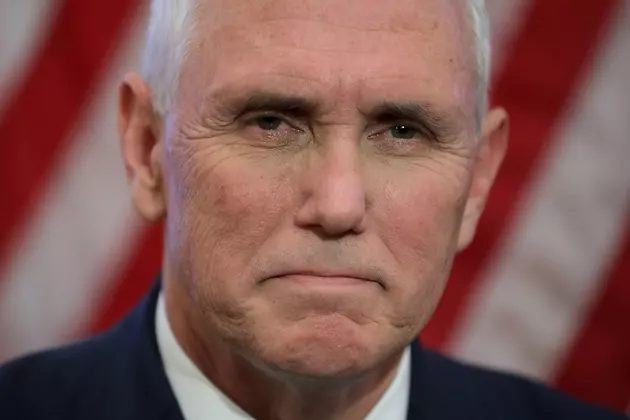 'Hamilton' Cast Address Show Attendee Mike Pence Following Broadway Performance
Chip Somodevilla, Getty Images
Hit Broadway show Hamilton became even more politically charged on Friday night, November 18, when following the evening's performance its cast took a moment to address Vice President-elect Mike Pence, who was in the audience and who earlier during the show was booed by the crowd.
After the entire cast came onstage to take a bow, Brandon Victor Dixon, the actor playing Aaron Burr, acknowledged Pence's presence, thanked him for attending and then announced that the cast had a message to share with him, pleading, "We hope you will hear us out."
"We, sir, we are the diverse America who are alarmed and anxious that your new administration will not protect us, our planet, our children, our parents, or defend us and uphold our inalienable rights," he said, reading from a letter written by show creator Lin-Manuel Miranda, director Thomas Kail and producer Jeffrey Seller.
"We truly hope that this show has inspired you to uphold our American values and to work on behalf all of us," Dixon continued. Watch below.
"We had to ask ourselves, how do we cope with this?" Seller told The New York Times. "Our cast could barely go on stage the day after the election. The election was painful and crushing to all of us here. We all struggled with what was the appropriate and respectful and proper response. We are honored that Mr. Pence attended the show, and we had to use this opportunity to express our feelings.
Meanwhile, Donald Trump has since demanded the cast of the show apologize to Pence, complaining on Twitter, "Our wonderful future V.P. Mike Pence was harassed last night at the theater by the cast of Hamilton, cameras blazing.This should not happen! ...The Theater must always be a safe and special place.The cast of Hamilton was very rude last night to a very good man, Mike Pence. Apologize!"