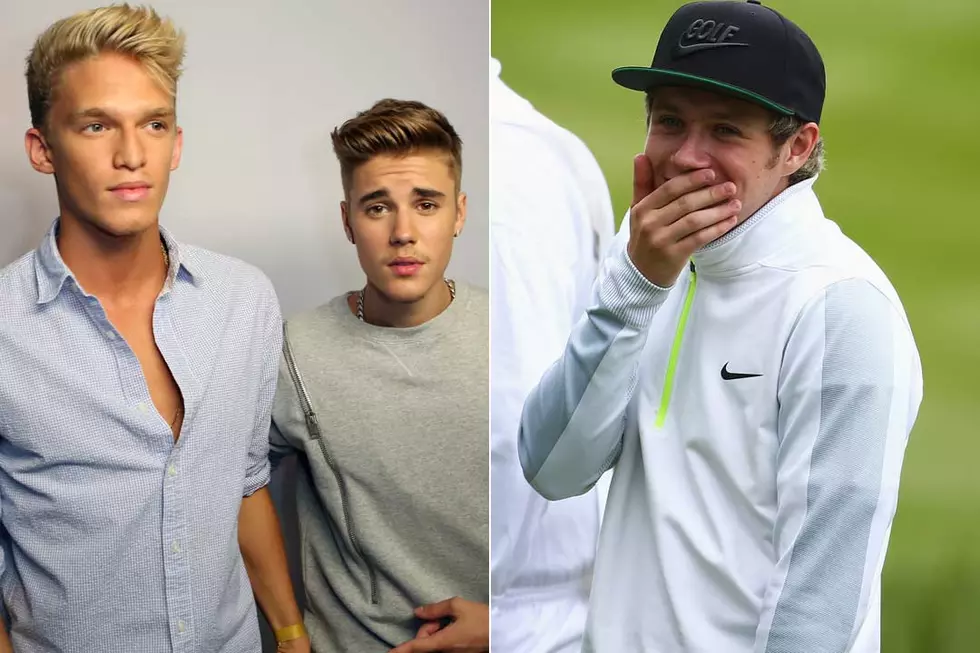 Justin Bieber, Niall Horan + Cody Simpson Hang Out Near a Weed Pipe
Ari Perilstein / Ian Walton, Getty Images
Cody openly posted the above video to Snapchat, showing all three occupying the same space at the same time. From Justin's incoherent wailing to Niall's awkward body language to Cody's revival of his and Bieber's nine-month-old song, the footage is innocent enough. But publications like The Sun turned the innocuous video into pure SCANDAL. Their eagle-eyes, expertly trained to hone in on any possible drug paraphernalia that may exist near young pop stars, spotted an obnoxiously bright, canary-yellow item in the corner, which they inaccurately deemed a "crystal meth pipe."
If only the video had been cropped so the pipe were just out of frame, all of this could have been avoided. Oh Cody, you are so young and unaware of the way the media likes to frame suspicious-looking things.
Innocent or not, we're here to report things (mostly) unbiasedly, so we've taken the time to zoom in on the video so you don't have to strain your eyes.
Do you see it? The horrid, nightmare pipe?
Here it is, circled in red:
For the record, we highly doubt Justin, Niall and Cody were collectively smoking crystal meth (if anything it was probably weed, though we make no official claim either way), but perhaps Cody will mistakenly post some more damning evidence online in the future.
Possible drug presence aside, it's nice that these pop stars like each other enough to hang out together, despite their collectively busy schedules and the competitive nature of the music industry. Niall is currently on tour with One Direction, Justin is recording an album (for real) and Cody is breaking hearts. But there's always time to chill, you know?
You can check out the video, complete with jam session and mysterious glass piece, above.
See On-Again/Off-Again Celebrity Couples