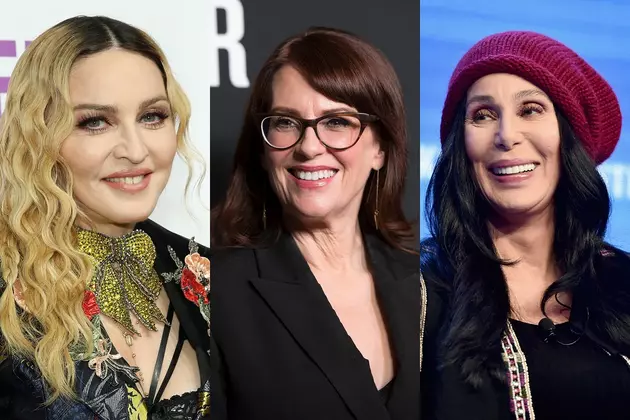 Megan Mullally Says She Didn't Talk to Cher, Madonna Didn't Know Cast Names During 'Will & Grace' Cameos
Monica Schipper / Tara Ziemba / Alberto E. Rodriguez, Getty Images
Megan Mullally appeared on Jimmy Kimmel Live! Thursday night (January 19), where she dished on some of Will & Grace's celebrity cameos through the years.
While discussing the beloved show's confirmed forthcoming 2017 revival, Mullally spilled the (admittedly tepid and pleasant) tea on two of the series' most iconic celebrity guests: pop stars and music icons Madonna and Cher.
"We had a lot of other famous, movie star type of people but the pop stars were really interesting," Mullally, who played wealthy narcissist Karen Walker, shared. "Everybody was really cool though. A lot cooler than you would think, like Madonna was very cool."
The actress revealed that the Queen of Pop was "really nice and really present" during her guest stint on the show in 2003, despite her apparent inability to learn any of the cast members' names.
"She didn't necessarily know our real names in real life because why should she, who cares?" Mullally explained.
"Some of the cast were really offended, like, 'She doesn't even know my name!' and I was like, who cares?" she added. "Madonna's doing our show! It doesn't matter... She doesn't need to know our names for crying out loud."
Unfortunately, Cher, who appeared on the show in 2000 in an episode titled "Gypsies, Tramps and Weed," was not so "present" on set.
"I always thought, 'Oh Cher seems so cool, if I ever met her, I know we'd be best friends.' Well, not really because, I met her really briefly but that was it because they dropped her in like one of those, like a crane came in and dropped her into the set and then they airlifted her back out at the end of the scene, and we didn't get to talk to her at all," Mullally revealed.
However, the "Believe" star did personally vibe with one of the cast members: Sean Hayes.
"[Cher] invited Sean to go to her castle in Italy for Thanksgiving, and Sean was like, 'No,'" Mullally added.
Watch Mullally's interview with Jimmy Kimmel, below:
Look Back at 20 TV and Movie Casts Reunited: