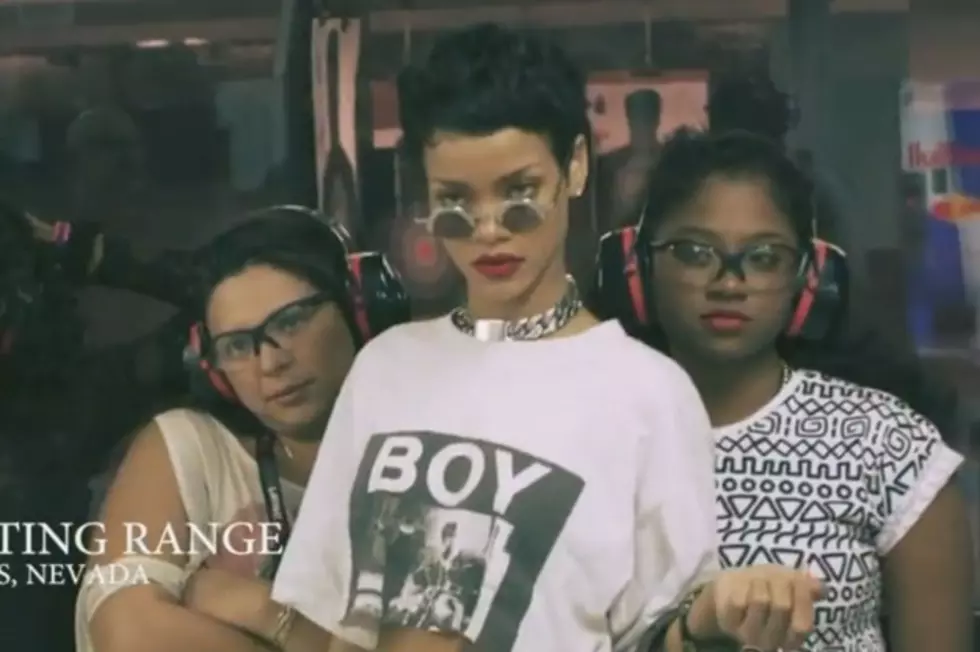 Rihanna Shares Behind-the-Scenes Footage From Her 'Unapologetic' Album Shoot
YouTube
A new promotional video for Rihanna's 'Unapologetic' album shows behind-the-scenes footage of the pop star backstage during the MTV Video Music Awards and at a shooting range, where she destroys a paper target with frightening accuracy.
The short clip opens with a shot of RiRi and friends arriving in California via private jet. She wears a hat with marijuana leaf logos as she walks around and examines what everyone had to eat on the trip. One member of her entourage had a wine glass full of macaroni and cheese. Talk about living large!
As 'Diamonds' plays in the background, viewers see Rihanna walking around backstage at the VMAs, and then it's off to Vegas for iHeart Radio Festival rehearsals. From there, she and her girls head to a shooting range, where she takes aim with a rifle and fires away at the target. "Are you getting this?," she asks the camera guy as she blasts the paper into oblivion. When she finishes, she holds up her target to show just how good her accuracy is. It looks like RiRi wasn't acting in that 'Man Down' video -- she really knows what she's doing when it comes to guns.
Rihanna is shadowed throughout the video by photographers taking images for the liner notes of 'Unapologetic.' Many of these photos will probably end up in the 28-page photo book or View-Master 3D reel that are included with the "Diamonds executive platinum box" set of the album, which costs $250.
The clip ends with footage from the studio, which shows Rihanna smoking and goofing off with her friends. Are you excited yet? 'Unapologetic' arrives on Nov. 19.