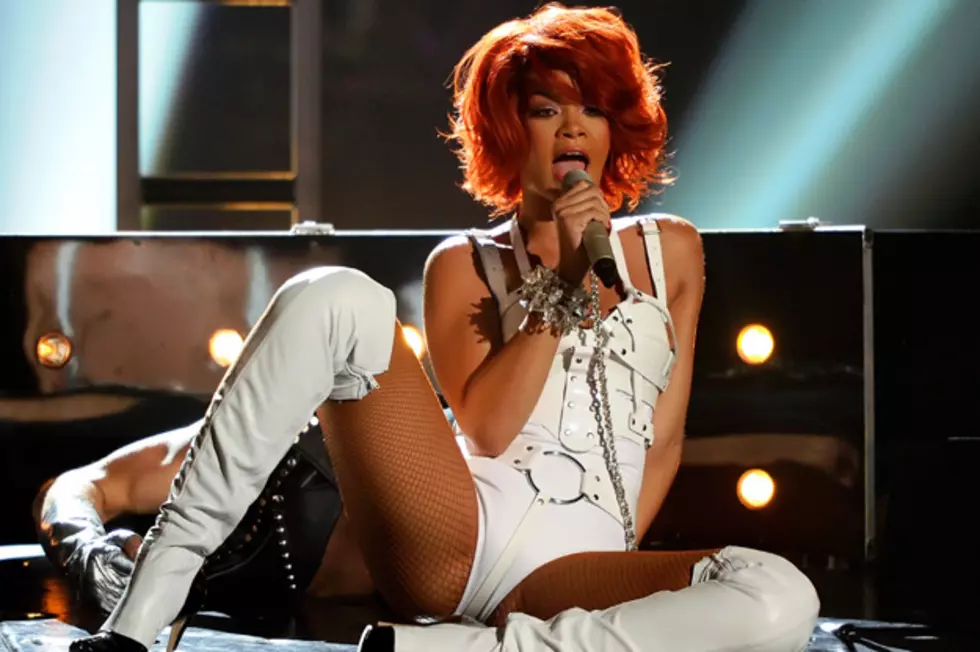 Rihanna Kicks Off Loud Tour With a Seductive Lap Dance
Rihanna began her Loud tour in Baltimore, Md. on Saturday, but in addition to the elaborate costumes and dance routines, the R&B singer kicked off the run by bringing a female fan on stage and giving her a sexy lap dance in front of the sold-out crowd.
A video of the moment shows the pop star in a white corset, sauntering up to the fan, who was brought on stage by two male dancers. Rihanna sings a line before straddling the unsuspecting woman during a live rendition of 'Skin.'
The Barbadian singer pushes her guest down on top of a circular platform, and then climbs on to of her, dancing erotically for a bit. Rihanna then moves to the woman's side as the platform rotates counterclockwise and retracts under the stage.
The 23-year-old played a selection of her biggest hits, including 'Only Girl (In the World),' 'Disturbia,' 'Shut Up and Drive' and 'Umbrella.' The set also included a cover of Prince's 'Darling Nikki' and cover of Sheila E's 'The Glamorous Life.'
Additionally, Rihanna gave fans a racy version of 'S&M,' which was similar to her 2011 Billboard Music Awards performance in that involved handcuffs and a playful pillow fight. Unfortunately, Britney Spears was not around to join her on stage.
Rihanna will hit Canada during the next few weeks, and trek through the West Coast and southern states before circling back east to wrap up her Loud tour on July 24 in Boston.
Watch Rihanna Give a Fan a Lap Dance on her 2011 Loud Tour