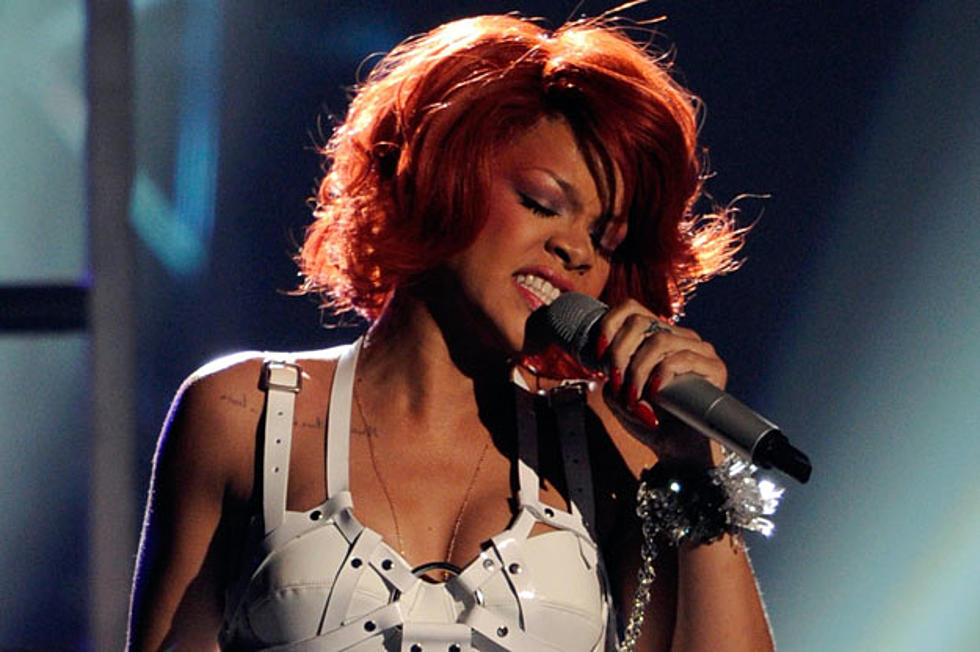 Ethan Miller, Getty Images
We're counting down the top 10 Rihanna songs ever produced -- from Bajan banger's early roots as an island girl with a fresh take on R&B, to her current reign as the dancefloor diva. In just a handful of years as a chart-topping superstar, Rihanna has reinvented herself more times than we can remember, but the one constant has been her unstoppable energy, which is obvious from the very beginning. Check out our list of the Top 10 Rihanna songs below!
10

Salacious and scabrous, Rihanna's ode to getting down and dirty isn't a metaphor for anything: She just loves sex! 'S&M,' Rihanna's third single from her 2010 album 'Loud,' saw her teaming up with her frequent collaborator Ester Dean to generate some of her most memorable lyrics ever: "Cause I may be bad, but I'm perfectly good at it / Sex in the air, I don't care, I love the smell of it / Sticks and stones may break my bones, but chains and whips excite me." The only reason it isn't goofy is because she delivers it so convincingly.

9

Our girl RiRi embraces dark themes in songs like 'Disturbia' and 'Where Have You Been,' but 'Diamonds' shines like a positive light in her repertoire. Rihanna uses the sparkling gem as a metaphor for her happy, healthy relationship. Seeing as her past romances have been rocky and well-publicized, we like seeing this side of her.

8

When Rihanna's 2007 album 'Good Girls Gone Bad' became such a monster hit, 'SOS' was sort of forgotten — even though it's one of her best singles. A squelchy synth-pop number that borrows the instrumental hook from Soft Cell's oft-sampled 'Tainted Love,' 'SOS' showed a new side of Rihanna after she was pigeonholed as an island novelty act — and it laid the groundwork for all her reinventions since.

7

'Only Girl (In the World)'

A monster smash that topped charts around the globe, 'Only Girl (In the World)' saw Rihanna stepping up her game after the creative, but commercially underperforming, 'Rated R' era. RiRi returned to her dance-pop roots with this Stargate-produced hit, featuring vocals that have never sounded chillier and set against a frosty earworm of an electro-house beat. Slick and sexy, this Rihanna song made us feel like, well, just that.

6

Arguably her best ballad, 'Stay' show Rihanna's rarely seen vulnerable side. The piano-heavy track recounts the struggle of trying -- and failing -- to resist love. The singer, who's collaborated with Jay Z and Kanye West, recruited Mikky Ekko to duet with her. The result is an powerful, emotional song that is sure to be one of her greatest hits.

5

'What's My Name?'

Feat. Drake

'What's My Name' works so well because it fuses elements of Rihanna's island-girl identity with her position as one of the chart's reigning divas — and the results are pure pop magic. It's one of the best-produced pop singles in recent memory, featuring layers of ambient drums, cool synths, and a thoroughly likable vocal performance from RiRi, who packs a ton of personality into her vox. Plus, that guest spot from Drake adds a sultry punch to the song's already-strong production.

4

It's hard to recall a stranger song reaching the upper heights of the pop charts, but 'Disturbia' was a surefire smash, despite its myriad weirdnesses. A dark, edgy song about a dystopic nightmare world that may exist only in Rihanna's mind, the Brian Kennedy-produced track -- taken from Rihanna's 'Good Girl Gone Bad: Reloaded' re-release (or Rih-release!) -- catapulted to the top of the charts. The video showed a darkly glamorous side to Rihanna that had previously only been alluded to.

3

'We Found Love'

Feat. Calvin Harris

It's been playing everywhere for so long that it's hard to remember a time before "We found love in a hopeless place," but aside from its ubiquity, this single is objectively amazing, and one of Rihanna's most sonically dazzling efforts yet. Straightforward dance-pop helmed by Scottish dance-master Calvin Harris, this Rihanna song features simple, sweet lyrics and storming house production. It's a song where the album version sounds like the big club remix — and that's never a bad thing.

2

Following the disturbing domestic violence charges Rihanna brought against Chris Brown, her music took an especially aggressive turn with her 2009 album 'Rated R,' a doggedly dark album that produced only one major hit: 'Rude Boy.' Luckily, it's one of Rihanna's best songs ever. Sly, sleazy rhythmic pop, it's the most radio-friendly track on 'Rated R,' but it will be remembered as one of Rihanna's finest moments because it transcends that: There's something ominous about Rihanna in this song; she seems stripped of personality and mechanically lusty, and it's thrillingly provocative to hear.

1

'Umbrella' was Rihanna's moment, the game-changer that cemented her place in the pop stratosphere, and it remains unchallenged as her best song. Originally offered to Britney Spears, the Jay-Z featured song — penned by The-Dream and Tricky Stewart — made extraordinarily good use of Rihanna's tangy vocals, and the "ella-ella-ella ay-ay-ay" hook that dominated airwaves all year. It's her endless, listenable vocals, over muscular rock masquerading as radio pop, that make 'Umbrella' our No. 1 Rihanna song.