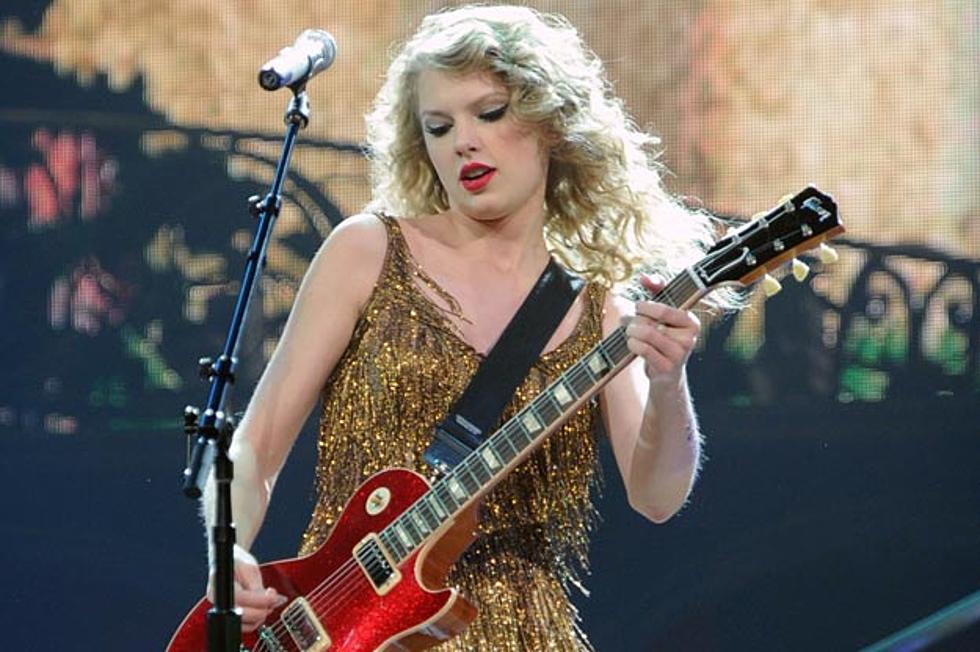 Top 10 Taylor Swift Break Up Songs
Rick Diamond, Getty Images
The top Taylor Swift break up songs undoubtedly chronicle the songstress' personal relationships, and the heartache that went along with them. Although Swift has only released four studio albums, many of her tracks encompass emotions we can all relate to — whether it be a boyfriend moving away, unrequited love, games, or deception. Here are Taylor Swift's best songs about break ups.
10

Her first of nine Top 20 hits, 'Teardrops on My Guitar' is about Taylor's real-life classmate crush, Drew, and how he had feelings for someone else. Although fittingly written in the perspective of a 16-year-old, the song still tackles the feeling of unrequited love, something we've all experienced in high school: "He says he's so in love / He's finally got it right / I wonder if he knows / He's all I think about at night."

9

This particular story was inspired after Swift had a run-in with an ex at the 2010 CMT Music Awards. "Now I'm standing alone / In a crowded room / And we're not speaking / And I'm dying to know / Is it killing you / Like it's killing me?" Taylor sings over heavy percussion and electric guitar. Ugh, no wonder she was "nervously pulling at [her] clothes." We would be too.

8

While Taylor Swift chooses to neither affirm nor deny that this song or "letter" is about John Mayer, we do know she had a short fling with the guitar aficionado while lending her vocals for his 2010 track 'Half of My Heart.' Swift sings: "You paint me a blue sky and go back / And turn it to rain / And I lived in your chess game / But you changed the rules every day / Wonderin' which version of you / I might get on the phone, tonight."

7

When Taylor's pissed off, you'll know it, evident in this break up song laced with country attitude. Off Swift's self-titled, debut album, the song easily writes off an old flame, as shown in the Trey Fanjoy-directed video. "The storyline of the video is," Taylor slyly states, "if you break up with me, my band will ransack your house." Boys, you were warned!

6

'We Are Never Ever Getting Back Together'

Every feel trapped in an on-and-off relationship? Taylor feels your pain. 'We Are Never Ever Getting Back Together' reflects the frustration of not being able to put someone in the past. T.Swizzle takes a light-hearted approach to the topic, instantly making "Like, ever" a catchphrase for her exasperation.

5

'Back to December' finds Swift apologizing to a boy she may have not appreciated back in December of 2009. "This is about a person who was incredible to me, just perfect to me in a relationship, and I was really careless with him," Swift tells E! Entertainment. "So, this is a song full of words that I would say to him that he deserves to hear." Like 'Dear John,' Taylor stays mum, but we all know she dated Taylor Lautner towards the end of '09.

4

While most of Taylor's breakup songs focus on what went wrong in the relationship, 'All Too Well' is a bittersweet look at something that was magical until it wasn't. Taylor weaves in sweet memories, like looking at childhood photos of her then-BF, before sadly concluding that she's still struggling to move on. 'All Too Well' doesn't have the fire of 'Should've Said No,' but it might be her most honest track yet.

3

'I Knew You Were Trouble'

Taylor knew this relationship was toxic from the start, but that didn't stop her from going for it anyway. "I Knew You Were Trouble" captures T.Swift's "shame on me" reaction, while sonically emphasizing the chaos of the doomed relationship. Although the dubstep interspersed throughout the track is a departure from Swift's folksy roots, it shows her exploration as an artist.

2

A banjo rock-infused track, 'Should've Said No,' stems from the words her ex pleaded to her after Taylor found out he cheated. Although not as angry as 'Picture to Burn,' the song dabbles on the morals and lessons Swift learned from her 16-year-old relationship.

1

A fairytale without the happy ending, 'White Horse' portrays an unfaithful boyfriend who Taylor sees originally as the perfect guy in 'Love Story.' Co-penned by Swift and Liz Rose, the piano ballad, from 2008′s 'Fearless' album, went on to win two Grammy Awards for Best Country Song and Best Female Country Vocal Performance.

Bonus

You Think You Know Taylor Swift?