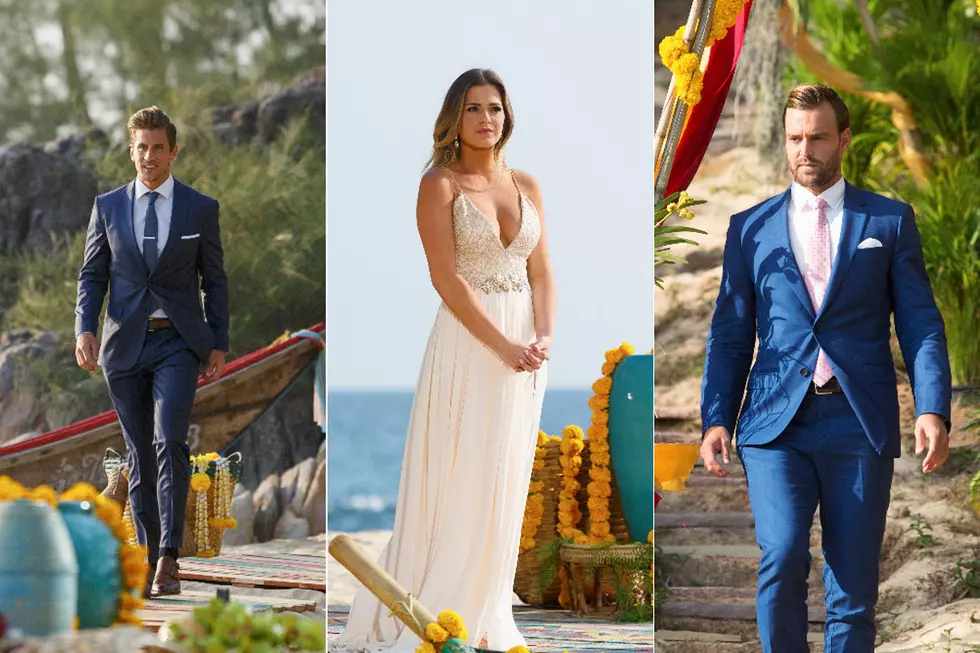 'Bachelorette' JoJo Fletcher Says Yes to Her New Fiance
Matt Klitscher, ABC
Fletcher had whittled her selections down to Jordan Rodgers and Robby Hayes, after sending Luke Pell and Chase McNary packing in the previous episode. Both Jordan and Robby selected engagement rings while in Thailand, where the two moments of reckoning were set to take place.
Both finalists also met JoJo's family in Thailand, where Robby asked JoJo's parents Sorayah and Joseph for their blessing in person.
"She means the world to me," Robby told them, "And I can promise that she will be my number one priority in life, and in everything I do."
Meanwhile, Jordan declined to ask JoJo's father the same question during his visit, despite discussing the ritual's importance with her in the previous episode. After JoJo voiced her concerns, Jordan dialed the Fletchers on his iPhone to do the deed, and then both Robby and Jordan shared their feelings for JoJo in handwritten letters before the big moment on the Thai beach.
Rodgers is the estranged brother of Green Bay Packers quarterback Aaron Rodgers, and is himself a former football player. People reports that he recently took a job at the SEC ESPN Network. Jordan was an early favorite from the outset: JoJo gave him the First Impression rose in the very first episode, and was the first man she kissed as well.
"Jordan, will you accept this rose?" JoJo asked him, after saying yes to his proposal.
"JoJo taught me the type of woman I deserve," Robby, a former competitive swimmer, told Chris Harrison during the after show. When asked whether he understood now why she turned him down despite their feelings, he admitted that he still has "no clarity."
"No matter how I felt when I was with you, my heart was always with Jordan," JoJo told Robby when they finally reunited in the special, citing the "fairy tale love" she often spoke of wanting during the series.
The Bachelor's Bachelors, Then and Now