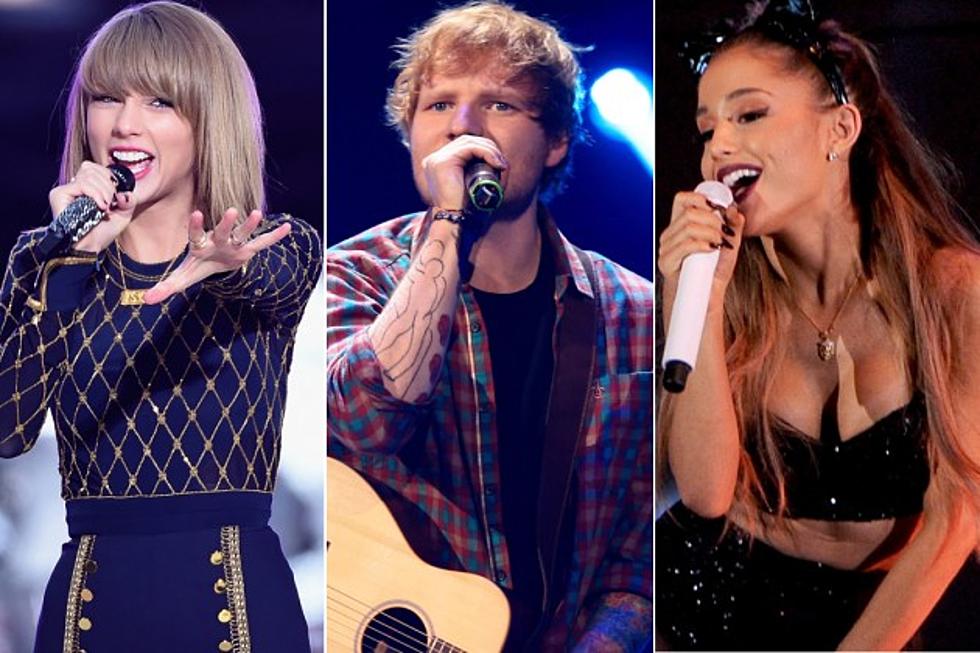 Jamie McCarthy/ Christopher Polk/ Kevin Winter, Getty Images
Believe it or not, 2014 is almost over -- which means we've heard a lot of awesome songs from some of our favorite pop artists this year.
10

Magic! cruised into radio waves with their reggae-infused 'Rude.' While the "Why you gotta be so rude?" chorus is insanely catchy, we also can't resist the laid back vibe of the track. It's the perfect jam for those lazy summer days and sure to be the first of many hits for Magic!.

9

The Vamps, 'Somebody to You'

"Yeah, you!" From its stomping beats to its Demi Lovato feature, 'Somebody to You' became an instant Vamps classic. The song is a sweet declaration of love, made only more charming by the four men singing it. How can we resist them when they insist that all they want to be is "somebody to you"? Swoon.

8

The normally laid back and charming Ed Sheeran shows his acerbic side with 'Don't.' The track, which details Ed's feelings toward an unfaithful ex, is a departure from his usually heart-melting ballads. However, Ed's incredible lyricism and creative arrangements are present in 'Don't,' making us love it that much more -- and earning it a spot on our Top 10 Songs of 2014 list.

7

Meghan Trainor, 'All About That Bass'

Meghan Trainor became a household name with 'All About That Bass.' The singer exudes self-confidence in the song that encourages listeners to embrace their body, no matter the shape. Catchy lyrics and empowerment? It's clear why Meghan's breakout hit was such a homerun in 2014!

6

Demi Lovato, 'Really Don't Care'

Demi Lovato has a message for the haters, and it's loud and clear. She has no room for negativity in her life. Demi has become an icon for self-acceptance, and it's songs like this that become anthems for her Lovatics. Did we mention that we can't stop chanting the "Oh, oh, oh!" from the chorus?

5

5 Seconds of Summer, 'She Looks So Perfect'

5 Seconds of Summer charged onto radio waves with 'She Looks So Perfect,' an ultra-catchy song that celebrates being young and in love. Not only are the band members super-talented and charismatic, in one fall swoop they made American Apparel underwear synonymous with kismet.

4

It's a nice change of pace to see the usually playful boy band slow it down for 'You & I,' the latest single from their third album, 'Midnight Memories.' The ballad is a chance for the boys to demonstrate their vocal abilities, proving they aren't solely a group of pretty faces — that's just an added bonus. 1D take turns crooning grand statements of love, claiming, "Not even the gods above can separate the two of us." Pretty romantic, don't you think? Our knees are weak just thinking about it!

3

Iggy Azalea was everywhere this year, guesting on hits like Ariana Grande's 'Problem' and owning her own singles, like 'Fancy.' 'Clueless'-inspired music video aside, 'Fancy' elevated Iggy to superstar status. What other song lets listeners openly celebrate their swagger? 'Fancy' was on repeat for 2014, and we don't see this changing in the new year.

2

Taylor Swift, 'Shake It Off'

Taylor Swift officially released her first pop single in 2014, and naturally, it's amazing. 'Shake It Off' is a retro-flavored, horn-boasting hit that shoos away the haters. We can't help getting down to this song and its sick beat. If this is Taylor's formal entry into pop music, we can't see what she has up her sleeve next!

1

Ariana Grande doesn't need a man in her life, as proven in 'Problem.' The song recalls a cat-and-mouse game – one that Ariana refuses to play. Her sultry "One less, one les problem" chant is all the convincing we need to oust the baggage out of our own lives. 'Problem' is the latest step in Ariana's mission to take over the world -- and it lands at No. 1 on our list of the Top Songs of 2014.