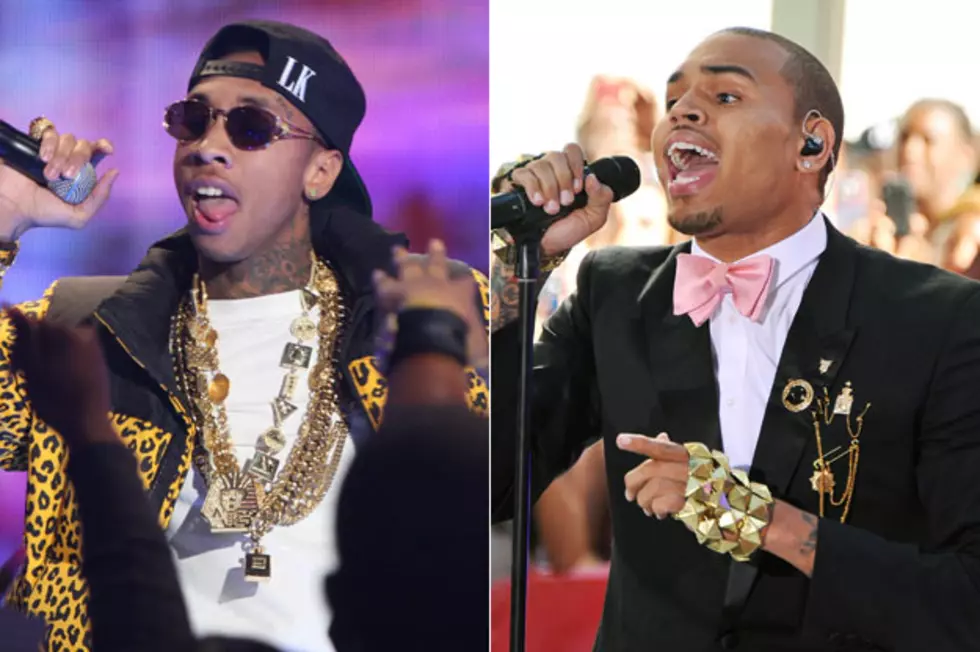 Tyga vs. Chris Brown – Sound Off
Kanye West and Jay-Z might want to watch their throne a little closer, because Tyga just took the reigns as the newest victor in PopCrush's Sound Off. While it was a close race, the Young Money rapper managed to overthrow the hip-hop giants with his hit track 'Rack City.' Now, Tyga will go up against 'Deuces' collaborator Chris Brown and his new single 'Turn Up the Music.'
On 'Rack City,' Tyga gets down and dirty as he raps about his swag and strippers. While Tyga shows off his flow with some rough-around-the-edges rhymes, the simple beat is really what gets us coming back for more -- it's beyond infectious, with finger snaps, maniacal keys, snares, and a chorus of manly chants.
On the other hand, much like 'Yeah 3x,' Chris Brown is providing his fans with a fresh dancefloor anthem with the release of his new single 'Turn Up the Music.' The party jam has a swelling house beat, and Breezy delivers smooth R&B vocals on the verses before the hook of "woah oh oh oh oh oh's" and catchy chorus kick in.
If you had to choose to get your groove on to Tyga's 'Rack City' or Chris Brown's 'Turn Up the Music,' which song would you pick? Vote for either one of the tracks throughout the weekend -- we will announce the winner after the poll closes at 8AM EST on Monday, Jan. 30.
Listen to Tyga, 'Rack City'
Listen to Chris Brown, 'Turn Up the Music'
Rules of 'Sound Off':
There's only one rule for our 'Sound Off' series: If a song remains the reigning champ for five straight days, it is retired to PopCrush's 'Sound Off' Hall of Fame. With tons of great tracks coming out everyday day, we have to give other artists a chance to win!