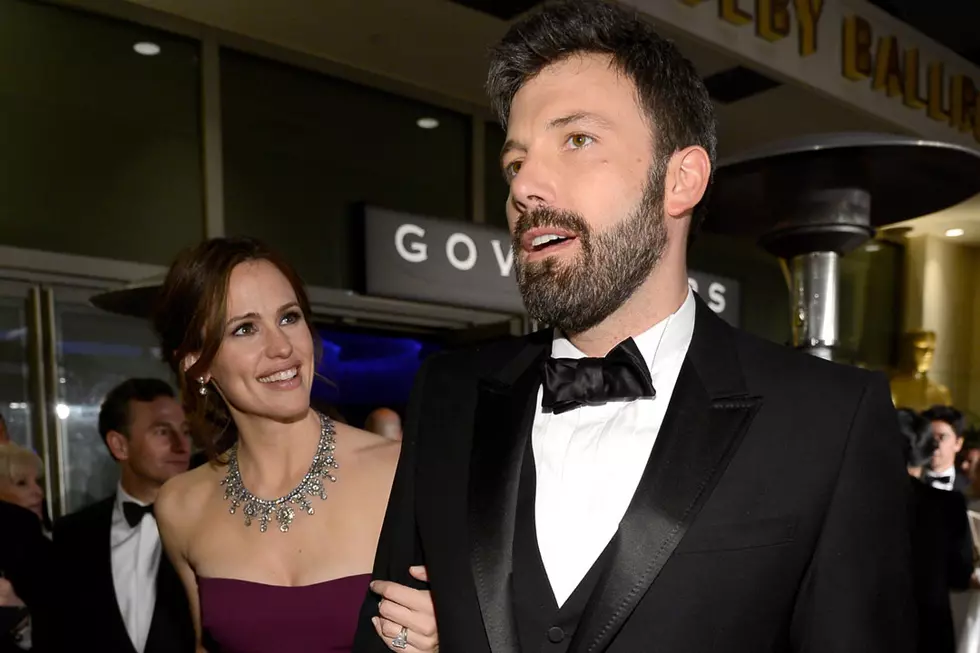 Ben Affleck On Split From Jennifer Garner: 'We're On Great Terms'
Kevork Djansezian, Getty Images
Ben Affleck has remained tight-lipped about his split with wife Jennifer Garner, first announced in June of last year. And that's fine — the dissolution of a 10-year marriage is their business, plus he's got Batman movies and hideous back tattoos to attend to. But in a March 14 chat with the New York Times, Affleck responded to the insights Garner recently offered in a Vanity Fair cover story.
Times reporter Dave Itzkoff writes that it's a "feverish, perplexing time for Mr. Affleck," and says "you may find yourself envying, pitying and disliking him all at once." Itzkoff observes that the excitement of taking over the Batman franchise is considerably tempered by the end of Affleck's marriage, particularly given the fact that Garner's Vanity Fair story was published the day before their interview.
"It never seems like a great time to have your privacy invaded," Mr. Affleck tells the Times. "Obviously this is a particularly hard time."
Garner spoke frankly, though not unkindly, of her ex and their breakup in the story, clarifying that they'd been apart for months before she heard the rumor he was sleeping with their nanny, and it was "not part of the equation." She also said, "I'm still the only person that knows some of his truths."
"She felt like she wanted to discuss it and get it out there and get it over with," Affleck told the Times, "so she could say, 'Look, I already talked about it — I don't want to do it again."
"Jen's great. She's a great person. We're on great terms. I just saw her this morning, so that's the reality that I live in." He also said Garner and their three children planned to visit him while he films Justice League so they can all take a family vacation in Europe together. Which is very...healthy?...of them.
Read the rest of the interview, in which Affleck discusses his previous and upcoming film roles, on the Times' site.