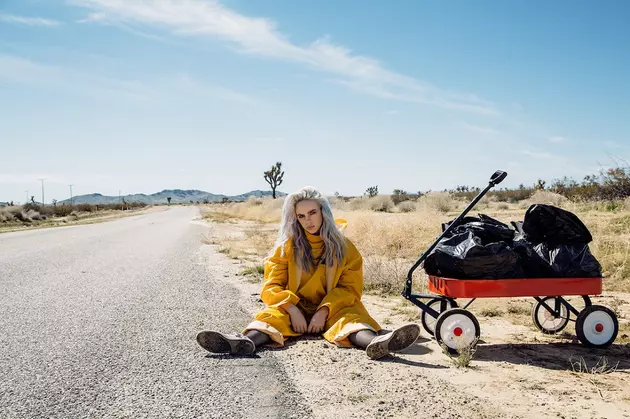 Billie Eilish Is On the Run in 'Bellyache': Watch
Courtesy of Billie Eilish / High Rise PR
Billie Eilish is both Thelma and Louise in her brand new micro-Western for "Bellyache," the 15-year-old singer-dancer's crazed alt-pop single.
In the dreamy clip, Billie wanders a long, desolate desert road, dragging a red wagon behind her with garbage bags full of cold hard cash which, at one point, she maniacally, blissfully flips through and tosses over her head like a teen at the mall on payday.
"Where's my mind? Where's my mind?" she ponders melodically over a galloping beat and twangy guitar strums.
"They'll be here pretty soon / Looking through my room / For the money / I'm biting my nails / I'm too young to go to jail / It's kinda funny..." she continues recklessly, as the track pours into a sinister dub breakdown.
The video culminates with a quiet showdown amid the Joshua trees —this is the wild west, after all—as Billie finds herself face to face with a doughnut-gobbling police officer waving a baton.
It's a cerebral slice of slick, manic pop that is at once frightening and relatable. Watch below:
Meet the Alt Girls of Pop: