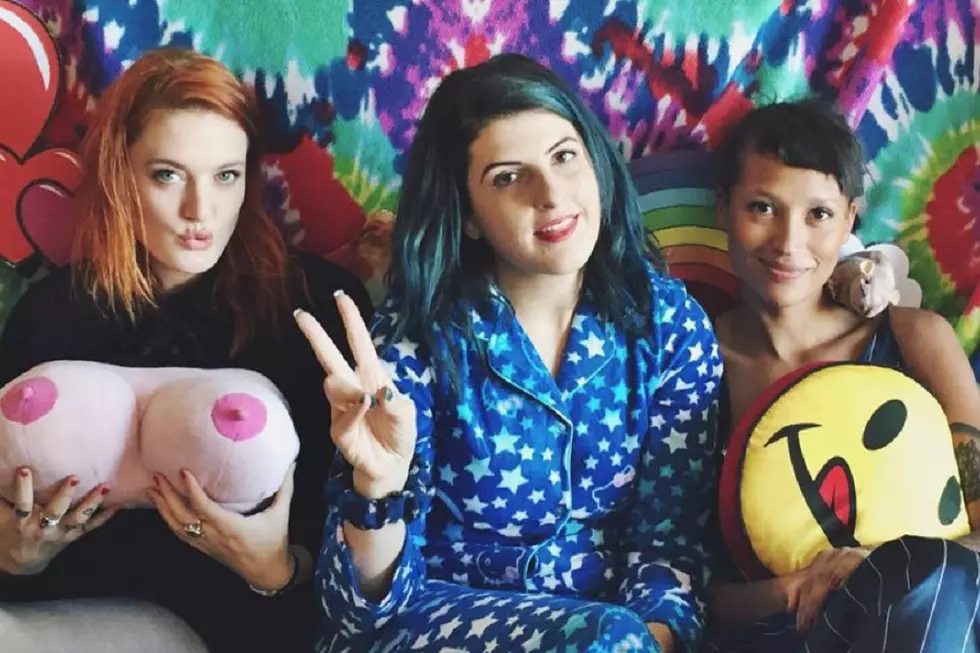 Slumber Party @emmieshouse with Icona Pop: Premiere
Instagram @emmieshouse
Our fave professional BFF/DJ, Emmie Lichtenberg (a.k.a. @emmieshouse), is back once more with another colorful, sassy installment of her web series, Slumber Party — and this time, she's invited Swedish pop super-duo Icona Pop to the party!
In the show's latest glitter and gossip-filled episode, Emmie curls up with Caroline and Aino amid a pile of emoji pillows to play "Truth or Dare" and "Would You Rather?" (two sleepover staples, of course), talk touring with the boys of One Direction (an experience they liken to Spice World) and discuss how to say "pajama party" in Swedish. (Spoiler: It sounds really cool and we totally can't pronounce it.)
Along with chatting about kissing boys and staying up late, the girls — who have collaborated on "Artist Rouge," a collection of color cosmetics for Make Up Forever — also take a super "disgusting" (i.e. effortlessly cute) selfie to send to their bestie and fellow Swedish pop star Tove Lo... because when you're at Emmie's House, anything can literally happen.
Plus, don't miss Emmie's last episode of Slumber Party starring Kate Nash, and be sure to take a listen to Icona Pop's new dance collaboration with Louis The Child, "Weekend," below or on our Best Weekend Songs playlist, here.
The Alternative Girls of Pop, from Lorde to Lana Del Rey: