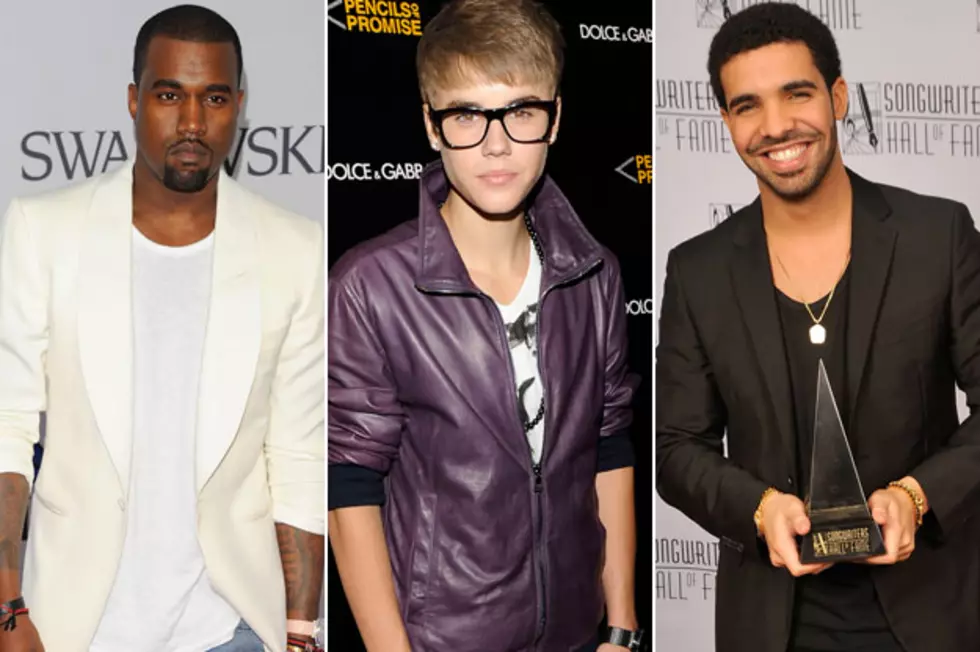 Justin Bieber Working With Kanye West and Drake on His 'Believe' Album
The Biebs' holiday album 'Under the Mistletoe' drops on Nov. 1 but the teenage dream is already thinking about his next full length, called 'Believe.' He dropped a bomb -- or is that a brizzy? -- and revealed that both Kanye West and Drake will be featured on the album, which follows 2010's 'My World 2.0.'
The Biebs revealed the big news to Capital FM, a UK radio station.
Bieber said, "I'm working with a lot of cool people. I'm working with Kanye. Drake is going to work on the album with me." He also revealed that it's a carefully measured process, saying, "I just learned about picking the right songs and making sure that I create a sound that people aren't really used to hearing so that it's new and fun and people enjoy it."
There are so many possibilities here. Will Drizzy and The Biebs trade verses? Will Yeezy and The Biebs mix up their flow? Will The Biebs sing while either raps? The sky is the limit. The Biebs is all of 17 and he is already the hottest ticket in music and is surrounded by so many A-listers.
We've gotta say it: How about a collab with a female singer, like, maybe Selena Gomez? We heard you may have her number and may even know her a little bit. She'd be great to feature on the album. Wink-wink, nudge-nudge.