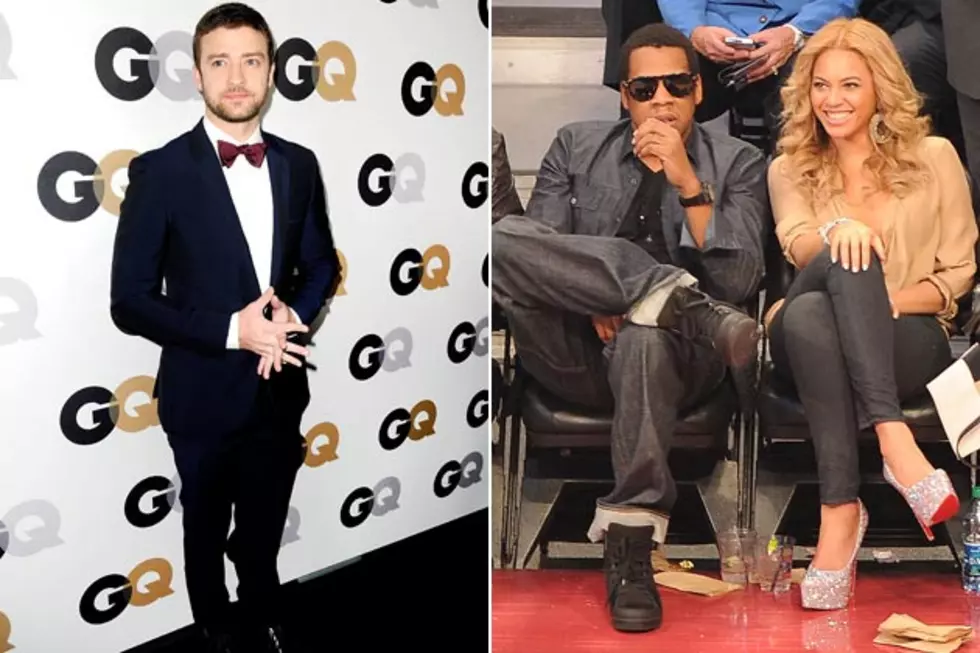 Is Justin Timberlake Going to Release New Music With Jay-Z and Beyonce Today?
Frazer Harrison / Jason Merritt, Getty Images
If you want to interpret a cryptic tweet issued by the-long-absent-from-making-music-while-he-stars-in-romantic-comedies Justin Timberlake, he just might be making his much anticipated return to music. Rumor has it that a long-rumored collabo with Jay-Z and Beyonce is in the works. Say what?!
According to Complex, the rumor began with Florida's Radio Now 97.9, which suggested that the single will be released shortly.
Now things have caught fire a bit in terms of the who, the what and the when.
Last night, JT tweeted today's date, referencing the very specific time of 9:01AM PT. So we know we have to watch out for something at that time. Will it be the single that is released to radio or via DSPs at that very moment? Could be. What a tease.
Thursday, January 10th, 2013 at 9:01 am PST...

— Justin Timberlake(@jtimberlake) January 10, 2013
But that's not all, JT fans.
Apparently, he has recorded a full album that was produced by Timbaland, which was rumored and reported, and then shot down by his publicist, who flat out denied that he was working on music, back in August. Billboard reports that 20 tracks have been recorded. A source close to the situation also said the singer will be releasing music soon. Perhaps he watched and rewatched this PSA, where fans pleaded for him to make his return.
We're a little skeptical, but also incredibly hopeful. Hurry up 9:01AM PT and get here!
Timberlake's last album 'Future Sex/Love Sounds' came out in 2006, which is too long ago.
Watch the Justin Timberlake 'Sexy Back' Video