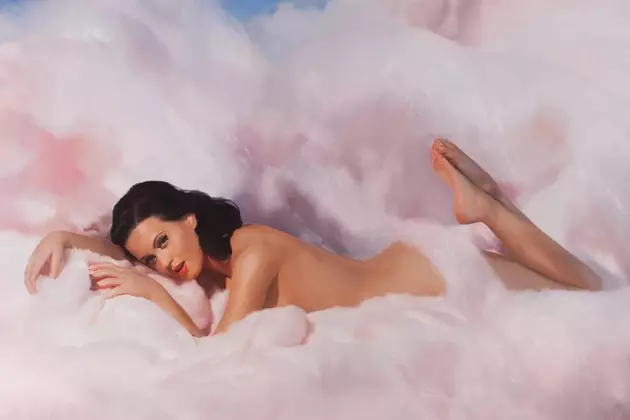 All We Have Is This Moment: Katy Perry's 10 Best Deep Cuts
Capitol Records
From pop-rock to dance-pop to hip-hop, Katy Perry is the queen of switching up her Top 40-busting sound.
The pop star first burst onto the scene in 2008 when her controversially electrifying ode to bi-curiosity, "I Kissed a Girl," invaded the airwaves and hit No. 1 on the Billboard Hot 100 chart. The same year, she released her debut album, One of the Boys, a collection of flirty, tongue-in-cheek power-pop and rock bops that matched her (at the time) technicolor rockabilly/pinup girl style. In 2010, Perry veered down a different road, switching gears from rock to pure pop on her record-breaking smash, Teenage Dream, which delivered a string of massive hits, from "California Gurls" to "Firework."
A deluxe album re-release was unveiled in 2012 (The Complete Confection), but it took until late 2013 for the musician to drop her third album, Prism, which saw Perry dip her toes deeper into the waters of hip-hop ("Dark Horse") and disco ("Birthday"). And while the pop star is best known for churning out major radio hits, her non-single tracks also pack a punch of pop personality.
Below, discover Katy Perry's ten best album deep cuts, from sweet, synthy ballads like "Pearl" to rollicking indie rock jams like "Fingerprints."
---
"Hummingbird Heartbeat," Teenage Dream
One of the album tracks off Perry's sophomore LP, many critics (Billboard, Digital Spy) agreed that this Tricky-produced song should have been pushed as a single during the artist's Teenage Dream era—and we agree. A starry-eyed, synthed-up '80s-styled rock banger featuring a driving electric guitar riff and written lovingly (at the time) about Perry's ex, Russell Brand, "Hummingbird Heartbeat" is is pure, sweet, fluttering pop bliss celebrating the "birds and the bees." It gets our heart racing every time.
---
"Legendary Lovers," Prism
Dreamy and sensually-charged, "Legendary Lovers"—co-written by Bonnie McKee—is another track many assumed would be given the single treatment. Featuring a trap-meets-bhangra beat, flickering sitar cords and exotic, throbbing electronic production, the world music-inspired song finds Perry musing lyrical on karma, sexual pleasure and destiny while also shouting out various famous historical and fictional romantic figures, from Cleopatra to Juliet.
---
"Fingerprints," One of the Boys
Yes, kids, it's true: Katy Perry was once a burgeoning rock princess and not the glossy pop diva she is today. Her assertive musical grit and Alanis Morissette leanings are no more apparent than on "Fingerprints," an energetic, defiant "fist in the air" rock anthem off her 2009 debut album. Over a rollicking flurry of zippy guitar riffs, Perry sings, in her gravelly tone, about wanting to leave a legacy: "I'm worth more then they ask for then / The toe-tag generation full of regret / Oh I won't settle no!" Mission accomplished.
---
"Spiritual," Prism
Produced by Greg Kurstin and co-written by Perry's then-boyfriend John Mayer, "Spiritual" is nirvana in pop form: Over a mid-tempo beat and a soundscape of '90s trip-hop, the artist sings airily about a lover who "makes [her] float" on this cut off the deluxe version of Prism. It's totally ethereal and blissed-out, making it one of the pop star's most pleasant, feather-light listens.
---
"Pearl," Teenage Dream
One of the more emotionally raw offerings from the pop star's discography, "Pearl" is a surprisingly tender synth-pop ballad about a young woman caught in an abusive relationship. Speaking to Rolling Stone in 2010, Perry admitted that the slow-throbbing track is actually self-referential, making it all the more poignant as she sings about a girl who's "become a shell of herself." It's heartbreaking and hopeful all at once.
---
"Lost," One of the Boys
The calm before the storm: The then-burgeoning pop superstar muses, in her raw honey hues, on "fair-weather friends" and being "so sick of this town pulling [her] down." Anchored by a melodic trip-hop beat and twinkling music box synths, this light rock song draws some sonic and emotional comparisons to Avril Lavigne's "I'm With You."
---
"This Moment," Prism
Perry tackles the fleeting passage of time and missed opportunities on this sparkling Prism cut. A big, rattling electro-pop tune produced by Benny Blanco and Stargate, the singer ruminates on the unspoken nature of tomorrow and the importance of seizing (and reveling in) the moment while you can: "Can you tell me, who called a race? / Can anyone stay in one place? / And when you get to the finish line / Will you wish for more time?" she asks, her voice shimmering. It's an exhilarating ode to existential FOMO, and in a better world, it just may have received the single treatment.
---
"Not Like the Movies," Teenage Dream
A flickering mid-tempo piano ballad chronicling the bittersweet search for The One, Perry's glassy vocals glide on "Not Like the Movies," the closing track off Teenage Dream. Technically released as a promotional single, the heart-wrenching track was written both before and after Perry entered into a relationship with her estranged husband, Russell Brand, making it all the more sorrowful and intimate atmosphere. "I didn't feel the fairytale feeling, no / Am I a stupid girl for even dreaming that I could?" Perry sings on the cinematic ballad, breaking our collective hearts.
---
"Walking on Air," Prism
Perry tries her hand at '90s deep house on this gigantic dance track and promotional single off Prism—and it pays off. Inspired by the rave thumpers of CeCe Peniston and Crystal Waters, the pop star flexes her chops as a dance diva on this euphoric Max Martin-produced banger, belting out stratospheric vocals about a love that "even heaven is jealous of." Once the gospel choir kicks in towards the end, you're already so high up that it's impossible to come back down.
---
"Double Rainbow," Prism
One of Perry's more ethereal offerings, "Double Rainbow" abandons the high energy pop and hip hop of Prism for something more shimmery and quiet. A stunningly restrained synth-ballad—all breathy and airy and awash in sonic pastel hues—this Greg Kurstin-produced track sounds like sunbeams breaking through the clouds after a thunder storm. Meanwhile, the singer's wistful vocals float, benefiting from Sia's miraculous pop penmanship.
Every Katy Perry Album and Single Artwork Ever: