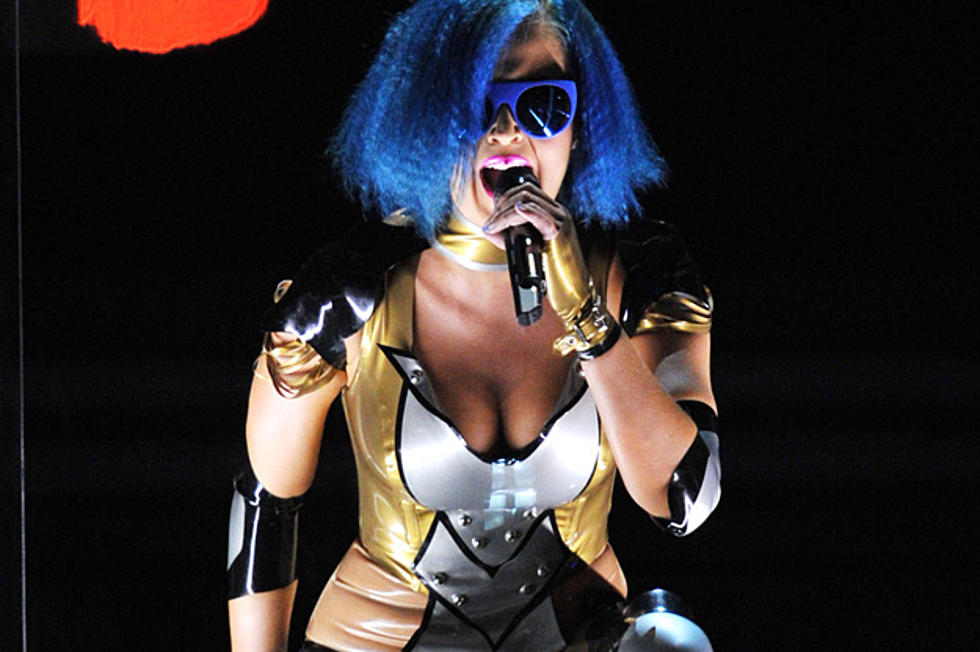 Katy Perry Rocks Out to 'Part of Me' at 2012 Grammys
Presenter Kate Beckinsale poked fun at Katy Perry's ability to shoot fireworks out of her boobs, but never doubted her ability to put on a good show. Perry knocked viewers' socks off with her 2012 Grammy performance of her new single, 'Part of Me.'Perry's performance began with 'E.T.,' her duet with Kanye West that served as an ode to the superior bedroom skills of a lover. The stage was deliberately quite dark, almost pitch black lit only with green and blue lasers. Soon, the music abruptly stopped.
While the audience panicked momentarily (was this the new Milli Vanilli moment?), the real Katy Perry appeared in a window, her wild blue hair crimped, clad in matching sunglasses. She begins to sing her opening notes as a ballad -- until she regains her strength and breaks through. Literally. Perry shatters the glass and emerges, dressed like a super heroine.
Perry breaks into 'Part Of Me,' the new breakup anthem off of her 'Teenage Dream: The Complete Confection' re-release. The abrupt end to her relatively romantic song, 'E.T.,' and sudden breaking into her defiant 'Part of Me' is symbolic for the singer. The move was clearly reflective of her divorce with Russell Brand -- especially when she sings, "You can keep the diamond ring / It don't mean nothin' anyway." Tell us how you really feel, Katy!
It turns out Perry's surprise wasn't a guest. It was a new song, newly improved dance moves and a new attitude. Welcome back, Katy!
Watch Katy Perry Perform 'Part of Me' at the 2012 Grammys