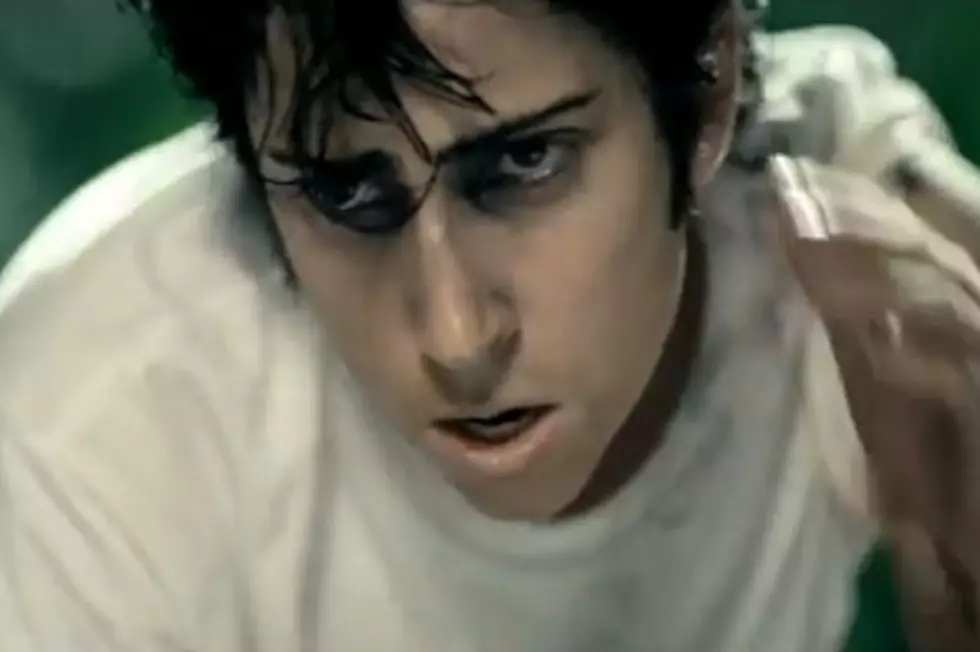 Lady Gaga Opens 2011 MTV VMAs as Alter Ego Jo Calderone
Lady Gaga opened this year's VMAs as her alter ego Jo Calderone, who spews his anger at Gaga's persona. "Lady Gaga, she left me," he announced, establishing their relationship, which was hinted at in the 'You & I' video. He screamed, "I got crazy. But she's f---ing crazy, too. She's f---ing crazy."
Calderone delivered a cuss word-laden monologue, sort of like Andrew Dice Clay, with his thick accent, his black suit, greased hair, faint mustache and bravado-laced speech, which he gave while smoking. He talked about how Gaga "gets out of the bed, puts on the heels, goes into the bathroom. I hear the water go on. She comes out of the bathroom dripping wet and she's still got the heels on." He then asked: "What's with the hair? At first it was sexy. Now I'm confused."
The brooding, rebellious and somewhat sexy Calderone conceded that Gaga is a star and said when she gets on stage, she holds nothing back.
Calderone then sat down at the piano and launched into 'You & I' and this version was jazzier and more loungey, like the VMAs promo spots.
So much for that MTV-devised "What will Gaga wear" Twitter hashtag! It wasn't couture and heels. It was black trousers, a white tee and greasy sideburns. We were half-expecting Jo to rip off that utilitarian ensemble and reveal a black bikini and to morph into the Mother Monster, but he didn't. It was all Jo Calderone.
Queen's Brian May actually graced the stage to perform the riff that anchors 'You & I,' while Gaga -- we mean Jo -- returned to the piano and then straddled May as he played. Jo then climbed atop the piano and spewed beer from a bottle all over the audience.
Jo Calderone wants to be a star like Lady Gaga. He may have just got his wish with that performance ... Even if Justin Bieber, Britney Spears and Adele all looked totally bewildered, confused and shocked by her performance. That's proof that Jo/Gaga are otherworldly and their stars eclipse all others.
Watch Lady Gaga Perform 'You and I'