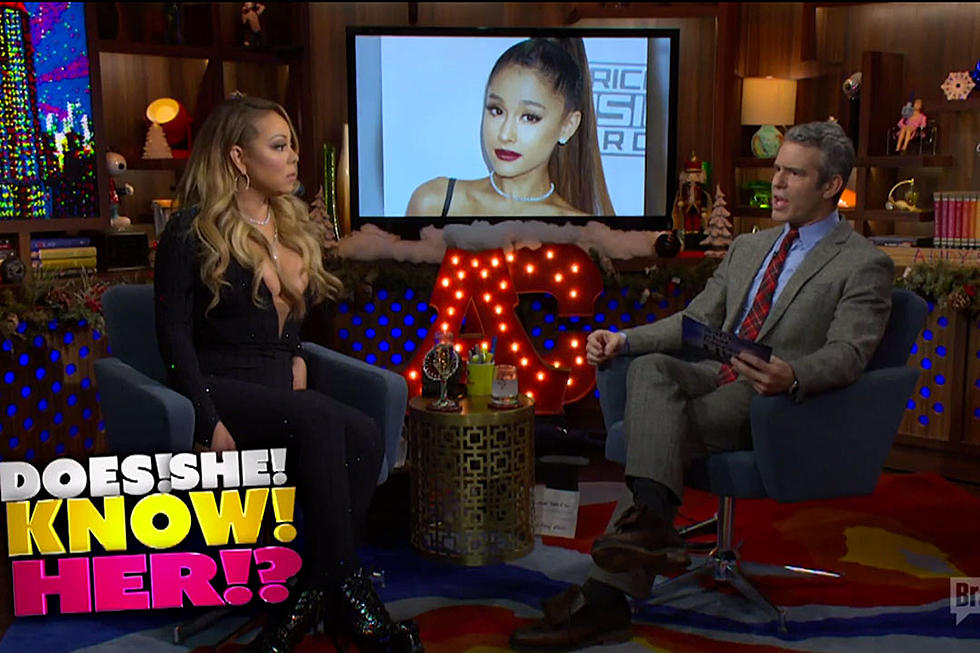 Mariah Carey Still 'Doesn't Know' Ariana Grande, 'Loves' Britney Spears
Bravo
Mariah Carey visited Andy Cohen's Watch What Happens Live for the third time on December 18, and proved two things remain true: She's still a huge fan of the holidays, and no, she still "doesn't know her." Any of her(s), whether that be Jennifer Lopez, Demi Lovato or Ariana Grande.
But as Mariah clarified in her May appearance on WWHL, the central issue is how Mariah's definition of "know" differs from how others think of the term. While you might use the word "know" to mean "we're acquainted through mutual friends and social gatherings" or even "recognize the work of" an artist, for Mimi to "know" you, she must have a close understanding of your soul. 
"I've spoken to you at least three times, right?" Mariah asked Andy. "We've had many conversations together. Do you think I know your like, every waking thought? I don't!" She begrudgingly admitted she does technically know Andy before the host introduced a round of "Does She Know Her?"
Mariah says she's "met" Lady Gaga, who came to her Christmas show and was "sweet" (Taylor Swift and Katy Perry were each also deemed a "nice girl.") As for Ariana? Mimi couldn't tell you.
"When I looked at her early in the career I thought, 'oh wow this is a bit of an homage to Mariah,'" Cohen said of Ariana's "The Way" days. "Did you feel that?"
"Child, I don't know when 'early in the career' was," Carey retorted.
The "All I Want for Christmas Is You" singer maintains she's "never had a conversation with" Madonna, but "loves" Britney Spears.
And as for Miley Cyrus, who told Elle earlier this year that she's "never been a fan" of Mariah?
"I think we met in a bathroom once? I don't know, I don't know," Mariah said, fixing her hair in faux distraction. She can't be expected to remember every singer she's performed on VH1 Divas Live with!
Watch Mariah Carey play "Plead the Fifth" — and give Andy some hot cocoa with Butterscotch Schnapps, which she 'only learned about in Aspen', god bless her — below.
The 25 Best Albums of 2016