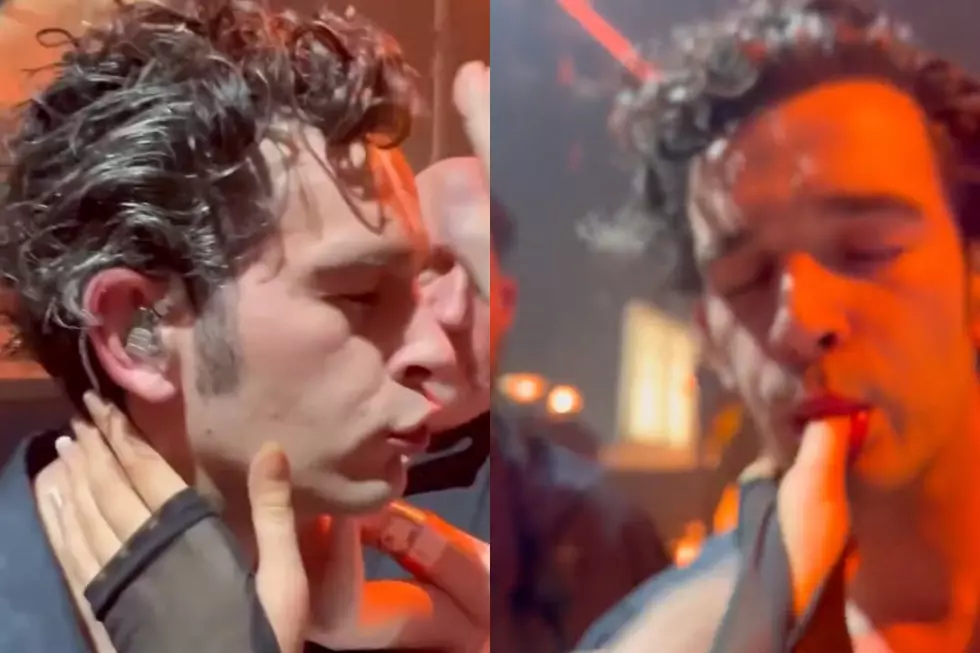 Matty Healy Sucks Fan's Thumb During 1975 Concert: WATCH
@kayyculffx via Twitter
After going viral for eating raw meat on stage, The 1975 frontman Matty Healy is making waves on social media again after videos were posted showing him sucking on a fan's thumb mid-show.
The fan, whose bio on Twitter now reads, "yes matty healy sucked my thumb," tweeted the video Jan. 8.
"matty healy just sucked my thumb goodnight," she wrote.
Watch below:
The moment occurred during fan-favorite song "Robbers."
After tweeting the video, the fan wrote that people were calling her thumb-related names such as "Thumbelina" and "Thumb Girl."
On Jan. 9, she added, "None of these people on this train know what matty did to my thumb last night," as well as, "I'd like to publicly apologi[z]e to denise welch and tim healy for making them watch their son suck my thumb last night."
Healy's parents were reportedly in the audience at the band's Brighton, U.K., show.
Meanwhile, another fan at the same show shared a video on Twitter of Healy kissing her during the same song, "Robbers."
"So matty healy just french kissed me," the fan wrote.
See below:
Healy has gone viral several times for sharing kisses with fans over the course of The 1975's current tour.
In November 2022, he kissed two fans on stage, including a male fan and a married fan. He also shared a smooch with bandmate Ross MacDonald before changing his tactics to sharing kisses with fans over the barricade off-stage.
Healy has also continued eating raw meat on stage for unknown reasons, continuing the trend at Jan. 8's Brighton show.
"Every time Matty Healy eats raw meat on stage a year is taken off of my life span," a fan tweeted along with a video of the moment.
Notably, Healy once commented on the very thing he's seemingly been playing into lately. Speaking to The Guardian in September 2022, the singer and songwriter discussed the band's relationship with their fans.
"People were having a romantic relationship with the band, I was sexualized to a certain extent. It was sexy, in the way that leather jackets and smoking and all that kind of s--- was sexy," Healy said.
"I think [I had] an inner dialogue where I just hadn't dealt with things, I probably hadn't done the right amount of therapy. It's hard to have romantic relationships with people when you're on tour, so the one part of my life that I found difficult got really hard, and I would focus on it, so I would never be in the moment," the musician added.
Best Albums of 2022
Below, check out 2022's best pop albums according to PopCrush.