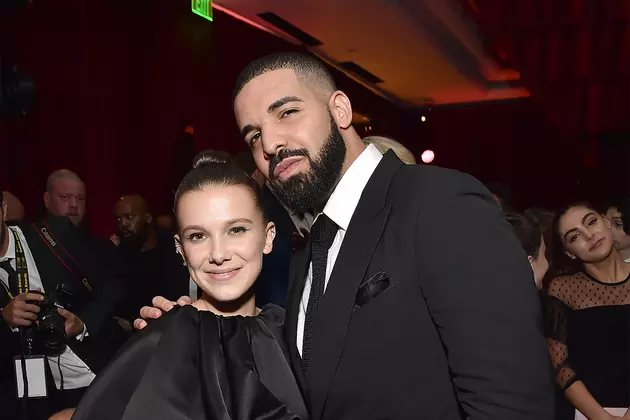 We've Heard Stranger Things: Millie Bobby Brown and Drake 'Text All the Time'
Kevin Mazur, Getty Images
The 14-year-old actress said in an interview with W magazine that she's formed a friendship with Drake since taking a viral photo with the 31-year-old rapper in November.
"He was such a fan boy and I was such a fan girl!" she said. "Honestly, we text all the time now. He helps me with everything, just like life lessons. He's amazing."
The Stranger Things star first met Drake in Australia after the rapper invited Brown and her dad to his concert.
"He's a great human being and we went to dinner afterwards and we had dinner the next day and we met in Sydney," she recalled.
Drake had posted a photo on Instagram with Brown in November following a pair of shows on his Boy Meets World tour in Sydney.
"Hawkins Very Own," he captioned the picture, referencing Stranger Things.
Brown danced to Drake's single "In My Feelings" in a video this month after the song inspired an online dance challenge that went viral. The actress had injured her knee in June.
Brown plays Eleven on Stranger Things, which was renewed in December for a third season on Netflix.
By Annie Martin, UPI.com
Copyright © 2018 United Press International, Inc. All Rights Reserved
15 Things You Didn't Know About Stranger Things