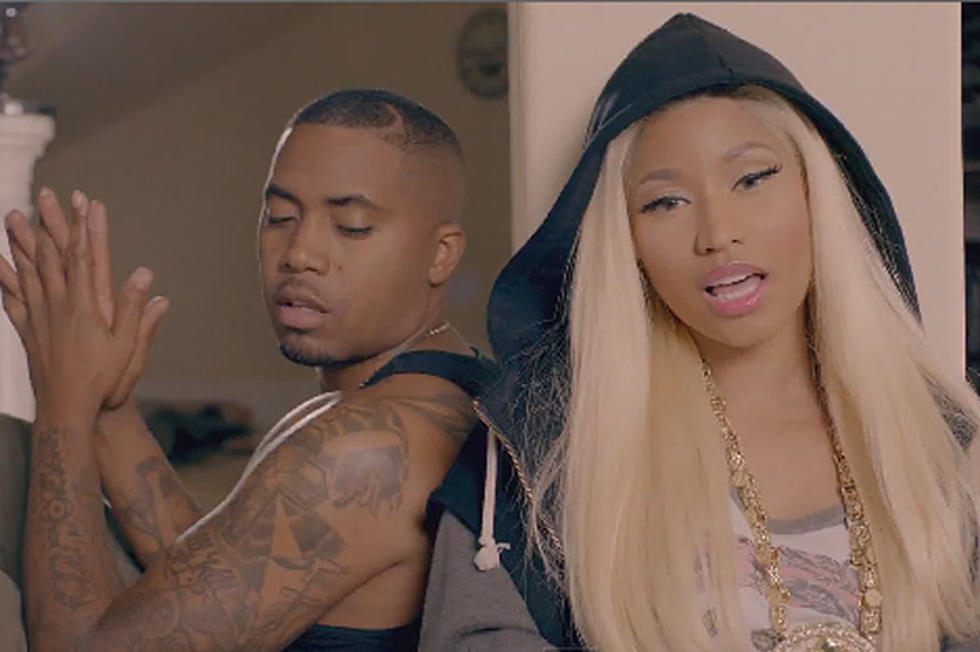 Nicki Minaj Romances Nas + Dances With Chris Brown in 'Right By My Side' Video
Nicki Minaj romances rapper Nas and dances with Chris Brown in the video for her lovelorn ballad 'Right By My Side.' She also makes tons of her trademark goofy faces, which is always entertaining to watch. But be warned: This is the explicit, NSFW version.
Minaj pretty much keeps to one hair style and length in the video, which is rare for her, given her colorful assortment and array of wigs. She's boasting stick-straight, platinum locks and dagger nails, as she's seated, singing and reminiscing about her man, played by Nas. As always, she is adorable.
As for Nas? Well, in this video, he's a generous boyfriend. He gifts her with a gold coin that she tosses into a fountain, presumably for a wish, and a sweet set of black wheels topped with a huge pink bow, of course -- as if any other color would suffice.
There's flashback scenes of the happy couple eating and shopping and being affectionate. It's realistic enough to have us wondering if there's a little something something between the rappers in real life when the cameras are off.
Minaj's scenes with Breezy have their own element of cuteness. He sings alone at first and then the two of them dance and make funny faces while singing the serious lyrics. The have an easy and, pardon the pun, breezy chemistry.
For the most part, Minaj does an excellent and believable job as a woman in love and missing her man. Her face says it all and there's a genuine sadness in her eyes.
When Nas returns at the end, they share quite a kiss. It's one that everyone will be buzzing about, simply because it didn't look like acting. It was a passionate liplock. Expect "New Couple Alert" news stories in the tabloids as this kiss is viewed over and over.
Watch the Nicki Minaj 'Right By My Side' Video