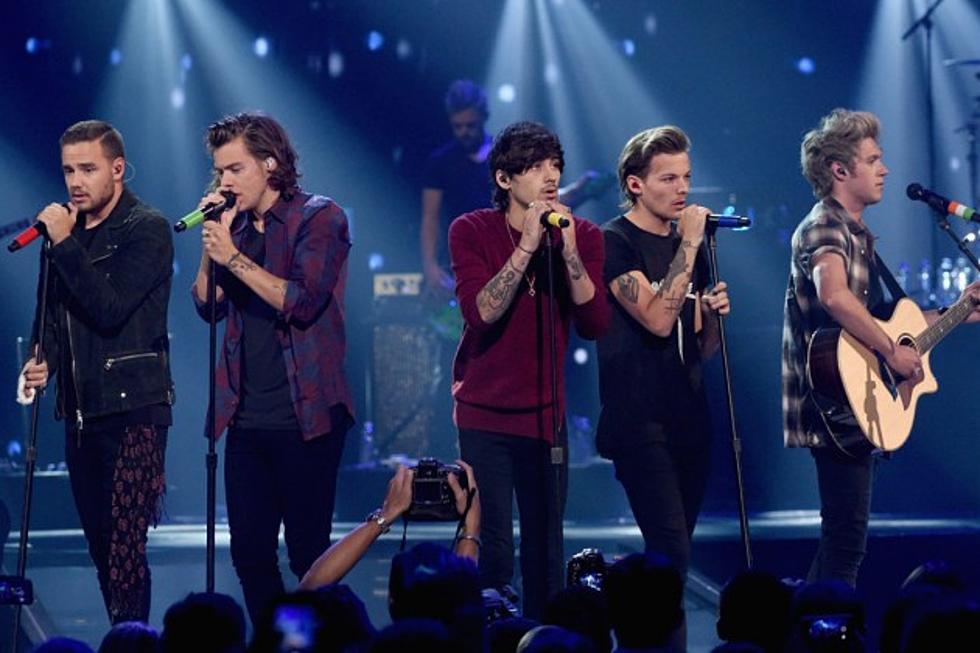 Top 10 One Direction Songs
Ethan Miller, Getty Images
One Direction finally have a solid, bulked-up discography now which is equal parts blessing and curse. When you're presented with the task of choosing your top 10 One Direction songs, things get a little tricky, feelings get a little hurt, guilt becomes a very palpable and real thing.
Since breaking into superstardom across the pond on the U.K. X Factor, the guys achieved rare global crossover success with their debut album Up All Night and are clearly eager to keep that momentum going: they released a movie, they have dolls, they have recordbreaking tours, they even had a few pop-up stores around the world. Talk about serious power.
Even though the boys may have some trouble dancing themselves, they have plenty of tracks that will inspire Directioners -- and even their parents -- to get up and move, but they also have the vocal chops to deliver ballads that will bring tears to the eyes of boys and girls everywhere without making their folks cringe, either. Since their beginner days, however, they've managed to release three more albums -- the pop perfection that is Take Me Home (which, if we're being totally honest, could benefit from a top 10 list based on those songs alone), the slightly more grown-up Midnight Memories and the 80s rock-inflected cohesion of Four.
Narrowing the list down to a mere 10 songs when their back catalogue boasts over 40 songs has proven to be difficult, and we're sorry for whatever we managed to leave off. We assure you we're losing sleep over it.
10

"Ow!" The high-pitched yelp never sounded better than on "Heart Attack," one of the most fun tracks off of Take Me Home (and also ever written). They plead with an ex who looks better than ever to take them back, because, well, she's sending them into cardiac arrest. Truthfully, it just sounds like karma for what they do to teenage girls every single day.

9

Alright, so maybe the guitar riff is identical to the one in "Girls" by the 1975, but as Pablo Picasso has been widely credited by the Internet as saying, "Good artists borrow; great artists steal." And "Change Your Ticket" is definitely great. The lyrics, "Watching you get dressed / Messes with my head / Take that bag off your shoulder / Come get back in  bed / We still got time left / This don't have to be over" are decidedly grown up. One Direction, you can change our tickets any time. As long as they're not for an earlier time and date and accompanied by a restraining order.

8

One Direction may not be in high school, but they pretty much channel a stereotypical class underdog perfectly in "I Would." Crushing on a girl with a bad boyfriend who's "got 27 tattoos," they keep dreaming while she keeps downgrading. Cheer up, boys -- all of them (minus Niall) are well on their way to turning into that guy they're singing about.

7

One Direction's callback to old-school pop and '80s rock is all over their album Four, and never is it more apparent than on the synth-y "Stockholm Syndrome." They managed to find a sound that somehow works with all of their voices -- not an easy feat once you realize they could each fit into insanely different genres. Sure, maybe the track borrows a little heavily from "Everybody Wants to Rule the World" by Tears For Fears, but we're impressed by the reference.

6

"They Don't Know About Us"

"They Don't Know About Us" is the only song off Take Me Home that One Direction has never played live. (Bonus tracks don't count, sorry.) It's an obvious throwback to their boyband predecessors, but a more updated version. It has string instruments for crying out loud. This would've been the most anthemic stadium-wide singalong, but we never got a chance to see that come to life. Thanks, One Direction.

5

There's something so clever about using song titles as the entire lyrical content of your track. It's even better when the song is actually insanely good. "Better Than Words" deserves more than it got, which was nothing. It deserves its own ad campaign, it deserves its own presidency over something. But we'll have to settle for listening to it on repeat forever until our ear drums explode.

4

"Happily" is the single we all wanted that never happened. It's the folk-pop song of our dreams, and it could've had the most visually satisfying music video of all time: Well-fitted clothes and springtime and fields of daisies and sunshine. With jangling guitars and a sudden burst of energy in the chorus, it's the perfect song to combat that summertime sadness. Never has a song issues a more Pavlovian response within us. Every time we hear it we burst into tears for some reason. They're happy tears, though.

3

"Clouds" is probably as punk as One Direction will ever get, but we're totally on board. With rollicking drum licks and the heaviest guitar riffs on the album, it's certainly the biggest departure from their typical pop-that's-occasionally-infused-with-rock sound, but they pull it off with serious flair. All it needs are some gang vocals and it would fit right in with the Warped Tour crowd. Well, circa now, anyway.

2

The quintet may not know what that "One Thing" is, but they've got it. Between the adorable video, which is essentially a love letter to London, and the sweet sentiment of the One Direction song ("You're my kryptonite" -- aw!), good luck not singing along to this.

1

"What Makes You Beautiful"

The song that launched a few million crushes! With a hook that's not only catchy but also pretty adorable, "What Makes You Beautiful" catapulted One Direction into superstardom. With an intro reminiscent of Summer Lovin'" from Grease and a chorus everyone from your grandpa to your baby brother can probably recite by heart, One Direction's debut single is inimitably infectious and was a clear sign of the sugary songs to come.