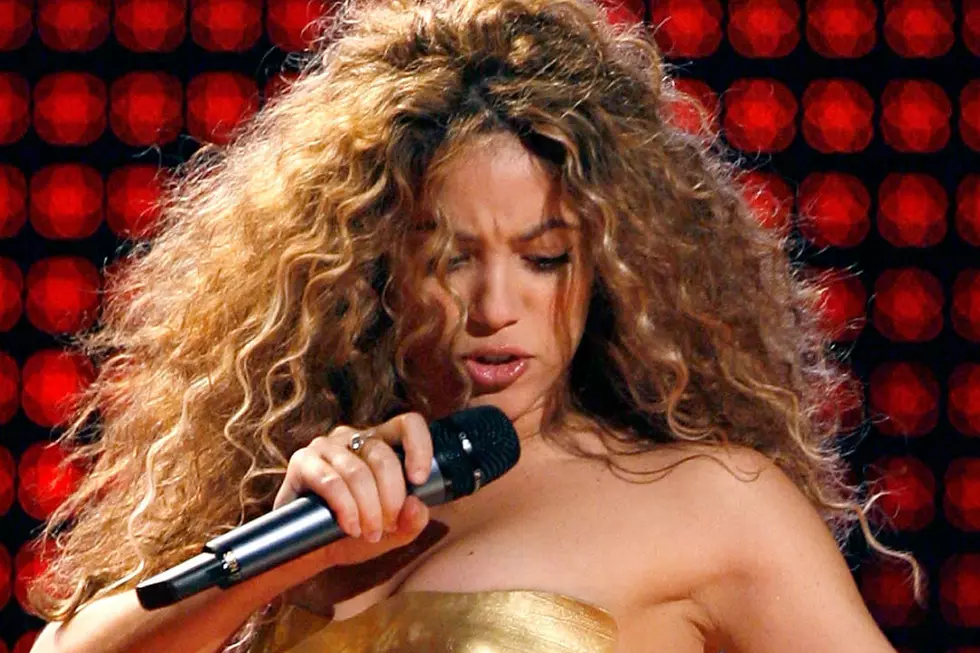 'Hips Don't Lie' at 10: A Radio DJ Reflects on Shakira's Record-Breaking Run
Kevin Winter, Getty Images
Trumpet fanfare was once a signal to serfs that the king had arrived. Ten years ago, it became a signal to pop radio that Shakira had arrived.
In 2006, to spearhead her seventh LP, Oral Fixation Vol 2, the Colombian singer released a horn-nourished worldbeat jam that featured co-producer Wyclef Jean. Shakira's English-language career, which kicked off with 2001's Laundry Service, had garnered success by combining dance-pop, tango themes and Middle Eastern influences. But "Hips Don't Lie" amounted to something else entirely, and catapulted Shakira through the glass ceiling and onto the peak of pop's Olympus.
On June 8, 2006, after spending nearly three months hovering around the bottom of the Billboard Hot 100, the single skyrocketed to No. 1, and was suddenly the ubiquitous soundtrack to car rides, trips to the grocery store and drunken karaoke sessions. Within a week, "Hips Don't Lie" had sold a record-breaking 266,500 digital copies, making it the most-downloaded song of all time. And that wasn't it: the song also set the record for most spins on United States pop radio in a single week.
So what was it about the song that made it — so suddenly — surge to become the stuff of airplay legend?
Radio personality and PopCrush Top 20 host Matt Ryan, who was working a night show at Atlantic City's SoJo 104.9 at the time of its release, told PopCrush the song succeeded for offering something completely unique to radio. Wyclef's lively feature and the song's international appeal resulted in a one-two punch with built-in staying power.
"In radio, success is always measured by listener response," he said. "This song connected. I'll always remember that the phone lines were flooded with calls for 'the song with the trumpets from the girl with the weird voice.'"
And while there isn't an exact formula for landing a massive hit, Ryan noted there are certain elements that can give singles a leg up.
"There are two ways a song connects with the listener: Lyrically and sonically," he said. "Ballads will usually gain success by hooking you with words. Uptempo songs that are all about the sound and production, like 'Hips Don't Lie,' have to bring something unique to the table.
"Take Gwen Stefani's 'Hollaback Girl.'," Ryan continues. "You got hooked right from the initial beats. The similarity between those two tracks was the fact that it made one stop and say 'What is that?' That's key to a smash."
Ten years later, forecasting a big hit is a little bit more difficult for radio — where popularity was once exclusively dictated by charts and album sales, DJs and producers now research YouTube hits, Shazam reactions, digital sales, traditional sales and Spotify insights to determine what listeners want to hear. Still, Ryan says radio remains the "number one source for new music discovery," and says he's got his eye on a few Song of Summer contenders for 2016.
"I think Justin Timberlake's 'Can't Stop The Feeling' is getting close to where Shakira was in 2006," he said. "[But] I'm waiting for Twenty One Pilots 'Ride' to really blow up in the pop world."
Say Cheese! See a Collection of Celeb Yearbook Photos: