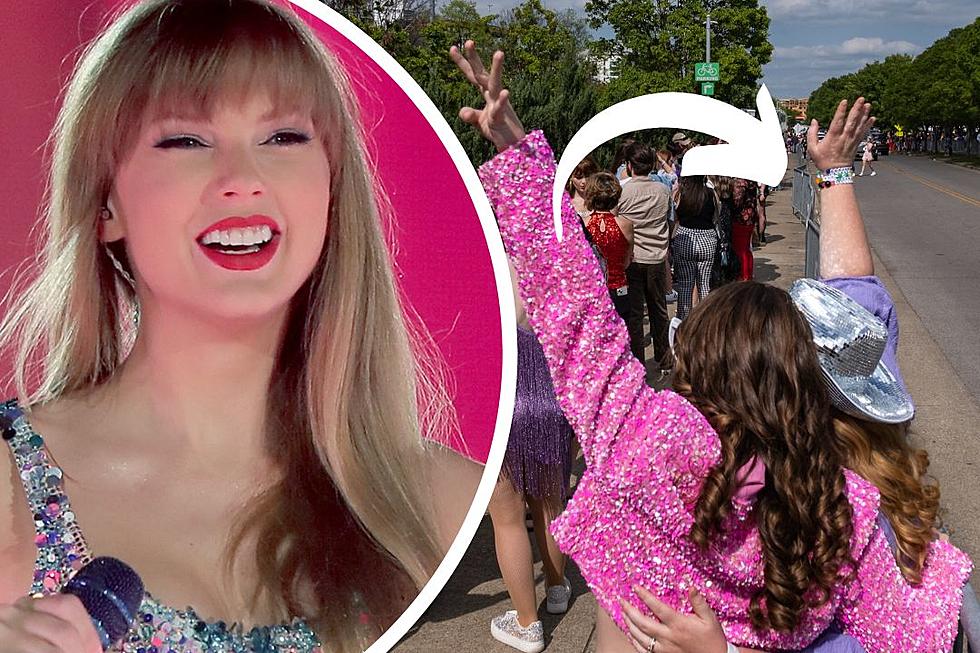 Why Are Taylor Swift Fans Trading Bracelets at The Eras Tour?
John Medina / Seth Herald, Getty Images
If you've seen the many viral videos of Taylor Swift fans trading brightly-colored friendship bracelets with one another — and even with celebrities! — at The Eras Tour and you're wondering how the tradition got started, you're not alone.
Trading bracelets has become a hallmark of Swift's sweeping stadium tour. On social media, many fans have been documenting themselves both making and trading bracelets.
The tradition has become so widespread that even Swift's celebrity guests are in on it.
Reese Witherspoon shared her haul of friendship bracelets on her Instagram Story after she attended Swift's Nashville concert.
On TikTok, country star Keith Urban and Nicole Kidman, who attended one of Swift's Philadelphia shows, thanked fans for "showering [them] with sooooo many friendship bracelets."
Even Jennifer Lawrence, who also saw Swift's concert in Philadelphia, was spotted trading bracelets with excited Swifties.
"Celebrities leaving their Eras show with a bucket full of friendship bracelets is actually one of the funniest things to come out of this tour," one fan noted on Twitter.
READ MORE: Taylor Swift Fan Chooses Eras Tour Concert Over Mom's Wedding
"Celebrities leaving The Eras Tour with arms of friendship bracelets absolutely sends me," another fan agreed in a tweet.
Why Are Taylor Swift Fans Trading Friendship Bracelets?
The friendship bracelets feature beads and charms like any classic childhood handmade friendship bracelet, and often spell out Swift's song titles and lyrics.
Some bracelets even reference inside jokes within the Swiftie fandom.
One fan turned Swift's viral moment yelling at a security guard into an acronym for a bracelet. "She's fine! She wasn't doing anything!" Swift yelled during her May 13 Philadelphia show, where a staff member was allegedly seen getting too rough with a fan in the crowd.
So how did this adorable tradition get started? Naturally, it all comes down to Swift's lyrics.
Swift references friendship bracelets on her Midnights track "You're On Your Own, Kid," singing:
'Cause there were pages turned with the bridges burned / Everything you lose is a step you take / So make the friendship bracelets / Take the moment and taste it / You've got no reason to be afraid
On Twitter, one fan admitted that it took them an "embarrassingly long" time to realize the friendship bracelet trend was actually inspired by the lyric.
Ironically, the song isn't even on The Eras Tour setlist, so the origin of the tradition is not immediately clear unless you're in the know on all things T-Swift.
Regardless, it's become an adorably heartwarming trend among fans from all walks of life, as this fan explained best: "It is so sweet how we all put time into making [friendship bracelets] and then walk around the stadium and talk to strangers and trade bracelets or give them to other celebrities at the show. I love Swifties so much."
Barrier-Breaking Women in Music