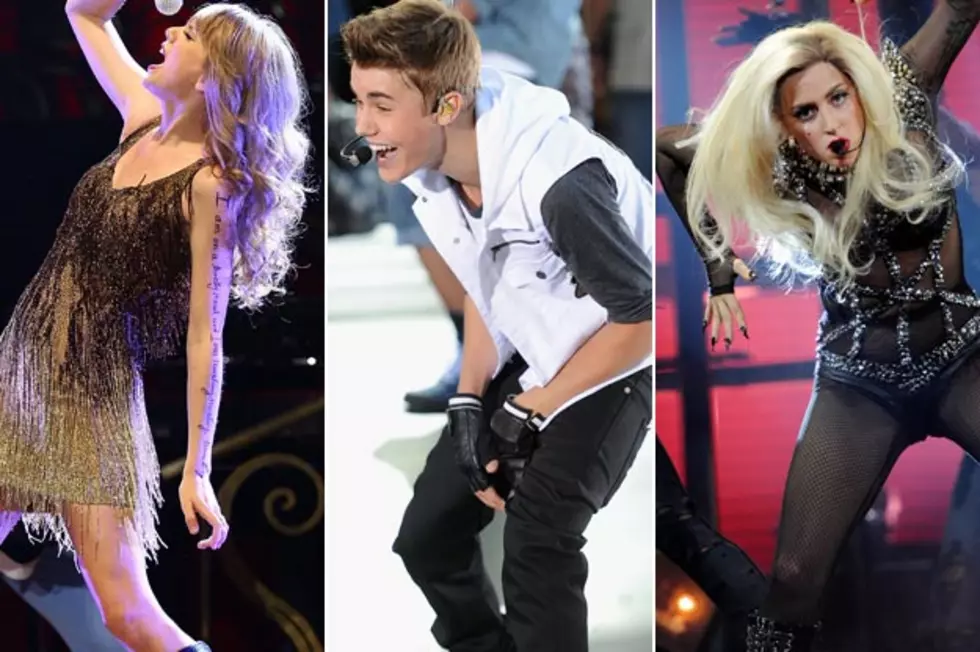 Taylor Swift, Justin Bieber, Lady Gaga + More Are Forbes' Highest Paid Under 30
Swift nabbed the numero uno slot since she earned a whopping $57 mil between May of this and last year. She can be counted on to sell about four million copies of her albums, in an age when albums don't sell four million copies. She makes a cool milli per show, and with a CoverGirl contract, she's golden like her curls.
Biebs, a Forbes cover boy, tallied $55 million receipts. He's a venture capitalist in the digital realm. RiRi -- a former CoverGirl herself -- raked in $53 million. Album sales, tours and promo gigs, with the deep pocket likes Vita Coco and Nivea skincare, earned her this slot.
Gaga fell from grace a bit. She plummeted to No. 4, after topping the list in 2011. She dropped from $90 million to $52 million. We know, $42 million seems like a big drop, but when the average Jane makes under $100,000, it's hard to sympathize. The reason for the drop? Less touring in 2012, so expect an increase next year, since receipts from her Born This Way Ball, which is selling out, will count towards that list.
Perry tallied $45 million from her music and touring. She won't have to split it with ex-hubby Russell Brand, with whom she did not (!!!) have a pre-nup. That Russell is a stand up guy, and we're not talking about his comedian gig.
1. Taylor Swift
2. Justin Bieber
3. Rihanna
4. Lady Gaga
5. Katy Perry
6. Adele
7. Kristen Stewart
8. Lil Wayne
9. Taylor Lautner
10. Robert Pattinson
Watch the B.o.B 'Both of Us' Video Feat. Taylor Swift