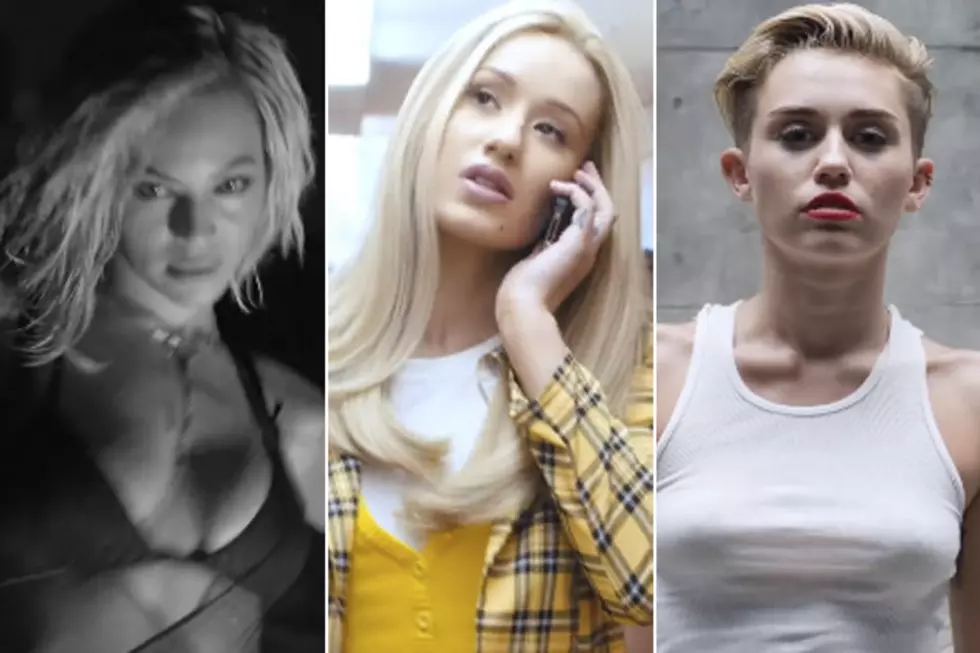 Who Should Win the 2014 MTV VMA for Best Video of the Year? – Readers Poll
YouTube
The 2014 MTV Video Music Awards are just around the corner and we want to know who you think has a shot at taking home a Moonman! One of the biggest awards is Best Video of the Year, and there are some big names nominated in this category. Check out the videos below and vote for who you think deserves the win.
'Drunk in Love,' Beyonce ft. Jay Z
Beyonce's 'Drunk in Love' ft. Jay Z is one of the 17 videos Beyonce dropped with her visual album in December. The black and white video features a short-haired Beyonce getting down on a beach and rolling around in the ocean in a sexy bikini. The visuals are super hot, and we're not surprised to see this is the vid of hers that made the list. 
'Fancy,' Iggy Azalea ft. Charli XCX
'Fancy' by Iggy Azlea ft. Charli XCX is also a given nom, considering its inarguably become the song of the summer. What makes it even better is its clever video tribute to the iconic '90s movie 'Clueless.' Iggy and Charli get fancy at a Beverly Hills-like high school, decked out in plaid skirts and blazers much like Cher and Dionne. It's a fun video for a fun song.
'Wrecking Ball,' Miley Cyrus
Miley Cyrus' 'Wrecking Ball' broke walls and records, becoming the most viewed VEVO video of last year. The much-discussed vid is a simple one, but Miley walking around with a sledgehammer in her underwear and swinging on a wrecking ball while totally nude was pretty scandalous at the time. (Now, it feels like same old Miley. How times change!)
'Happy,' Pharrell Williams
Pharrell Williams' 'Happy' became a cross-generational hit, and its music video supports that all-ages joy! Pharrell gathered people (and even one 'Despicable Me' minion) of all ages and backgrounds to dance around to his up-tempo song. The vid is as exultant as the song, and it's next to impossible not to smile and jam along to everyone having such a good time.
'Chandelier' by Australian pop singer Sia is beautiful piece of cinematography. 'Dance Moms' star Maddie Ziegler performs an incredible dance routine around a dilapidated apartment. She rocks a Sia wig, of course, as she jumps, twirls and kicks her way from room to room. Sia co-directed the video with Daniel Askill, proving she's all around a great artist!
Five amazing videos received nominations, but there can only be one winner! So who do you think should win a Moonman for Best Music Video at the 2014 MTV VMAs? Cast your vote below!
See Miley Cyrus + More Stars' Embarrassing Wardrobe Malfunctions