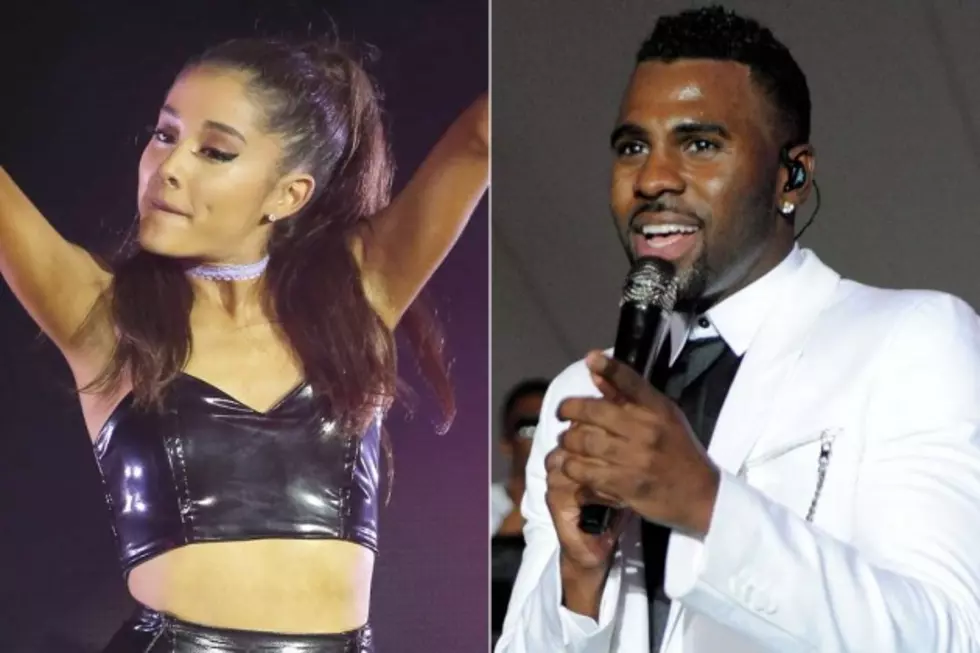 Ariana Grande, Jason Derulo + More Cover Iconic Disney Songs
Neilson Barnard / Matthew Eisman, Getty Images
If you're one of the many Disney purists who skewered poor Frozen director Chris Buck for publicly subscribing to the notion that Tarzan and Elsa may be siblings, you might want to hit the Back button on your browser immediately. For the rest of you, get ready: We Love Disney, a compilation album of iconic Disney songs performed by popular artists, is officially on its way.
The first promo single from We Love Disney, which you can listen to below, is Ne-Yo's rendition of the Aladdin song "Friend Like Me," and was released along with all pre-orders of the album via iTunes today (August 14).
Check out the full track list below.
"Friend Like Me" (From Aladdin) – Ne-Yo
"Part of Your World" (From The Little Mermaid) – Jessie J
"Can You Feel the Love Tonight / Nants' Ingonyama" (From The Lion King) – Jason Derulo
"The Rainbow Connection" (From The Muppet Movie) – Gwen Stefani
"Zero to Hero" (From Hercules) – Ariana Grande
"In a World of My Own / Very Good Advice" (From Alice In Wonderland) – Jhené Aiko
"I Wan'na Be Like You (The Monkey Song)" (From The Jungle Book) – Fall Out Boy
"Colors of the Wind" (From Pocahontas) – Tori Kelly
"Spoonful of Sugar" (From Mary Poppins) – Kacey Musgraves
"Ev'rybody Wants to Be a Cat" (From The Aristocats) – Charles Perry
"Dream Is a Wish Your Heart Makes" (From Cinderella) – Jessie Ware
"Let It Go" (From Frozen) – Rascal Flatts & Lucy Hale
"It's a Small World" – We Love Disney Artists
"It's Not Easy Being Green" (From The Muppet Shows) – Brenna Whitaker
"A Whole New World" (From Aladdin) – Yuna
50 Celebrities Who Voiced Cartoons