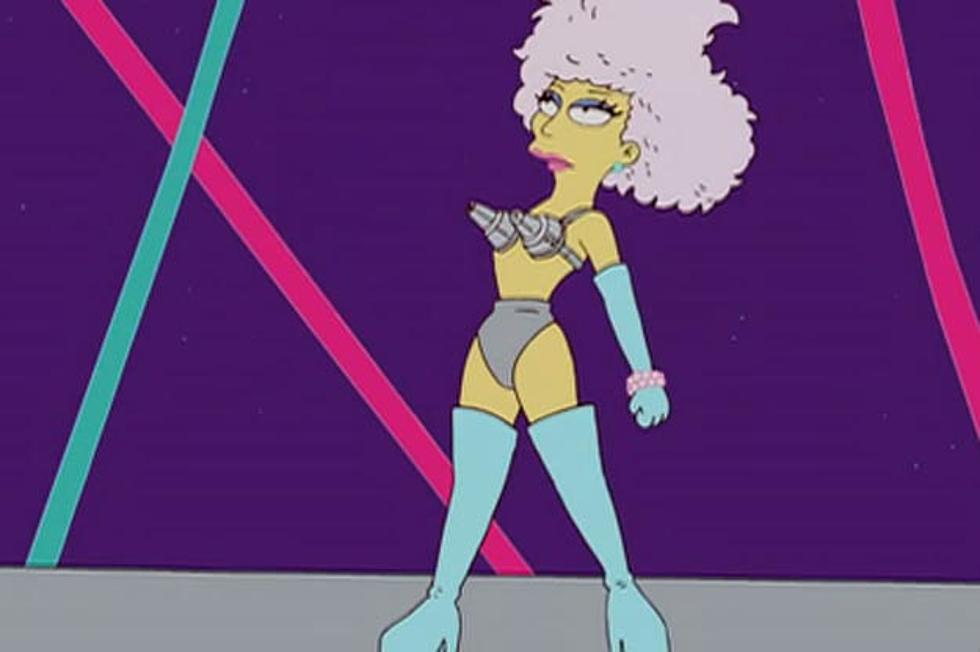 Go Behind the Scenes With Lady Gaga on 'The Simpsons'
Lady Gaga's appearance on the season finale of 'The Simpsons' airs this Sunday (May 20) on FOX, and the Mother Monster took fans behind the scenes of her visit to Springfield, which consists of double digit costume changes.
Series creator Matt Groening exclaimed that Gaga was fantastic, saying she was so good that "we ruined many takes by laughing out loud." Groening also said that Gaga looks stunning and fashionable, albeit in 'The Simpsons' style, which consists of huge eyeballs and an overbite. The most impressive feat of Gaga's appearance -- the fact that her hair in one scene will be slightly taller than that of Simpson family matriarch Marge, whose towering blue beehive is as iconic as a pair of Gaga platforms.
Gaga is a huge fan of the show and was itching to do TV again, saying that the script was "incredible" and sealed the deal for her.
She detailed some of the plot, saying, "I come to Springfield on a train with huge shoes on it and I come make the people of Springfield happy for a moment. Along the way, I run into Lisa. I decide it's my mission to pull Lisa out of her slump."
The Mother Monster revealed that she was more nervous about this guest spot than anything else since since has such respect for the show and its producers and writers.
"They sketched me while I was working, and that was nice, too, because they were catching certain natural things I would do with my hands," she said. "There were lots of big gestures." Italians are notorious for making points with their hands when they talk, so Stefani Germanotta did her heritage proud.
Tune in Sunday night at 8PM to see Gaga dispense cheer to Springfieldians. See if she succeeds in her mission to pull Lisa Simpson out of her slump and to check out her 18 outfits.
Watch Lady Gaga Behind-the-Scenes of 'The Simpsons'