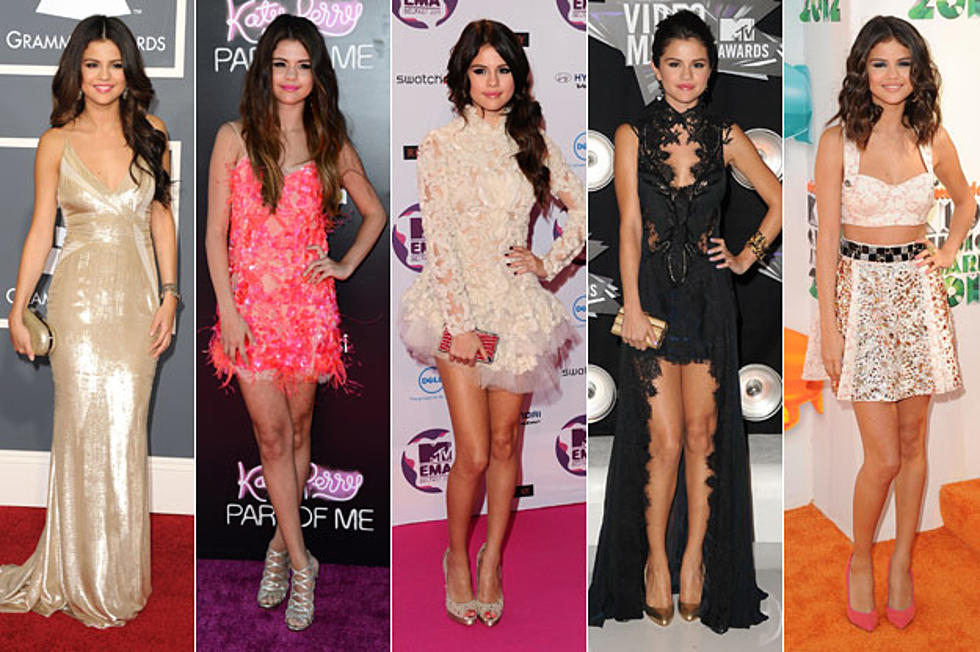 Best Selena Gomez Red Carpet Dress – Readers Poll
Jason Merritt / Michael Buckner / Ian Gavan / Jason Merritt (2), Getty Images
Selena Gomez in one sharp dresser. In celebration of the fashionista's bold red carpet choices and her 20th birthday on July 22 (SAY WHAT?!), we wanted you to weigh in on your favorite dress worn by the 'Who Says' singer in recent months. She can basically wear anything and look good, so this one will be tough!
In the first picture, you can see Gomez in the floor-length gold gown she wore at the 2011 Grammy Awards. She looks great in gold, that's for sure! The second red carpet dress is the fun, Salsa-esque number she wore to the premiere of Katy Perry's 'Part of Me' film. She looks like she's ready to go out dancing after!
If you look in the middle of the split image above, you'll see Selena Gomez in the lacy, ballerina-inspired dress she wore prior to hosting the 2011 MTV Europe Music Awards. It's amazing how well she manages to balance sweet and sexy at the same time. The fourth picture shows off Selena Gomez's 2011 VMAs black dress, which showed off her killer legs and some cleavage, but it was definitely a chic pick for her. Finally, Gomez kept things fun at the 2012 Kids' Choice Awards, wearing a cropped top with a sparkly skirt and pink pumps.
So, Selena Gomez fans/PopCrush readers, which of her red carpet looks is your favorite? Vote (once per hour) below!