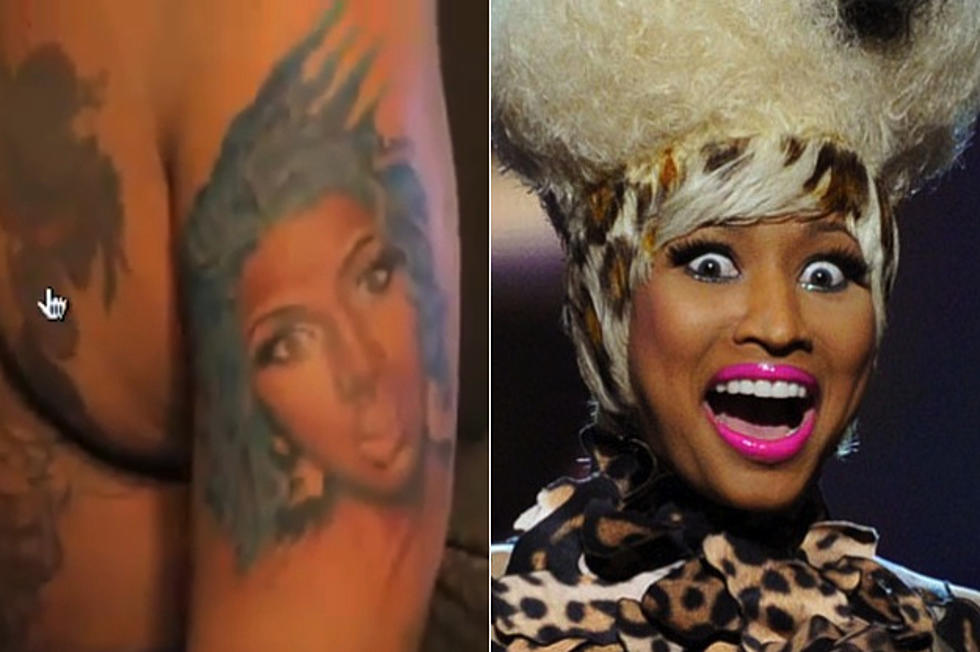 Bizarre Gets a Nicki Minaj Tattoo on His Arm
First it was a deranged fan, then it was Drake and now it's Bizarre's turn to show his appreciation of his favorite music artist. In a video posted on YouTube, the D12 rapper got a tattoo of Nicki Minaj to show how much he loves the Harajuku Barbie. Luckily, for us, he didn't get her name tattooed on his forehead.
Bizarre's infatuation for the 'Super Bass' rapper started when he released a hilarious music video called 'Hey Nicki,' which became a viral hit. In that clip, Biz crashed a fictitious wedding between two Drake and Minaj look-alikes and promised Minaj that he would perform cunnilingus on her for life. Yeah, Bizarre is such a romantic.
In his new video, Bizarre tries to win Minaj's affections by getting a tattoo of the rap star's face on his bicep. Artist Brooklyn Payne did the artwork and it looks impressive. Biz chose an outdated look of Minaj when she was sporting a blue hairdo.
We are not sure if Minaj is enamored by all of this. We find it hilarious that Bizarre is still pining for her, especially, since she is purportedly dating her hypeman Safaree Samuels (aka Scaff Breezy).
We'll give Bizarre an "A" for effort and the tattoo looks nice on his underdeveloped arm. We hope a certain tattoo artist in Los Angeles (*cough* Kevin Campbell) is taking notes.
What do you think of Bizarre's Nicki Minaj tattoo? Tell us in the comments below.
Watch Bizarre (of D12) Get Nicki Minaj Tatted on His Arm