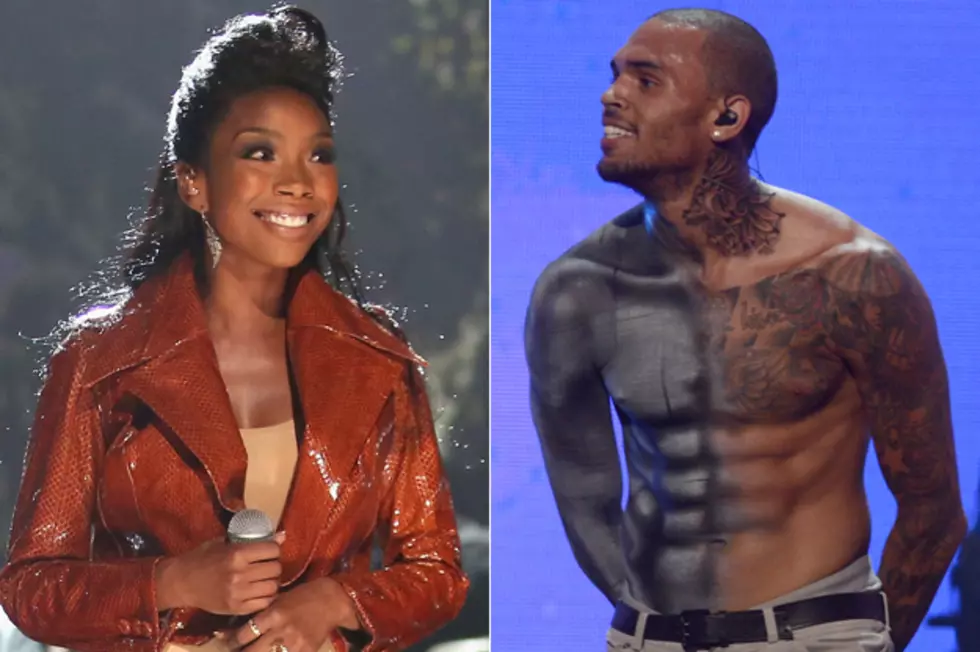 Brandy Says Chris Brown Is Her Only Collaborator on 'Two Eleven'
Brandy and Chris Brown just dropped their video for 'Put It Down,' and now the former 'Moesha' starlet is dishing on collaborating with Breezy both on the clip and on her upcoming record, 'Two Eleven.' She revealed she was actually nervous to work with Brown -- because he's so talented -- and why Breezy's the only feature on the record, due Oct. 16.
"We had a great time shooting the video, [but] I was so shy, because he's such a great entertainer and dancer," Brandy dished to MTV. "I worked with Frank Gatson on the choreography for the video, and I was so shy, because I'm coming into my own as a performer, so I really wanted to do good. Standing next to Chris, he's so vibrant, like, 'What am I gonna do standing there next to him?' But I practiced really hard, like two weeks before Chris practiced — wait, I'm pretty sure Chris didn't need to practice. But I practiced, I was ready," she gushed. "Chris Brown was not gonna upstage me! I was gonna be right there along with him shinin' too," she laughed. "I feel like I held it down a little bit, and I definitely did a lot better when Chris wasn't around, because I was shy."
Turns out Brandy and Breezy were both bashful. "I think he was a little bit shy with me too," she said. "He has this respect for me that I appreciate, it kind of reminds me of how Ray J looks at me, like a little brother ... and that feels good [since] he's so great and he's been consistent for such a long time." We told you they had a brother-sister vibe in the video!
Brown and Brandy actually worked together on other tracks on 'Two Eleven,' and Breezy earned the special title of Brandy's sole feature act on the record. "Chris Brown also wrote a song on the album called 'Slower,' so naturally he's heard other songs that I've done and he kinda just hopped on 'Put It Down' — rapping and singing — and it was organic and very authentic," Brandy said. "When I heard it, I thought, 'This is great!' He brought a whole new flavor to the record. Sean [Garrett] already made it kinda swagged out, but Chris Brown is just the icing on the cake, and I appreciated him for being a part of it and just being so supportive as an artist," she smiled. "He's so great, the girls love him, and I thought it would be great to have him onboard."
Watch Brandy Talk About Working With Chris Brown