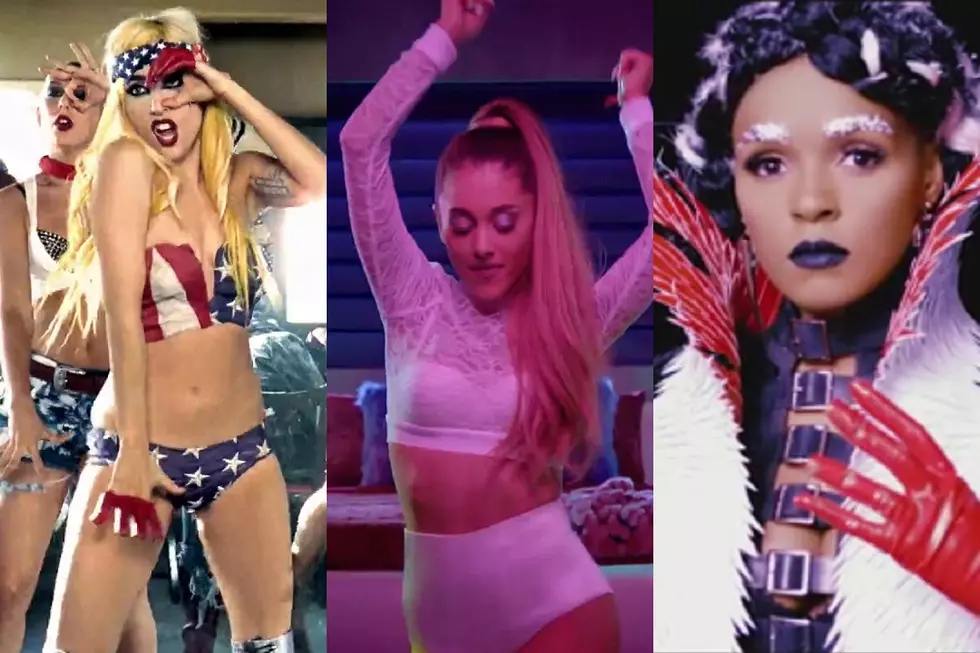 10 Girl Power Pop Collaborations to Celebrate International Women's Day
Lady Gaga / Ariana Grande / Grimes via YouTube
Britney vs. Christina, Madonna vs. Gaga, Katy vs Taylor: The infamous female pop feud—whether real, imagined by the media or perpetuated by warring fans on social media—is an unfortunate byproduct of our entertainment culture, pitting woman against woman in an already harsh, often sexist music industry.
In contrast, there's nothing more empowering and exciting than seeing some of our women music icons join in studio solidarity to create something together, whether it's a bold, funky pop anthem or big, emotional ballad.
1

Ariana Grande, Jessie J and Nicki Minaj, "Bang Bang"

In 2014, Ariana Grande, Jessie J and Nicki Minaj joined forces on "Bang Bang," an explosive, hand clap-heavy pop anthem that was included on both Jessie's and Ariana's albums the same year. The track became a massive hit, reaching the Top 10 in the U.S. and earning a 2015 Grammy nomination for Best Pop Duo/Group Performance.

2

Christina Aguilera, Mya, Lil' Kim and Pink, "Lady Marmalade"

In 2001, "soul sisters" Christina Aguilera, Mya, Lil' Kim and Pink came together for a sultry, sexy cover of Labelle's 1974 boudoir hit, "Lady Marmalade," for Baz Luhrmann's Moulin Rouge! soundtrack. The R&B-fueled update shot to No. 1 on the Billboard Hot 100, while its sexually-charged hip-hop cabaret video remains one of pop's most memorable collaborations.

3

Britney Spears feat. Madonna, "Me Against the Music"

Princess of Pop, meet Queen of Pop: Just months after the two locked lips at the much-talked about 2003 MTV Video Music Awards, Britney and Madonna teamed up for this funky, rowdy dance-pop collaboration off Britney's album In the Zone.

4

Iggy Azalea feat. Charli XCX, "Fancy"

No song was more inescapable in the summer of 2014 than "Fancy," Aussie star Iggy Azalea's electro-pop rap behemoth featuring pop wunderkind Charli XCX. Thanks to its mega-catchy hook and '90s nostalgia-bait Clueless-themed music video, "Fancy" skyrocketed to No. 1 on the Billboard Hot 100, becoming both women's first No. 1 hit. Girl power!

5

Beyonce and Shakira, "Beautiful Liar"

Dropped as the lead single off the re-release of B'Day in 2007, "Beautiful Liar" saw two pop titans—Beyonce and Shakira—joining forces for the ultimate solidarity anthem. Over steamy Latin- and Middle Eastern-inspired mid-tempo R&B, the women sing about getting over a man who cheated on each of them with the other, instead of fighting over him. The song was nominated for Best Pop Collaboration at the 50th Grammy Awards.

6

Mariah Carey and Whitney Houston, "When You Believe"

Though critics were polarized upon the release of "When You Believe" back in 1998, the very fact that Mariah Carey and Whitney Houston—two of the most talented and iconic voices in music history—had once come together for a duet is truly a miracle. The track, a sweeping ballad off The Prince of Egypt soundtrack, took home the Academy Award for Best Original Song at the 71st annual ceremony in 1999.

7

Christina Aguilera feat. Lil' Kim, "Can't Hold Us Down"

An anthem against gender double standards wrapped up in funky hip-hop, "Can't Hold Us Down," off Xtina's 2002 album Stripped, saw Christina Aguilera and Lil' Kim joining forces again for yet another girl power romp on the pop charts. Featuring scathing lyrics about misogyny—"So what am I not supposed to have an opinion / Should I keep quiet just because I'm a woman / Call me a b---h 'cause I speak what's on my mind"—the song was a moderate chart success (it peaked at No. 12 on the Billboard Hot 100), but its fierce feminist message has withstood the test of time.

8

Madonna feat. Nicki Minaj, M.I.A., "Give Me All Your Luvin'"

No combination of pop players could be more unexpected, but in 2012, just ahead of her explosive Super Bowl XLVI performance, Madonna dropped her Nicki Minaj- and M.I.A.-featuring comeback single, "Give Me All Your Luvin'." The wacky, glittery electro-pop banger was an unusual team-up, but a memorable one, despite only moderate chart success. (The song did, however, hit No. 1 on the U.S. Dance Club Songs chart.)

9

Grimes feat. Janelle Monae, "Venus Fly"

In 2015, Grimes and Janelle Monae teamed up as futuristic warriors in the surreal, self-directed video for "Venus Fly," off Grime's critically acclaimed Art Angels. The two genre- and boundary-pushing artists—both musicians who have spoken out about the unfair expectations placed on women in the industry—achieved a special kind of sonic alchemy on the fierce tough-girl manifesto.

10

Lady Gaga feat. Beyonce, "Telephone"

Perhaps no girl power team-up on this list is as wild as Grammy-nominated dance-pop banger "Telephone." The 2010 smash single, which saw Lady Gaga and Beyonce teaming up just a year after collaborating on Bey's own "Video Phone," was everywhere upon its release off Gaga's The Fame Monster—and for good reason. Accompanied by a now-iconic Quentin Tarantino-themed music video, the track moved a whopping 7.4 million digital sales in 2010 alone, becoming one of Gaga's best-selling singles and one of the most well-known pop collabs of all time.