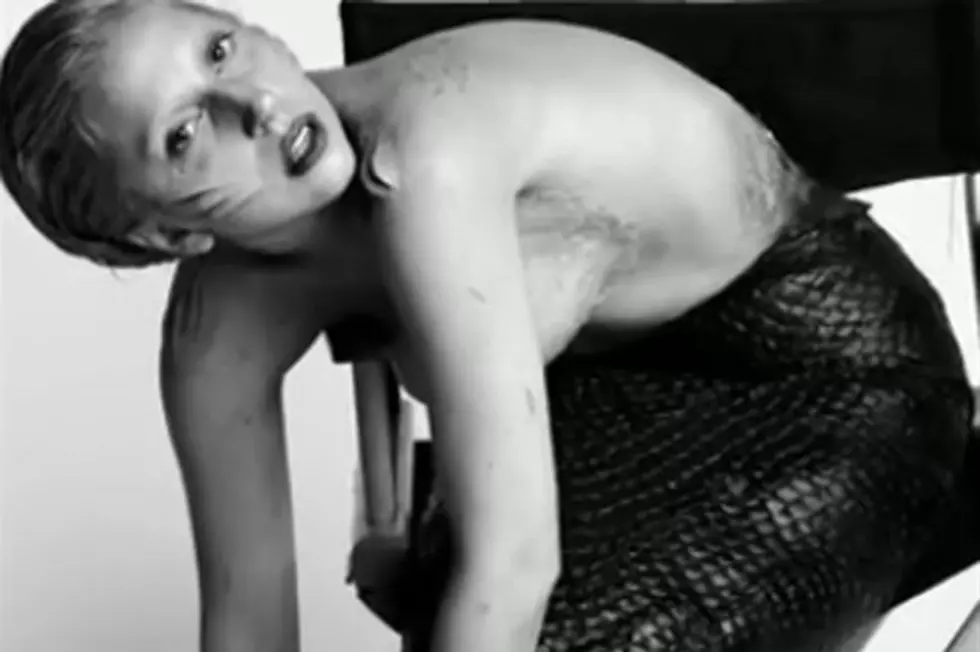 Lady Gaga Debuts Third 'You & I' Haus of U Fashion Video Featuring Yuyi
Lady Gaga's mermaid alter ego Yuyi is the centerpiece of her third of five 'You & I' Haus of U fashion videos. Like its two predecessors, the Gaga-as-Yuyi clip is shot in black and white and features one of Gaga's personas from the official video.
As with the first fashion video, where Gaga-as-Nymph was a soft, muted ballerina of sorts, here, she is a vulnerable mermaid with a tough facade. Gaga-as-mermaid is outfitted with fins, seated in a director's chair, looking topless as her breasts are taped down. Her blond hair is slicked back up and her makeup is minimal. She also has gills on her face and neck and feels herself up, in between shots of her being carried by two strapping men. She flops, smokes and flails around on the floor, after she throws the chair.
While Gaga can often barely walk (or takes a nasty tumble) in her signature platform heels, she cannot walk at all as a mermaid. She is handicapped by her fins and is either seated, lying on her back or being carried. It's a subdued side of the pop diva, and while she can't move, she still communicates with seductive looks.
The second clip was released and featured Gaga-as-Bride. Which persona will Gaga adopt for the fourth and fifth clips? It's time to wait and see. Or "sea," given the videos nautical characters.
Watch the Lady Gaga 'You & I' Haus of U Fashion Video Featuring Yuyi