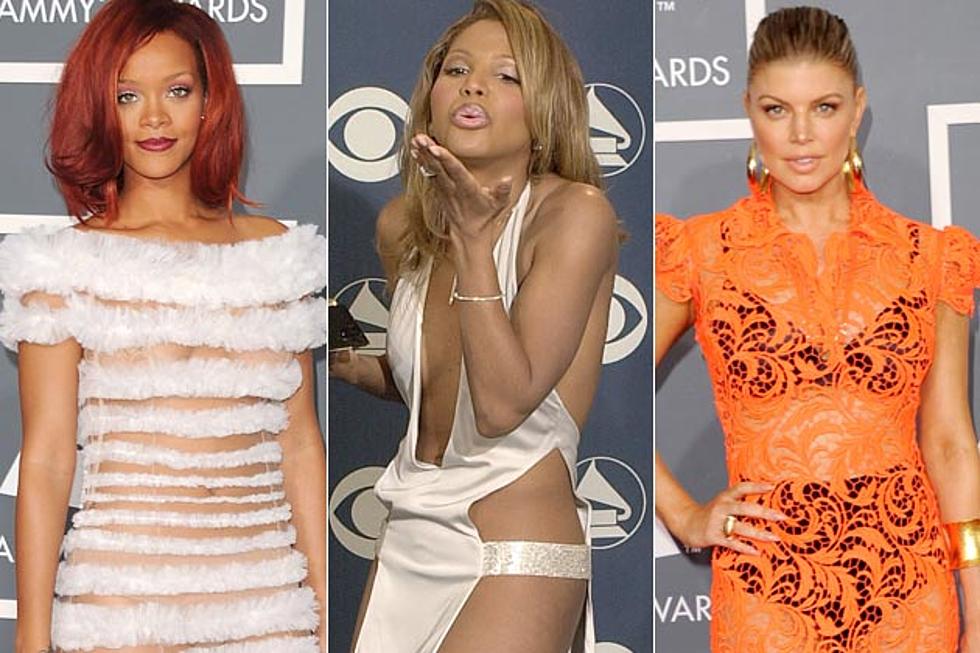 Most Memorable Grammy Dresses [PHOTOS]
Jason Merritt / Daniel Mc New / Jason Merritt, Getty Images
This year marks the 56th annual Grammy Awards. The show has been in business for over half a century, celebrating the best that music and artists have to offer. Through the years, there have been many memorable Grammy dresses. But these are the one was just can't forget, for a whole myriad of reasons.
Some of these dresses stuck with us because they were simply daring -- hi, J. Lo and that plunging Versace gown (and the miracle of double stick tape) back in 2000, which showed off sideboob before sideboob was even a "thing"-- or because they were just stunning, like Rihanna's 2012 simple but gorgeous black Armani.
We've rounded up the most memorable Grammy dresses in recent years, since the starlets and celebs seem to want to outdo each other on that red carpet when it comes to showing skin -- so much so that the Grammy producers had to institute a dress code!
Of course Jennifer Lopez's green Versace frock is the most memorable Grammy dress... ever. We're still talking about the dress, worn in 2000, 14 years later. La Lopez made a statement, with a whole lot of support (literally) from double-sided tape.
Rihanna's simple, plunging V Armani gown was anything but basic black when she wore it in 2012. It looked painted on her figure, giving her an hourglass shape. Just breathtaking!
Katy Perry's mint green Gucci gown was the talk of the 2013 Grammys because of how it showcased her figure.
Rihanna, again, but she's a style maven who warrants more than one appointment to this list. Her Jean Paul Gaultier gown (worn in 2011) had a spiral shape and a fluffy, femme feel. It was also super see-through.
Sheryl Crow's 2005 lemon yellow dress was so memorable simply because the strategically placed cutouts showed off her rock hard, washboard abs.
Toni Braxton's 2001 "gown" left nothing to the imagination because she let it all hang out. You can't have pantylines with this dress, so she must've been commando.
Here's a view from the rear... no pun, no pun.
Where to begin with Fergie's 2012 Grammy dress? The bright orange color was shocking. It was lace and see-through. She wore black granny panties underneath this Jean Paul Gauliter creation. It was a perfect storm of things that made us remember it.
Taylor Swift sparkled in sapphire Kaufman Franco at the 2010 ceremony. This dress doesn't get the attention it deserves, but Swift looked gorgeous in the shimmering gown! Don't you just love the off-the-shoulder cut and square dip?
Forget the egg! In 2010, Lady Gaga donned a lavender Armani frock, with a hoop construction. It was out of this world in more ways than one! That accessory in her hand looks like a mode with which to communicate with life on other planets.
Christina Aguilera was a mix of bohemian island goddess and Long Island prom with her salmon pink dress, donned in 2001 before she adopted her Old Hollywood glam style. That bodice was dangerously revealing, too.
Beyonce was a golden, glowing goddess in a black gown in 2005. It showed off her hourglass curves.
Katy Perry... again. The pop angel got her wings in 2011 in this custom Giorgio Armani.