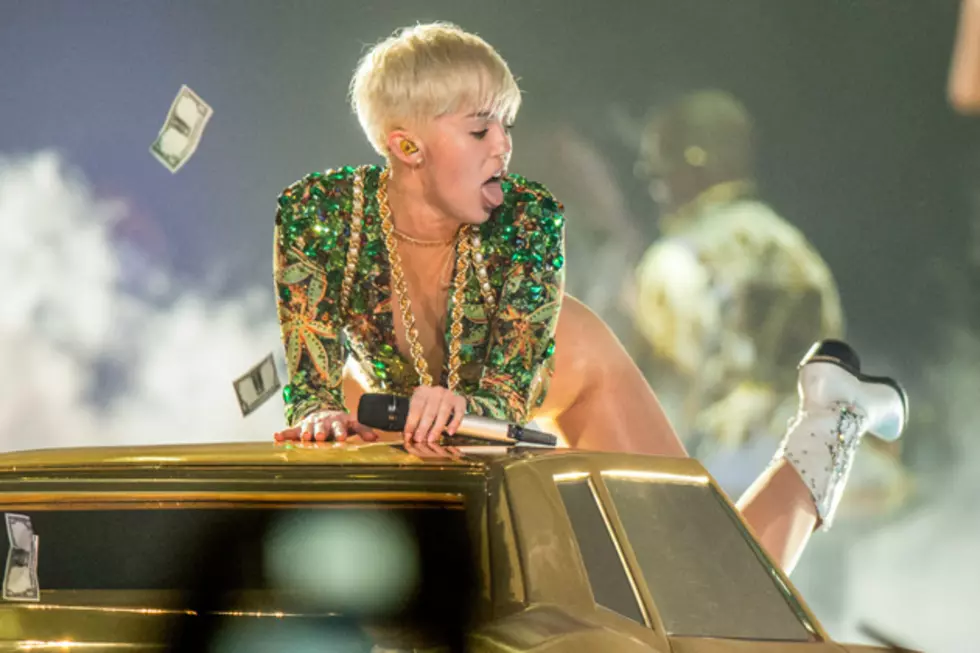 The Definitive (Tongue) Ranking of Miley Cyrus' Wildest Bangerz Tour Moments So Far
Christopher Polk, Getty Images
There's no question that Miley Cyrus has given fans the most bang (ha) for their buck on the Bangerz Tour. At almost every tour stop, Miley has outdone herself with one crazy antic after the next. In honor of all of the, um, memorable moments (and let's be real, to keep them all straight in our head), we've ranked Miley's Top 5 wildest Bangerz Tour antics. We scored each provocative moment with a rating of 1-5 Miley tongues (1 being the most tame; 5 being the most insane) because, well, how else could we rank them?
Going Onstage in a Bra + Underwear
During her March 9 stop in Milwaukee, Wisc., Miley hit the stage to perform '23' -- but something was slightly amiss: Instead of one of her usual barely-there ensembles, Miley was rocking an outfit a little more au naturale… her own bra and panties! Turns out, the singer's costume change was so quick that she didn't have time to change into her next outfit -- and rather than miss her cue, she just ran on stage in her lingerie. While the accidental fashion faux pas made headlines, this is still one of Miley's tamest antics on the Bangerz Tour. That's partly because we think it's badass that she would rather perform undressed than miss the song -- and partly because the ensemble wasn't any more risque than her regular costumes -- but we barely batted an eyelash at this one.
Spitting on Fans
Miley bumped up the volume during her Tampa concert, gulping water and then spewing it out into the crowd -- much to the audience's ear-splitting shrieks of delight, we may add. Though Miley wasn't spitting on fans to be rude, the act was still a little gross (mmm, saliva mixed with water) -- but not nearly as jaw-dropping as some of the other things she has done on the Bangerz Tour.
Making Out With Katy Perry
When Miley seductively crawled into the crowd to plant a tongue-filled smooch on Katy Perry, the fans were not the only ones who were shocked. The 'Dark Horse' singer was pretty taken aback herself, jumping back at the surprise kiss. Miley's unexpected decision to lean in and make out with Katy during 'Adore You' is easily one of the most talked about moments from the Bangerz Tour thus far. The kiss seen 'round the world immediately set social media on fire and even ignited a bit of a friendly feud between the lip-locking singers. Despite the aftermath, it was solely the sheer craziness of the shocking, unplanned smooch between the two superstars that earn this moment three servings of greatness.
Getting Raunchy With a Bill Clinton Impersonator
When Miley essentially pulled a Monica Lewinsky on a dancer in a Bill Clinton mask during the opening night of the Bangerz Tour, we knew we were in for a wild ride. Miley's beyond raunchy act with the fake former president threw us all for a loop. It was dirty, it was provocative and it sent tongues wagging (literally!). This scandalous moment set the tone for the entire Bangerz Tour, and therefore, scores a high rating.
Making Out With a Fan
Locking lips with Katy Perry is one thing -- but with a fan?! Whoa there, Miley. Girl just went there! So many fans long to be close to their favorite artists, and Miley made it happen for one lucky female Smiler in a way she never thought possible: by initiating a short-but-sweet makeout sesh that had the audience screaming. This promiscuous act, without question, takes the cake for the craziest Bangerz Tour moment of all.
Photo credit for the image of Miley's tongue: Christopher Polk, Getty Images