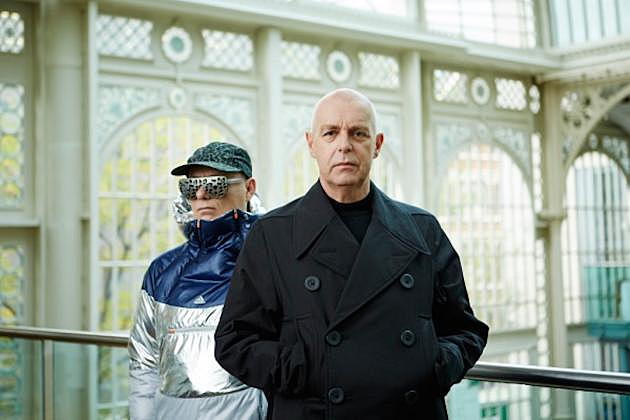 Pet Shop Boys to Return With New Album 'Super' in April
Pelle Crépin
It's no April Fool's Day joke: The Pet Shop Boys are returning on April 1 with their thirteenth studio album, Super.
After revealing the album title with an appropriately minimal teaser site earlier in the week, the prolific synth-pop duo unveiled the full details of their latest release today (January 21).
Super, written between Berlin and London, was mixed and produced by Stuart Price in Los Angeles, who also helmed their excellent 2013 return-to-form record, Electric — not to mention Madonna's Confessions On A Dance Floor and Kylie Minogue's Aphrodite, among other major pop records.
Ahead of the release of the album's lead single "The Pop Kids," described as a "classic PSB anthem which evokes the London club scene of the early '90s" (sounds promising), the duo unveiled their pulsating "Inner Sanctum" this morning — and it seems the boys are in the mood for a bit of domino dancing in a colossal rave.
"Writing in Berlin now, if there's an influence, it's the fact that you're in a very clubby kind of place," Neil Tennant explained in an interview about the making of Super on their official website. "When we were making the track 'Inner sanctum' and producing it with Stuart, we definitely kept thinking this should work well in Berghain, in that big cavernous power station," Chris Lowe adds.
"We wanted to make an album that had a very strong electronic mood all the way through it. It felt like Electric had been a sort of 'rebooting' of the Pet Shop Boys, reminding ourselves that we came into this whole thing because we liked electronic music," Tennant says of the making of Super.
In addition to the album release, PSB will be holding a residency at London's Royal Opera House for four nights from July 20-23 called Inner Sanctum, which promises to be a "site-specific Pet Shop Boys show." One can only hope this will be as much of a colorful, artistic visual buffet as the rest of their live shows.
Watch the Super teaser below, and check out the full tracklist for the record.
Super Tracklist:
1. "Happiness"
2. "The Pop Kids"
3. "Twenty-Something"
4. "Groovy"
5. "The Dictator Decides"
6. "Pazzo!"
7. "Inner Sanctum"
8. "Undertow"
9. "Sad Robot World"
10. "Say It to Me"
11. "Burn"
12. "Into Thin Air"
16 Most Anticipated Albums of 2016