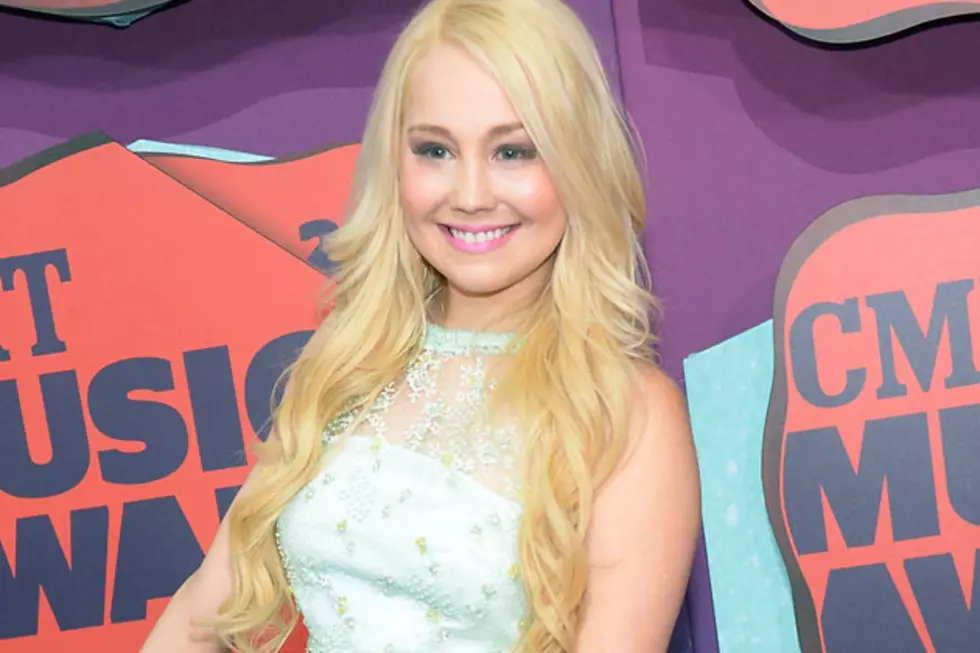 RaeLynn Interview: 'God Made Girls,' Miley Cyrus + Mom's Best Advice [EXCLUSIVE]
Michael Loccisano, Getty Images
"I give hugs!" RaeLynn announced as she waltzed into the PopCrush office, excitedly greeting everyone and instantly filling the room with her trademark spunk.
It's this unique blend of enthusiasm, charm and quick wit that made RaeLynn a fan favorite on season two of 'The Voice.' Oh, and did we mention that the girl can sing?
RaeLynn chatted with us about her new single, 'God Made Girls,' the Miley Cyrus song she wish she wrote and the best advice her mom gave her. Check it all out below!
You just released your music video for 'God Made Girls.' How did you come up with the concept?
We were talking about treatments for the video and what I wanted, and I really wanted it to showcase my personality. I love whimsical things and forests. I'm really into all that. I wanted them to bring that to the table with this music video and show the mystery of a woman. I talked to TK [McKamy], the director, and he completely made the song come to life. I mean, the video is just absolutely stunning and I'm so excited about it.
I love that the video is whimsical, but still has a very realistic angle to it too.
Yeah, like that one girl who looks like she could be in 'Lord of the Rings'? It's like super Hobbit, awesome, very fairy tale-ish, but it in a more mysterious way.
Watch RaeLynn Perform 'God Made Girls' (Acoustic)
You also write for Dr. Luke's publishing house.
I signed a co-venture with Dr. Luke and Scott Borchetta and I've been going out to L.A. Last year, I would go every other month. Lately, because I've been on a radio tour, I haven't gotten to go out in awhile. I write with all of his writers. I'm really good friends with Becky G. She's amazing, she's awesome. And I've got to meet all of his writers. They're amazing. [Dr. Luke] has done all of Katy Perry's stuff. He's very involved with my career, so it's been cool to work with him.
How do you decide which songs to keep for yourself?
You know what, I actually just go. I don't really worry about it. I just go in and I tell them my ideas and if it works for me, it works for me and if it doesn't, it doesn't. I don't really stress about if it's for me or not because then I think I would worry about that rather than just writing a really good song. We just kind of figure out after we write it. It's really hard sometimes when you give up songs that are really good though.
I imagine that must be really cool to hear someone else perform your song.
Oh, yeah. It's a cool feeling. I had some songs on hold for a couple of pop people and it was just cool, the fact that they listened to it and loved it.
Can you talk about some songs you've been working on?
Right now -- you can't really say much, because that's how it is – but I've had a couple [on] hold by some really good pop artists and they love the song. But, you know, it's like they get pitched so many songs. Even when a song gets cut, they might not put it on the record.
It's been really awesome. We've just got to write and keep on writing. You're only as good as your last song. That's something somebody told me, and it's so true. You've just gotta keep putting yourself out there, even promoting 'God Made Girls.' I've been working on that spectrum of it. I wrote that song with three chicks in Nashville. Anyway, I'm super excited about that. It actually came out on iTunes on July 1 and it's doing really well on country radio. It just hit Top 40 in country radio.
Congrats! Is there a song written by another artist that you wish you wrote?
One of the most amazing songs, I think ever, is [Miley Cyrus'] 'The Climb.' Every time I hear that I'm like, "Why didn't I think of this song? This song is amazing." So I really wish I would have written that song.
You said you get a lot of songwriting inspiration from talking to your mom.
Yes, I am! I was talking to her – I wrote this song called 'Kissing Frogs' – and I was talking to her one day and I was boo-hooing about not having a boyfriend one day and I was like, "Mom, I just don't get it. I'm blonde, I think I'm extremely funny and I can sing a boy a country song. Like, what more does he need?" And she's like, "Honey, you don't need to worry about boys right now. You are just having fun kissing frogs." And I was like, "Holy Jehovah, that has got to be a song." So I wrote 'Kissing Frogs,' and that's just my mother. She's crazy and she helps me figure out lots of song ideas.
Other than that, is there any really great advice she's given you?
My mom is the most amazing woman ever. She grew up a single mom raising five kids, and she's always told me to follow my dreams. One thing I've learned about her is she sacrificed her whole life for me to focus on my dream, and I cannot wait to do that for my kids. It's just so cool to be able to go out to dinner and buy my mom's dinner now. You know what I mean? She's just done so much for me. I love that I can give back to her now because she's the most amazing woman ever.
Watch RaeLynn Cover Meghan Trainor's 'All About That Bass' (Acoustic)