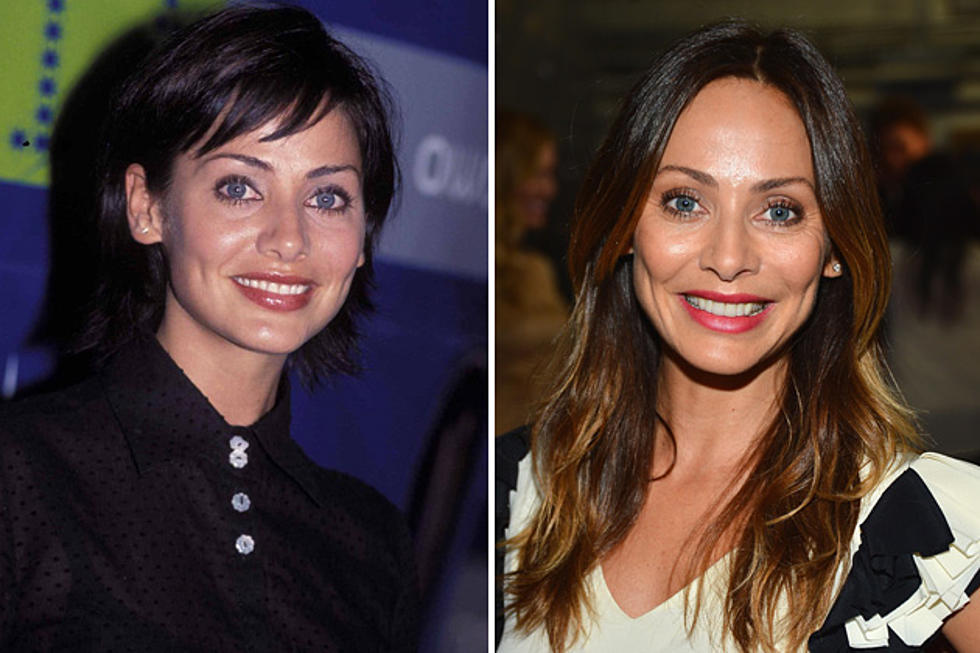 Then + Now: '90s Female Pop Singers You May Have Forgotten About
Patrick Riviere, Hulton Archive / Frazer Harrison, Getty Images
The '90s were basically a breeding ground for female pop singers -- everywhere you turned, there was another awesomely successful pop hit performed by a woman. Everyone knows where stars like Britney Spears and Christina Aguilera are now, but whatever happened to the lesser-known pop artists with equally big hits?
Read on to find out where artists like Natalie Imbruglia, Jewel, Paula Cole, Brandy and more are today.
Natalie Imbruglia
Then: Natalie Imbruglia burst onto the scene with her mega-hit 'Torn,' which -- believe it or not -- was actually a cover of the original Ednaswap tune. Nevertheless, 'Torn' made the Australian Imbruglia an international superstar and launched her debut album, 1997's 'Left of the Middle,' into the No. 1 spot on the charts. Though the singer was famous worldwide, her subsequent second and third albums, 'White Lillies Island' and 'Counting Down the Days,' failed to achieve the same level of success as her first.
Watch Natalie Imbruglia's 'Torn' Video
Now: In 2003, Imbruglia embarked on an acting career, starring alongside famed comedic actor Rowan Atkinson in 'Johnny English.' That same year, she married Silverchair frontman Daniel Johns, though the two divorced five years later. After years of disagreements with her record label, Imbruglia left her major record outfit and started her own independent label, on which she released her fifth studio album, 'Come to Life,' in 2009, penning several songs with Chris Martin. The next year, Imbruglia found herself as a guest judge on 'X Factor UK' and soon became a regular judge on 'X Factor' in her native Australia. As of 2014, she has appeared in several other films and is working on her upcoming fifth studio album.
Alanis Morissette
Then: Alanis Morrisette was launched into superstardom with the overwhelming success of her breakout album, 'Jagged Little Pill.' The album, which spawned such hits as 'You Oughta Know' (supposedly written about her ex-boyfriend and 'Full House' star Dave Coulier), 'Ironic' and 'Head Over Feet,' garnered her a whopping four Grammy Awards in 1996.
Watch Alanis Morrisette's 'You Oughta Know' Video
Now: Morrisette has since become a music icon and has released a steady dose of albums over the past several decades. In addition to her success as a singer, Morrisette has also expanded into acting, appearing off-Broadway and in several roles onscreen, including an eight episode arc on 'Weeds' and a starring role in the film 'Radio Free Albermuth.' Though she was once engaged to Ryan Reynolds (who has since gone on to marry Blake Lively), she is now happily married to rapper Mario 'Souleye' Treadway, with whom she has one child.
Fiona Apple
Then: "I've been a bad, bad girl…" and so begins Fiona Apple's '96 hit 'Criminal,' off of her 3x platinum debut album, 'Tidal.' Though her follow-up album, 1999's 'When the Pawn…,' didn't fare as well as her first, the effort won a Guinness World Record for longest album title.
Watch Fiona Apple's 'Criminal' Video
Now: After taking a hiatus that had Apple -- who infamously suffered an onstage meltdown and also suffered from serious stage fright -- almost retiring from the music industry, the singer came back in 2005 with the Grammy-nominated record 'Extraordinary Machine.' Over the next several years, Apple collaborated with various musicians and comedians but didn't release a new album until 2011, with 'The Idler Wheel…,' another mouthful of a name. In 2012, she canceled part of her subsequent tour due to her dog's ill health. That same year, she was arrested and charged with possession of hash.
Brandy
Then: Brandy was easily one of the most successful R&B singers of the '90s, with her albums 'Brandy' and 'Never Say Never' going multiplatinum and garnering the singer multiple Grammy nominations and a win with Monica for 'The Boy Is Mine.' At the time, Brandy was also known for acting career, with a starring role as the titular character on UPN's 'Moesha,' as Cinderella in Disney's 'Rogers and Hammerstein's Cinderella' and with a role in the big screen horror flick 'I Still Know What You Did Last Summer.'
Watch Brandy + Monica's 'The Boy Is Mine' Video
Now: In the early 2000s, Brandy went through a number of life-changing experiences: She secretly married (and soon divorced) her producer Robert Smith and gave birth to their daughter, Sy'rai Iman Smith. In 2006, she was involved in a fatal car accident that killed another driver, though Brandy was not arrested or charged with any crimes. Throughout the drama, Brandy still managed to release two new albums, though she took a hiatus after the devastating accident. Since then, Brandy has returned to the spotlight with a fervor both in the music industry and on the big and small screens, with a prominent role on 'The Game' and recurring roles on '90210' and 'Drop Dead Diva.' Brandy has continued to put out new music, including her hit single, 'Put It Down,' featuring Chris Brown. She is currently working on her next studio album and most recently starred on the silver screen in Tyler Perry's 'Temptation.'
Monica
Then: Though her debut album, 'Miss Thang,' went triple platinum, Monica's career was truly catapulted by the success of 'The Boy Is Mine,' her duet with Brandy. The duet helped fuel the success of her eponymous second album, which also spawned the hits 'Angel of Mine' and 'The First Night' in 1998. Sadly, just several years later, her boyfriend committed suicide by shooting himself right in front of the singer, and Monica took time from her career to deal with such a tragic loss.
Watch Monica's 'Angel of Mine' Video
Now: In 2003, Monica achieved her first and only debut at No. 1 when her album 'After the Storm' debuted at the top of the Billboard charts, eventually selling over one million copies in the U.S. She later garnered a Grammy nom with her 2010 record 'Still Standing.' Since then, Monica has starred in her own reality TV show, was an adviser to Cee Lo Green on 'The Voice' and released her seventh studio album in 2012. Today, she is happily married to NBA star Shannon Brown, with whom she has one daughter, and two children from a previous relationship with ex-boyfriend Rodney Hill.
Jewel
Then: Jewel yodeled into our hearts with her 1997 debut album, 'Pieces of You,' which featured her catchy hits 'Who Will Save Your Soul,' 'You Were Meant For Me' and 'Foolish Games.' The record became one of the best-selling debut albums of all time, eventually going 14x platinum. The blonde bombshell with the famous snaggletooth enjoyed a fruitful career in the '90s and early 2000s, with her subsequent albums achieving both critical and commercial success. In 1999, she even ventured out into acting, starring in the Civil War film 'Ride With the Devil.'
Watch Jewel's 'You Were Meant for Me' Video
Now: After poor sales from her 2006 album, 'Goodbye Alice in Wonderland,' Jewel decided to step away from the pop music scene. She changed record labels and worked on a country album, 'Perfectly Clear,' which debuted at the top spot on the Billboard Country chart and in the Top 10 on the regular Billboard chart. Since then, Jewel has released two children's albums and several other country records -- as well as a best hits album. Happily married to bull rider Ty Murray, Jewel has also continued her onscreen career, starring as June Carter Cash in the Lifetime movie 'Ring of Fire.' She is currently working on her upcoming album and serves as a judge on the reality singing competition 'The Sing-Off.'
Paula Cole
Then: Paula Cole became synonymous with the '90s when her tune 'I Don't Want to Wait' became the theme song to everyone's favorite teen drama, 'Dawson's Creek.' Of course, Cole already had a big hit before that, with her song 'Where Have All the Cowboys Gone?' landing a Top 10 spot on the charts. But even more impressive was the fact that her parent album ('This Fire') was entirely self-produced by Cole and garnered a whopping seven Grammy nominations in 1997. Whoa.
Watch Paula Cole's 'Where Have All the Cowboys Gone?' Video
Now: Cole has continued to make music, releasing four more studio albums after the success of 'This Fire.' Her latest, 'Raven,' came out in 2013 and was funded by a Kickstarter campaign, raising over $75,000 for the effort.
Sarah McLachlan
Then: Like fellow Canadian Alanis Morrissette, Sarah McLachlan was already well known in her native country by the time she released her breakout album 'Surfacing' in 1997. The crazy successful record (which also housed her song 'Angel') earned her two Grammys for her hits 'I Will Remember You' and 'Building a Mystery.' McLachlan was instrumental in the advocacy for female artists in the '90s, founding the groundbreaking all-female festival tour Lillith Fair that also featured singers like Paula Cole and Lisa Loeb.
Watch Sarah McLachlan's 'I Will Remember You' Video
Now: While McLachlan may be best known to younger generations as the ASPCA spokesperson for the heart-wrenching dog commercials, little is it known that she also provided the singing voice of cowgirl Jessie in 'Toy Story 2.' McLachlan also earned another Grammy nomination in 2006 for her Christmas album 'Wintersong.' After releasing multiple albums since the '90s, McLachlan also had the distinction of her song 'One Dream' becoming the official tune for the 2010 Winter Olympics, which was held in her native Canada. The singer and pianist released her latest album, 'Shine On,' earlier this year and will kick off the supporting tour this summer.
Mandy Moore
Then: Mandy Moore was just 15 when she introduced herself to the world with the sickly sweet bubblegum hit 'Candy.' Though the single (and her subsequent album, 'So Real') launched Moore's career, she later revealed that that saccharine kind of pop was not her style, saying: "[The record company] was like, 'Here are your songs.' I was like, 'Hi, I'm 14. I'll do anything.' Those albums are why I'm here today, but g--damn, I should give a refund to anyone who bought my first record." After the success of her second album, 'I Wanna Be With You,' Moore began to explore an acting career, landing a small part in 'The Princess Diaries' and soon after scoring a starring role in the Nicholas Sparks tearjerker 'A Walk to Remember.'
Watch Mandy Moore's 'Candy' Video
Now: In the early 2000s, Moore revamped her image, shearing her hair and dying it a rich, dark brown. She took on starring roles in films like 'Chasing Libery,' 'Saved' and 'How to Deal,' while still making music and releasing albums. In 2009 -- after a string of serious relationships that included Wilmer Valderramma, Andy Roddick and Zach Braff -- Moore married fellow musician Ryan Adams. Most recently, Moore starred in Disney's 'Tangled' as both the singing and speaking voice of Rapunzel. She is currently working with her husband on her seventh studio album, which she hopes to release this year.
Shawn Colvin
Then: Shawn Colvin had long been working in the music industry when she finally struck it big with her hit 'Sunny Came Home,' which won the singer two Grammy Awards for both Song of the Year and Record of the Year in 1998. The radio-friendly tune propelled her album 'A Few Small Repairs' to achieve platinum status.
Watch Shawn Colvin's 'Sunny Came Home' Video
Now: Colvin has worked steadily since her mainstream success in the '90s, releasing numerous albums and garnering another Grammy nom in 2009 for her live album, 'Shawn Colvin Live.' In 2012, she released her eighth studio album and collaborated with big-name folk artists for the effort, including Emmylou Harris and Jakob Dylan (son of Bob Dylan). Colvin is currently on tour with Steve Earle and was recently added to the Grammy Festival at Sea: Women Who Rock cruise, which will set sail in November 2014.
Tracy Chapman
Then: By the time the '90s rolled around, Tracy Chapman's distinct vocals had already earned her several Grammy Awards, platinum-selling albums and hit singles (including the iconic 'Fast Car'). In 1997, her fourth album 'New Beginning' garnered her a Grammy for Best Rock Song based on the hit 'Give Me One Reason.' The record went on to achieve 3x platinum status in the U.S., and Chapman was a bonafide star.
Watch Tracy Chapman's 'Give Me One Reason' Video
Now: Chapman has continued to make music and released four albums in the following decade, with her latest being 2008's 'Our Bright Future.' Since her last effort, Chapman has largely stayed out of the spotlight, though she appeared as a judge for U.S. Documentary Film at the 2014 Sundance Film Festival.
Meredith Brooks
Then: Meredith Brooks burst onto the scene in 1997 with her hit single 'Bitch' off of her debut album, 'Blurring the Edges.' The hit garnered her two Grammy nominations the following year for Best Female Performance and Best Rock Song.
Watch Meredith Brooks' 'Bitch' Video
Now: In 2002, following the disappointing sales of her two records since 'Blurring the Edges,' Brooks switched gears within the music industry and produced Jennifer Love Hewitt's debut album, 'BareNaked.' Two years later, Brooks released a new album, 'Shine,' and the titular song became the theme music for the 'Dr. Phil Show.' In 2007, Brooks released a children's album called 'If I Could Be…,' a far cry from the profanity-heavy, female-empowerment anthem that made her famous. Today, the 'Bitch' singer is currently the producer for an upcoming pop-rock artist named Becca and is happily married and a mom of one. You can read her blog here.
Joan Osborne
Then: In 1995, Joan Osborne brought the idea of God down-to-earth in her smash hit, 'One of Us.' The song launched her debut album, 'Relish,' into multiplatinum status and earned her critical acclaim and three Grammy nominations.
Watch Joan Osborne's 'One of Us' Video
Now: Since the success of 'Relish,' Osborne has released numerous albums and has toured with big-name groups, including the Dead, the Dixie Chicks and the supergroup Trigger Happy. And she is still garnering that critical praise: Her latest album, 'Bring It on Home,' was nominated for a Grammy for Best Blues Album. Osborne is currently gearing up for the release of her upcoming record 'Love and Hate,' which is set to drop on April 8.
Jennifer Paige
Then: You may not remember her name, but you definitely know her hit song. In 1998, Jennifer Paige released her first single, 'Crush,' from her self-titled debut album. The breathy pop hit received much praise by critics and remained at the top of the U.S. Billboard charts for several weeks. 'Crush' ultimately was certified gold, selling 700,000 copies.
Watch Jennifer Paige's 'Crush' Video
Now: After her follow-up album, 'Positively Somewhere,' Paige parted ways with her record label and began writing songs for other artists while also still composing songs for herself. It wasn't until seven years later, in 2008, that Paige come out with her third album, titled 'Best Kept Secret.' The record included 'Beautiful Lie,' a duet between Paige and Nick Carter. She later formed a band with Coury Palermo called Paige & Palermo and continues to write music both for herself and other artists, including fellow '90s artists Smash Mouth.
Lisa Loeb
Then: When the bespectacled Lisa Loeb topped the charts with her 1994 hit 'Stay (I Missed You),' she was the first artist ever to make it to the No. 1 spot without being signed to a record label. The song, which rose to fame in the film 'Reality Bites,' ultimately garnered Loeb a Grammy nomination and kickstarted her career.
Watch Lisa Loeb's 'Stay' Video
Now: Since 'Stay,' Loeb has led a eclectic career in the spotlight, releasing multiple successful albums -- including two children's albums -- and has dabbled in acting (including a stint as Rufus Humphrey's love interest on 'Gossip Girl'), voice acting (she currently voices Princess Winger on 'Jake and the Neverland Pirates') and in reality TV, including a show on the Food Network (with her then-boyfriend Dweezil Zappa, son of Frank Zappa) and, later, an E! show about her single life after she and Zappa split, called 'Number 1 Single.' Now happily married with two kids, Loeb is still making music, touring, acting and has opened her own eyewear collection. Phew!
Jann Arden
Then: Canadian singer Jann Arden had already made a name for herself when her second album, 'Living Under June,' came out in 1994. But it was this record -- which included her biggest hit, 'Insensitive' -- that turned Arden into an international star. Fun fact: Her song 'Run Like Mad' was originally picked to become the 'Dawson's Creek' theme song (before they ultimately went with Paula Cole's 'I Don't Want to Wait') and still serves as the song in the opening credits in all six seasons on Netflix.
Watch Jann Arden's 'Insensitive' Video
Now: Arden has released multiple albums -- and garnered many Canadian accolades -- since she first burst onto the scene. In 2007, she toured with Michael Buble, and five years later, co-wrote his hit 'Close Your Eyes.' Arden continues to tour all throughout her home country and has even received the honor of getting a star on Canada's Walk of Fame.
Sophie B. Hawkins
Then: Sophie B. Hawkins introduced herself to the world in 1992 with her debut album, 'Tongues and Tails' -- and her 'Damn I Wish I Was Your Lover' -- earning her a Grammy Award nomination for Best New Artist in 1993. Her second album, 'Whaler,' was also a success, spawning the hit single 'As I Lay Me Down.'
Watch Sophie B. Hawkins' 'As I Lay Me Down' Video
Now: After a fight to release her third album, 'Timbre,' in 1999, Hawkins left her major record label and started her own. Though she has continued to make music, Hawkins has taken considerable hiatuses in between albums, with an eight-year gap between her last two releases, 'The Wilderness' and 'The Crossing,' the later of which came out in 2012. She has long been in a relationship with Gigi Gaston, who filmed a documentary about Hawkins in '99 and later directed the singer in her play 'Room 105,' in which Hawkins played Janis Joplin. Hawkins and Gaston, who is also her manager, have one son together. Hawkins was last seen on an episode of 'Community,' performing her two biggest hits.