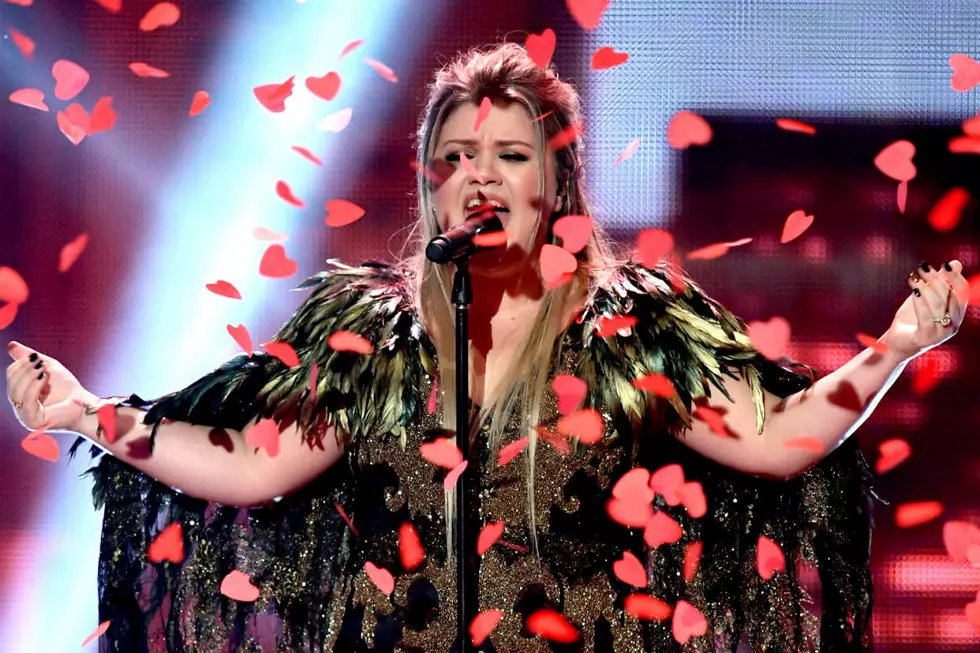 Why Can't Kelly Clarkson Break Through to Big-Time Grammys Categories?
Kevin Winter, Getty Images
By any metric, Kelly Clarkson is one of the biggest stars in pop music history — she's sold more than 25 million albums, is one of Billboard's Top Hot 100 artists of all time (at No. 79, she's done more damage to the charts than Destiny's Child, Celine Dion and Eminem) and has never seen an album debut any lower than No. 3 (that includes three No. 1 LPs). Moreover, she's notched more than 100 No. 1 singles and is the only artist to have ever conquered pop, adult contemporary, country and dance charts.
And let's not forget relentless critical praise — John Legend has called Clarkson one of the best singers in the world, Esquire deemed her the most talented vocalist in pop music history and it can be plainly said that she is the near-exclusive reason singing competitions have evolved into TV-ubiquity.
So where The Grammys are concerned, why can't the Meaning of Life singer break through to the show's biggest categories?
One, voters love seeing Clarkson occupy space in pop categories.
Two, they're reluctant to see her go any further.
With the newest nomination, Clarkson has officially become the most-nominated artist in the Best Pop Vocal Performance category with four nods overall. She was already the most-nominated artist in the Best Pop Vocal Album category and was the first singer to win the category more than once — 2011's Stronger earned her a second trophy in the field (Adele has since matched her two wins).
Perhaps more impressively, all but one of Clarkson's albums have earned at least one Grammy nomination, and only 2007's My December went unnoticed among voters.
For the proven pop-dominance, though, only one of Clarkson's albums, Stronger, has gone a step further, and transcended the Big Three categories — the LP's eponymous No. 1 single landed a nomination in the Record of the Year category (the prize ultimately went to Gotye's "Somebody That I Used to Know"). Annnnnnnd, that's it — even at Clarkson's Grammys-peak, Stronger still failed to earn an Album of the Year or Song of the Year nomination.
The case can be made that — where recent Grammys history is concerned — the show's voters rarely award straight-pop acts the prize, particularly among women. Since Celine Dion picked up the Album of the Year distinction 20 years ago for Falling Into You, only three female singers who are categorically pop have picked the award, and among Adele, Norah Jones and Taylor Swift, the case can be made that only Swift's 1989 stuck to the genre's radio-friendly conventions.
(That being said, Jones, Swift, Adele, Avril Lavigne, Mariah Carey, Madonna, Gwen Stefani, Beyonce, Vanessa Carlton, Corinne Bailey Rae, Rihanna, Sara Bareilles, Amy Winehouse, Katy Perry, Lorde, Sia and Meghan Trainor — all previously eligible for pop categories — have each earned more Big Three nominations than Clarkson, even though they have also all earned fewer pop nominations than Clarkson.)
It's also conceivable that Clarkson's American Idol win in 2002 still serves as a retroactive limiter — even Clarkson, herself, said across her most recent album's promo cycle that she feared she was disliked by peers after winning and earning a straight-shot to charts.
But are the tides finally going to turn?
Having dropped after the 2018 Grammys eligibility window closed, Meaning of Life won't be eligible for additional awards until the 2019 show, but considering it's the best-reviewed work of Clarkson's career (it ties her 2013 Christmas album Wrapped in Red on MetaCritic), Clarkson's releases might finally be too much to ignore, even against the likes of Swift and Reputation, which will also be eligible (though it bears mentioning that, in spite of Swift's standing as Grammys-darling, "Look What You Made Me Do" — which was also eligible for the next Grammys broadcast — failed to earn a pop-nom alongside Clarkson and "Love So Soft").
Either way, Clarkson, herself, will likely remain unbothered. Though she's proud of her trophies, and broke down in tears upon her very first win in 2006 for "Since U Been Gone," she's no longer putting credence in Grammys fanfare. In 2013, she told ABC News that award shows had become something of a chore because of the sternness of some of her fellow acts.
"No one talks to each other," she said. "Everyone shuts their doors.  Everyone's too cool for school.  Not everyone, but for the most part.  And you have to sometimes drag me to those events, just 'cause...it's so painful. It's just not fun."
25 Things You Didn't Know About Kelly Clarkson: