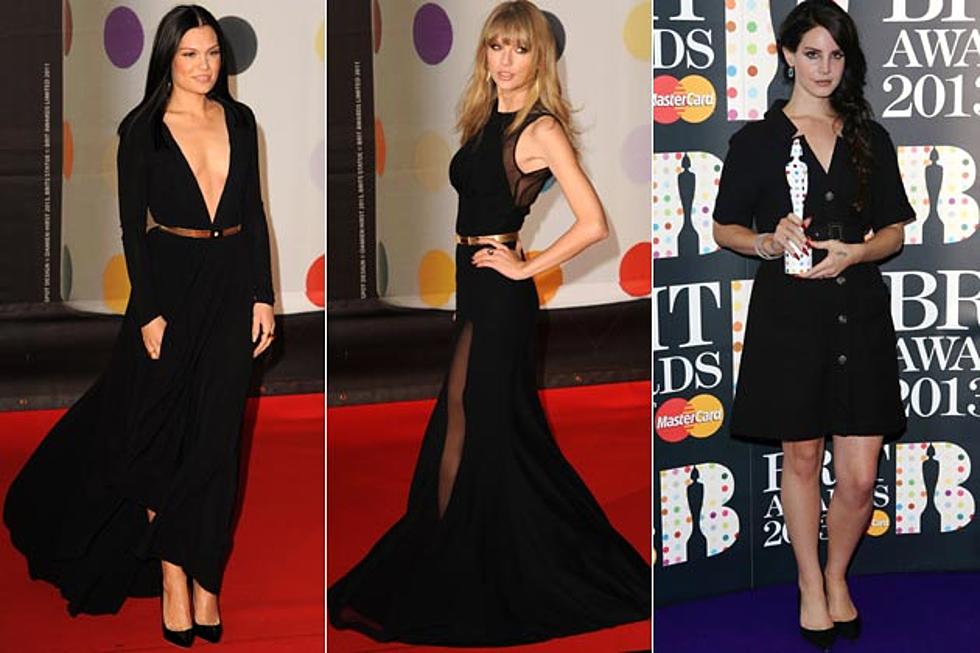 2013 BRIT Awards Red Carpet Pictures
Eamonn McCormack (2) / Tim Whitby, Getty Images
The pop stars that turned up at the 2013 BRIT Awards tonight (Feb. 20) did so largely in black. It was the color du jour on the red carpet, with everyone from Jessie J, who was a nip slip and wardrobe malfunction waiting to happen, to Taylor Swift to One Direction went with basic black.
Jessie J dared to bare in a plunging neckline Versace creation, which was belted. Thank God for double-sided tape, because the world was thisclose to getting up close and personal with her fun bags. Not since J. Lo's 2000 Grammys dress has a pop diva gone this loooooooow and lived to tell about it. If someone stepped on her hem and somehow pulled the dress a little to the left or to the right -- cue the melody of 'Price Tag' right there -- she would have flashed her headlights to the world. It would have been her fault, though.
Taylor Swift, who has been favoring white gowns at red carpet events since splitting with Harry Styles, wore a black Elie Saab gown, with two skirt slits. Her chest was covered, but her toned arms were on fully display. She also went belted like Jessie J, which sinched her at the waist and showed off her figure.
Lana Del Rey was casual in a shirt dress by Chanel. We know. It's Chanel. There's nothing casual about the design house. But Del Rey was dressed down for the event.
One Direction was uniform in black. Who looks the best of the bunch? There is no right answer to that question, since all the boys look faboo and displayed their own touches, like Niall Horan's sneakers or Harry's choice of gray shirt.
The one pop of color came courtesy of Rita Ora. The singer was draped in an Ulyana Sergeenko couture dress in a peachy shade. It was sorta bunchy and not flattering. But it was one of the few non-black ensembles among our favorite pop stars.